Films in Toronto's Contemporary World Cinema programme with details on each title including sales contacts.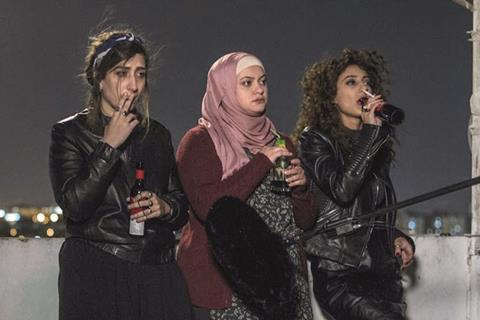 Boundaries (Can)
Dir Chloe Robichaud
Writer-director Robichaud came to prominence with her 2013 debut feature Sarah Prefers To Run, which screened in Un Certain Regard at Cannes. Her second feature, Boundaries, is a political satire and follows three ambitious women caught up in the struggle to protect an island community's natural resources. The cast includes Emily VanCamp (Captain America: Civil War) in her first French-language role. Boundaries is set for a Canadian release via Les Films Seville.
Contact: Indie Sales, info@indiesales.eu
Clair Obscur (Tur-Ger-Pol-Fr)
Dir Yesim Ustaoglu
Turkish director and producer Ustaoglu took her latest feature, Clair Obscur, about the complex friendship between two women, to the 2014 Asian Project Market at Busan and went on to find a slew of co-producers. These include Germany's Unafilm, France's Slot Machine, Poland's Aeroplan Film and ARTE. Backing comes from the Turkish Ministry of Culture, the Polish Film Institute, Eurimages and the CNC.
Contact: Beta Cinema, beta@betacinema.com
The Fixer (Rom-Fr)
Dir Adrian Sitaru
Based on a true story, the latest film by Sitaru (Best Intentions) was awarded the Post Republic Award — post-production services worth $56,500 (¤50,000) — at the Work in Progress competition at Sarajevo International Film Festival in 2015. The Fixer follows a young aspiring journalist who finds himself compromised when he pursues a story of two underaged prostitutes who are repatriated from France to Romania. The film was produced by 4 Proof Film with France's Petit Film.
Contact: MPM Film, info@mpmfilm.com
Handsome Devil (Ire)
Dir John Butler
A music-mad 16-year-old outcast at a privileged boarding school strikes up a friendship with his handsome new roommate in this feature from Irish novelist and film-maker Butler. It stars 2015 EFP Shooting Star Moe Dunford and 2015 Screen Star of Tomorrow Nicholas Galitzine. Production company Treasure Entertainment was also behind Paddy Breathnach's Viva, which premiered at Telluride in 2015.
Contact: Radiant Films International, mike@radiant-films.com
In Between (Isr-Fr)
Dir Maysaloun Hamoud
The feature debut from Hamoud concerns two young Palestinian women sharing an apartment in Tel Aviv, whose liberal, party-animal lifestyle is disrupted by their new flatmate, a devout Muslim. Hamoud, who was born in an Arab village in Galilee, has said that "the story of my characters is actually the story of my life and many others who live in the backyard of Palestinian-Israeli society". The film is produced by Israeli film-maker Shlomi Elkabetz at Tel Aviv-based Deux Beaux Garcons Films.
Contact: Alma Cinema, www.almacinema.com
Marie Curie, The Courage Of Knowledge (Ger-Fr-Pol)
Dir Marie Noelle
Polish actress Karolina Gruszka stars in this biopic of the famed, twice Nobel Prize-winning physicist and chemist. Charles Berling plays her husband Pierre Curie, and Arieh Worthalter the fellow physicist whose affair with Marie caused a scandal. Director Noelle (The Anarchist's Wife) co-wrote the film, which was co-produced by her Munich-based P'Artisan Filmproducktion.
Contact: Films Boutique, info@filmsboutique.com
Past Life (Isr)
Dir Avi Nesher
Past Life is the first title in a planned trilogy from veteran Israeli film-maker Nesher, designed to explore the theme of the past. Inspired by a true story, it takes place in 1977 when two sisters discover the truth about their father's history as a holocaust survivor. Shot in Poland, Germany and Israel, Past Life is produced by Nesher's frequent collaborator David Silber, and received backing from the Rabinovich Fund, the Jerusalem Film Fund and the New Group Broadway theatre company.
Contact: Metro Communications, metro@metrocom.co.il
Santa & Andres (Cuba-Col-Fr)
Dir Carlos Lechuga
The second, highly anticipated feature from Cuban film-maker Lechuga, following 2012 international festival favourite Melaza, is about the unexpected friendship between a young conservative country girl and a gay writer. It explores issues of homosexuality and censorship against the backdrop of the class struggle in communist Cuba. Lola Amores, Eduardo Martinez and George Abreu star in the film, which in 2015 won the inaugural Wouter Barendrecht Award of $5,600 (¤5,000) at CineMart in conjunction with Fortissimo Films.
Contact: Habanero, acalvino@habanerofilmsales.com
Tamara And The Ladybug (Mex-Sp)
Dir Lucia Carreras
Carreras' latest film, Tamara And The Ladybug, looks at contemporary Mexico through the intimate story of two women on the fringes of society. Tamara, a woman with special needs, is left alone when she loses her brother. One day she finds a child, seemingly left alone at a newspaper stand. She adopts her, without thought for the consequences and, with the help of her 70-year-old neighbour, starts to care for her. Underdog, Argos Cine, Filmadora Producciones and CADA Films share production credits.
Contact: Indie Sales, info@indiesales.eu
Tramps (US)
Dir Adam Leon
Leon's 2012 feature debut Gimme The Loot played in Un Certain Regard at Cannes. His latest, also a comedy caper, stars Callum Turner (last seen in Green Room, which played at Toronto in 2015, and next in Assassin's Creed) as a young man who stands in for his brother on a shady deal and unexpectedly finds love. Production company Animal Kingdom has had previous festival and awards success with Short Term 12 and It Follows.
Contact: WestEnd Films, info@westendfilms.com
Vaya (SA)
Dir Akin Omotoso
Developed and researched over the course of eight years, Vaya is based on the real accounts of people who have experienced homelessness. The film weaves together three stories of people arriving with nothing but hope in South Africa's thriving economic heartland, Johannesburg. One man looks to earn enough to pay a dowry to the family of his wife-to-be; a woman brings a child to the city to join her mother; and a son must fetch the body of his dead father, a migrant worker.
Contact: Rififi Pictures, robbie@rififipictures.co.za
The Wedding Ring (Niger-Burkina Faso-Fr)
Dir Rahmatou Keita
The Wedding Ring is the latest feature from writer-director Keita, a key figure in the development of the independent Nigerian film industry. Set in rural Niger, it expands on her short film of the same title, which was screened at the Short Film Corner at Cannes, and follows a young woman returning to her rural home after completing a degree abroad and coping with the heartache of a lost love.
Contact: Sonrhay Empire Productions, info@sonrhayempire.org
The Women's Balcony (Isr)
Dir Emil Ben Shimon
The Women's Balcony gives a voice to the women in a traditionally patriarchal society, through a mishap at a bar mitzvah celebration, which causes a feud between the men and the women of the community. It is a crowd-pleasing, upbeat picture that tells some home truths to the men who make the decisions in the observant Orthodox Jewish community. The film is set in Jerusalem and was produced by Pie Films and United King Films.
Contact: Pie Film, talia@piefilms.co.il
X Quinientos (Can-Col-Mex)
Dir Juan Andres Arango
Film-maker Arango's debut feature La Playa DC played in Un Certain Regard at Cannes 2012, and his follow-up deals with similar themes of migration and displacement. Set in Mexico, Colombia and Canada, it follows the stories of three unrelated migrants who each experience the death of a loved one. Filmoption International will distribute in Canada.
Contact: Peripheria, info@peripheria.ca
Zacma: Blindness (Pol)
Dir Ryszard Bugajski
Maria Mamona and Malgorzata Zajaczkowska star in the latest film by renowned Polish director Bugajski. Zacma: Blindness explores issues of guilt, redemption and responsibility through the story of a former ruthless security officer nicknamed Bloody Luna in Poland's communist government in the 1950s and 1960s. She oversaw the internment of political and religious prisoners at the Institute for the Blind near Warsaw. One of those imprisoned was a prominent Polish cardinal and, 50 years on, Bloody Luna turns to religion in an effort to understand her actions. Bugajski also produced the film through his own RB Films.
Contact: The Society for Arts, christopherkamyszew@msn.com