TIFF audiences will get the chance to see the first three episodes of the new season of Jill Soloway's acclaimed Emmy-winning Amazon Studios series Transparent.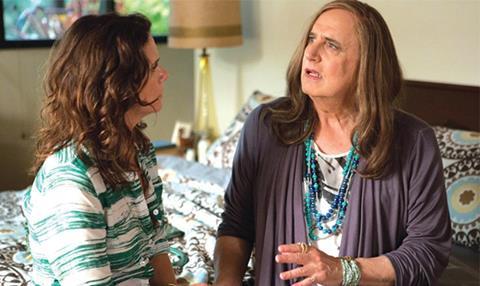 The return for the second year of the Primetime television roster includes new episodes from Charlie Brooker's unsettling anthology series Black Mirror, a look at Kenyan procedural Tuko Macho, mystery series Wasteland from the Czech Republic and the previously announced nirvanna the band the show from Canada.
Highlights at the seven-day TIFF Industry Conference are expected to include Mogul sessions with Academy president Cheryl Boone Isaacs and The Weinstein Company president and COO David Glasser.
Doug Liman will give a Master Class address on VR, while panel discussions will cover the potential impact of Brexit on the UK film industry, East-West alliances, gender, and conversations with Jonathan Demme and Steve James.
The 41st Toronto International Film Festival runs from September 8 to 18 and the TIFF Industry Conference runs from September 9-15.
PRIMETIME
"This peak era for television has ushered in a gold mine of prime, movie-quality, small-screen projects from a growing spectrum of diverse voices and original content creators," said Michael Lerman, Primetime programmer and acting head of programming for the festival.
"The new nimbleness of storytelling formats and multiple viewing platforms has sparked an unprecedented level of innovation and experimentation in the TV world, inspiring an explosion of narratives and new ways of connecting with global audiences."
Black Mirror (UK-South Africa) created by Charlie Brooker, directed by Owen Harris and Joe Wright WP.
The festival presents two episodes: San Junipero and Nosedive.
Transparent (USA) created by Jill Soloway, directed by Soloway and Silas Howard WP.
The festival presents episodes 1, 2 and 3 of the new season.
Tuko Macho (Kenya) created and directed by Jim Chuchu.
The festival presents two episodes of Tuko Macho.
Wasteland (Pustina) (Czech Republic) created by Štěpán Hulí, directed by Ivan Zachariáš and Alice Nellis WP.
The festival presents all eight episodes of the miniseries Wasteland.
Previously announced: nirvanna the band the show created by Matt Johnson and Jay McCarrol and directed by Johnson. The festival presents three episodes from season 1.
INDUSTRY PROGRAMMING
"The programme will feature creative insights from outstanding filmmaking talent, while major industry leaders will debate topical subjects, including diversity and gender inclusion," said TIFF Industry director Kathleen Drumm.
"In crafting the sessions, our programming team has recognized that providing access to opportunities and enabling a greater understanding of evolving investment models is essential for the artistic and financial sustainability of the industry."
The seven-day TIFF Industry Conference will include:
MOGUL SESSIONS
Academy president Cheryl Boone Isaacs
The Weinstein Company president and COO David Glasser
Strategic advisor Jonathan Olsberg, chairman of Olsberg-SPI.
MASTER CLASS
Doug Liman on VR (Invisible)
Mira Nair (Queen Of Katwe)
Feng Xiaogang (I Am Not Madame Bovary)
Live performance by Canadian composer Mark Korven (The Witch) co-presented with the Screen Composers Guild of Canada.
THE GUARDIAN TIFF TALKS
Inaugural series of Q&A sessions with actors and directors at the festival.
DIALOGUES (supported by the OMDC)
Topics include: Brexit & UK Film Industry: What Happens Now? moderated by Screen International US editor Jeremy Kay; East Finances West: China & North America; Evolving borders: Co-Productions & Europe; Women At The Helm: Because It's 2016!; The 4%: Film's Gender Problem; and VR/360: Creative Concept Meets Practical Design.
TIFF DOC CONFERENCE
Among the anticipated highlights are conversations with Jonathan Demme, Raoul Peck, Steve James, and Werner Herzog's editor Joe Bini.
Industry programming includes Short Cut Dialogues.
For the full roster of events, click here.