Dir: Jospeh Kosinki. US. 2010. 125mins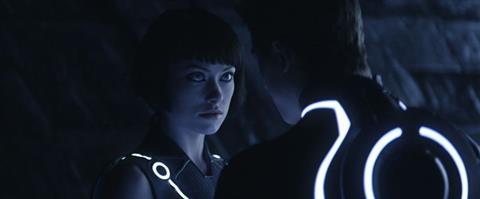 A hyper-slick sequel to the heady 1982 man-versus-machine action-adventure Tron, TRON Legacy represents a souped-up chassis built around an engine that doesn't start. Imaginative production design and piecemeal excitement cannot boost the film's level of engagement above and beyond anything more than superficial throwaway entertainment.
For all its surfeit of cool, TRON Legacy never manages to connect on a narrative level.
Disney will count on the distinctiveness of the film's style, as well as its big IMAX and 3-D rollouts, to help establish TRON Legacy as a standalone slice of event movie adventure. In fact, commercial connections to its predecessor, which maintains a certain cult status, have been notably downplayed. The lack of holiday genre competition outside of the latest The Chronicles Of Narnia sequel should help some, though significant repeat business would seem unlikely. International returns should be solid.
A rebellious 27-year-old, Sam Flynn (Garrett Hedlund) is still haunted by the mysterious disappearance of his father Kevin (Jeff Bridges, reprising his role from Tron), a man once known as the world's leading videogame and technology developer. When Sam investigates a strange signal seemingly coming from his presumed-dead father, he finds himself pulled into a digital grid where for two decades Kevin has been trapped by Clu (Bridges as well, in augmented form), his computer program alter ego.
With the help of vixen-ish warrior program Quorra (Olivia Wilde), and a limited time window in which to act, Sam and Kevin embark on a life-and-death journey across this cyber universe, trying to reach an escape portal. Clu, meanwhile, has his eyes set on obtaining Kevin's "life disc" (think information-stuffed hard drive), and using it to effect an escape to the real world with an army of rogue programs he's been amassing.
TRON Legacy's technical package is an impressive one. Claudio Miranda's slick cinematography, coupled with a bowel-shaking sound design, make for a legitimately immersive experience. Spare and seductive modernity seems to emanate from the movie's core, likely making it an alluring and memorable cinematic event for a younger pre-teen generation in much the same way that the original film was. Gladiatorial games, involving light cycles and hurled discuses, provide moments of undeniable eye-candy pleasure.
Still, on a gut level, the movie TRON Legacy most immediately recalls is perhaps 2008's Speed Racer, which provided a number of dizzyingly gorgeous set-piece sequences all in service of nothing greater than a colour-and-noise light show. For all its surfeit of cool, TRON Legacy never manages to connect on a narrative level. Its father-son reconciliation seems more lacquered on than bone-deep, limited mostly to a single perfunctory scene. Neither does the movie's future-shock man-versus-technology bent ever seem as sharply defined as in something like The Matrix.
And for all his villainous plotting, Clu's intentions remain amazingly vague, undercutting any oppositional rooting interest. The film's script asks the audience to accept his actions as those of a hardcore literalist, and then embrace the about-face assumption that Clu is maniacally driven to escape to a world about which he knows nothing.
Also crucial to the film's yawning disconnect is a motion-capture technology used to map and present Bridges' face as a younger Clu, since as a non-human he does not age. While it arguably makes a certain amount of sense within the story, this flawed, waxy CGI rendering serves as a consistent reminder of the grid's separation and distance from the real world, and palpably undercuts any sense of danger or doom.
Michael Sheen's cameo as an impish, androgynous and opportunistic figure injects a humour somewhat out of step with much of the rest of the film. Hedlund, meanwhile, trades in conventional macho bereavement. Much more engaging is Bridges, who brings a distracted, riff-happy rhythm to Kevin's expositional dialogue ("It's bio-digital jazz, man!"), charmingly leavening tech-talk of genetic algorithms and quantum teleportation.
Electronic music duo Daft Punk's excellent score, built around skittering beats, moody hums and waves of pulsating energy, will likely draw some awards consideration amongst more progressive-minded voting groups.
Production companies: Sean Bailey Productions, Walt Disney Pictures
Domestic distribution: Walt Disney
Producers: Sean Bailey, Jeffrey Silver, Steven Lisberger
Executive producer: Donald Kushner
Co-producers: Justin Springer, Steve Gaub
Screenplay: Edward Kitsis & Adam Horowitz, based on a story by Edward Kitsis & Adam Horowitz and Brian Klugman & Lee Sternthal, based on characters created by Steven Lisberger and Bonnie MacBird
Cinematography: Claudio Miranda
Editor: James Haygood
Production designer: Darren Gilford
Visual effects supervisor: Eric Barba
Music: Daft Punk
Website: www.Disney.com/Tron
Main cast: Garrett Hedlund, Jeff Bridges, Olivia Wilde, Bruce Boxleitner, James Frain, Michael Sheen, Anis Cheurfa, Beau Garrett, Jeffrey Nordling, Cillian Murphy