Dir: Rupert Goold. US. 2015. 100mins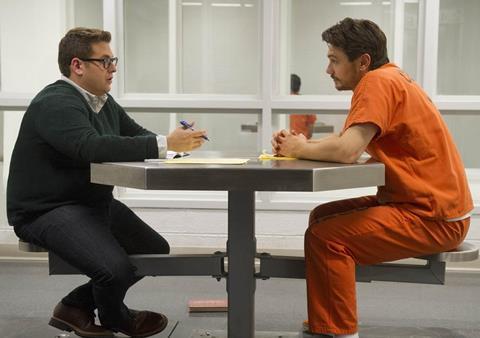 Personal ethics clash with the chase for a good story in True Story, a slickly told tale about a disgraced journalist drawn to an accused murderer who used the writer's name as an alias. Based on actual events, the feature debut of theatre director Rupert Goold has plenty of rich thematic material to plumb — namely, how the notion of the truth gets murkier the more one digs — and lead performances from Jonah Hill and James Franco are plenty impressive. But at the same time, True Story is almost too polished and clever for its own good, sacrificing complexity for a surface-y examination of the issues at play.
As True Story reaches its bittersweet ending, the filmmaking turns increasingly mannered and precious, pleased with the story's ironies and reversals to such an extent that the movie can seem smug and self-congratulatory.
Being released through Fox Searchlight in April, True Story premiered at the Sundance Film Festival, where Franco is also appearing in the drama I Am Michael. With reviews thus far being only measured in their praise, the studio will probably want to focus on the film's star power and the underlying true story. Expect decent box office but not major theatrical success.
True Story concerns two liars. The first is Michael Finkel (Hill), a New York Times journalist whose meteoric rise is halted in 2002 by the damaging revelation that he fudged facts in his latest profile piece. Fired from the Times and planning his next move, he is thrown by a phone call informing him that an Oregon man, Christian Longo (Franco), arrested on suspicion of killing his wife and three children was using Finkel's name when he was tracked down by authorities in Mexico.
Curious who Longo is, Finkel visits the prisoner, their interactions forming the basis for most of True Story's drama and intrigue. Longo tells the journalist he'd been a big fan of his writing for years, hence the reason for taking his name — and now he wants to share with Finkel the whole story of what happened with the murders, hinting that there's more to the official account than has been made public.
Seduced by this potentially juicy exposé, Finkel sees in Longo a chance to restore his good name, writing a book with Longo that tells the accused murderer's side. Longo never answers Finkel directly about whether he did commit these heinous crimes, but one of the movie's most compelling aspects is that, deep down, we're never quite sure — and neither is Finkel — of Longo's guilt. Of course, viewers familiar with the actual events will know how this all played out, but True Story lets us wonder for a while. A man who repeatedly proclaims his love for his wife and children, Longo couldn't actually be innocent, could he?
For the film to succeed, Franco must convince the audience (as well as Finkel) that there's a complicated soul within this man. Consequently, this is one of Franco's better, more layered performances. As opposed to Franco's outlandish Alien from Spring Breakers, Longo is soft-spoken, sensitive, a bit withdrawn. Finkel engages with him in their many prison chats, teaching the accused man how to become a better writer and offering to be an understanding audience. But what's great about Franco's portrayal is that the character's quiet demeanour is upsettingly inscrutable. At first, Longo is empathetic — we don't condone his crimes (if he did commit them), but the intelligence and sadness in the man's eyes make us believe that perhaps there's something in him worth saving.
That impression of Longo changes, though, as we get deeper into True Story and the man prepares for trial. Incorporating an understated, tasteful style, Goold (who also co-wrote the screenplay based on Finkel's book) tells this true story with a minimum of fuss, showing how Finkel's enthusiasm for the book he's writing starts to overshadow his moral judgement. Unlike his dramatic portrayals in The Wolf Of Wall Street and Moneyball, Hill is reserved as Finkel, highlighting the man's desperation and humiliation in the wake of his professional scandal. According to True Story, Finkel's greatest quality as a writer was his dogged persistence, his belief that the truth will be uncovered if one just looks closely enough. The film sets Finkel up to realize that this hoped-for career comeback will be a Faustian bargain, and Hill articulates the paradox of this journalist getting his wish for redemption through someone as disreputable as Longo.
With all that said, though, True Story doesn't seem to fully capture what's fascinating about the material. There's a rather pat treatment of the growing tension between Finkel and his girlfriend Jill (Felicity Jones), who sees how Finkel's growing obsession with the case is driving a wedge between her and him. Jones is a precise, intuitive actor, but even she can only do so much with an annoyingly generic worried-girlfriend role.
Likewise, Finkel's escalating inability to see Longo for the killer he may be comes across as surprisingly wan and unengaging. As True Story reaches its bittersweet ending, the filmmaking turns increasingly mannered and precious, pleased with the story's ironies and reversals to such an extent that the movie can seem smug and self-congratulatory. At its heart, True Story is about a man who may have savagely killed four people. But that gruesome fact is too easily hidden behind mere intellectual concerns about identity and personal redemption.
Production companies: Regency Enterprises, New Regency, Plan B
US distribution: Fox Searchlight Pictures, www.foxsearchlight.com
Producers: Dede Gardner, Jeremy Kleiner, Anthony Katagas
Executive producers: Brad Pitt, Arnon Milchan
Screenplay: Rupert Goold and David Kajganich, based on the book by Michael Finkel
Cinematography: Masanobu Takayanagi
Editors: Christopher Tellefsen, Nicolas De Toth
Production designer: Jeremy Hindle
Music: Marco Beltrami
Main cast: Jonah Hill, James Franco, Felicity Jones, Robert John Burke, Gretchen Mol, Ethan Suplee