Climactic instalment of eOne's Twilight saga topples Skyfall with $25.1m (£15.8m) debut - the highest of the series.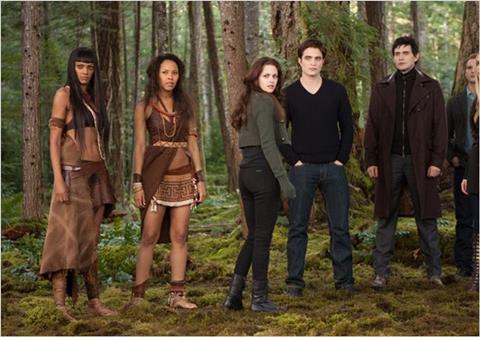 Following three weeks of domination, Skyfall has been dethroned at the UK box office by the arrival of The Twilight Saga: Breaking Dawn - Part 2.
The climactic instalment in the vampire romance grossed an impressive $25.1m (£15.8m) debut to record the biggest opening of the series, ahead of Breaking Dawn - Part 1's previous best of $22.1m (£13.9m).
Part 2's debut is the fourth highest three-day opening of all time, behind Harry Potter and the Deathly Hallows: Part 1 and 2, and Skyfall.
It also recorded an $11m (£6.9m) Friday tally, ahead of Skyfall's $9.9m (£6.2m).
Breaking Dawn - Part 1 went on to become the highest grosser of the Twilight series with $49.4m (£31.1m) and given Part 2's strong start, it's highly likely to be able to challenge that tally. Indeed, the series as a whole has enjoyed a £2m boost per instalment since New Moon's $43.8m (£27.5m).
Alex Hamilton, director of film at Entertainment One commented: "It has just been absolutely amazing to have increased the opening each time on the Twilight movies. All of us at eOne would like to extend our gratitude to the fans of this incredible series of movies."
Even dropping to second hasn't stopped Skyfall breaking records in the UK though.
Having grossed an non-final additional $8.9m (£5.6m), the latest Bond mission has now amassed a mighty $131.6m (£82.7m) through Sony to surpass the combined Titanic haul of $127.4m (£80.1m) as the UK's second biggest performance of all time.
It's surely now a matter of when, and not if, it overtakes Avatar's $149.6m (£94m) haul as the UK's biggest grosser, unless Skyfall suffers a dramatic drop at the box office.
Paramount's threequel Madagascar 3: Europe's Most Wanted continued its strong run in the UK, crossing the £20m mark after adding $1.4m (£880,000) for $32.9m (£20.7m) to date.
With two heavyweights slugging it out at the top of the charts, the fact that Argo suffered only a 20% drop week-on-week, excluding previews, is extremely commendable.
Warner Bros.' critically acclaimed thriller added $1.3m (£806,000) and stands at $4.5m (£2.8m). It has now overtaken Ben Affleck's directorial debut Gone Baby Gone and is tracking ahead of The Town, which had taken $4.2m (£2.6m) at the same stage in its run.
In its first weekend of wide release, Entertainment's The Master commanded an estimated $577,000 (£360,000) to cross the £500,000 mark.
Artificial Eye's Palme d'Or winner Amour recorded an excellent $172,000 (£108,012) debut from its 29 sites - director Michael Haneke's second biggest opening in the UK, behind Cache's $269,000 (£169,234) opening bow.
For Sony, Hotel Transylvania is up to $12.2m (£7.7m), while Here Comes The Boom drops dramatically in its second weekend to add just $190,000 (£120,000) for $1.2m (£776,000).
StudioCanal's two potential awards contenders Rust and Bone and Beasts of the Southern Wild stand at $1.1m (£705,773) and $1.07m (£673,294) respectively.
Universal's Mental made $21,000 (£13,000) on its opening weekend.
This week sees saturation releases for StudioCanal's End of Watch, Momentum's Gambit (opens Nov 21), eOne's Nativity 2: Danger in the Manger and Entertainment's Silver Linings Playbook (opens Nov 21).