Dirs/scr: Jean-Pierre and Luc Dardenne. Belgium-France-Italy. 2014. 94mins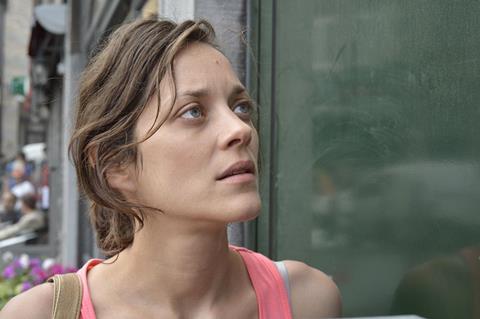 The impossible choices forced on workers by downsizing, flexible contracts and the declining power of the unions are thrown into stark relief in the Dardennes brothers' latest film. While it may lack the breathless dramatic energy of earlier works like La Promesse or L'Enfant, this is still a powerful, finely scripted issue movie, made all the more incisive by Marion Cotillard's raw performance as a woman fighting to save her job while suffering from depression.
Shot mostly by day, in stark and sometimes mocking summer sunlight, Two Days, One Night refuses to divide the ayes and nays into goodies and baddies.
The story of a woman forced to canvas her fellow workers to persuade them to give up a bonus payment in order for her to keep her job is one that you can imagine Ken Loach taking on, but the undogmatic, compassionate focus on the lives of Marion and those she meets builds a nuanced portrait of a struggling community that is classic Dardennes. Cotillard, the recessionary topicality of the theme and the dramatic efficiency of a film that takes its time to bite, but never lets go when it does, will send Two Days off on a multi-date world tour, perhaps stirring even more interest than the brothers' last outing, The Kid On The Bike.
The first shot of Cotillard's character Sandra speaks volumes about who she is and how she is. She's wearing a cheap, bright, department-store singlet, hair scrunched up in a sporty ponytail, but her face tells a different story. She's suffering from depression, and through the course of the film will pop far more Xanax than is good for her.
As if her illness wasn't enough, Sandra has just been laid off by a small solar energy firm, following a ballot of colleagues who were told that if they voted for her to stay in her job, it would mean forfeiting their thousand-euro bonuses. However, late on Friday, the boss tells her he has no objections to a second, secret ballot being held on Monday morning before work. If Sandra can talk her workmates into voting to lose their bonuses, he'll keep her on.
It's like Twelve Angry Men in the workplace – except there are sixteen of them, with only two voting in her favour in the first ballot. So with the help of her supportive husband Manu (Rongione), who fights throughout to keep her from sinking into self-loathing and giving it all up as pointless, Sandra sets out to visit her colleagues one by one in the lower-middle class suburbs of some unnamed Belgian town over the course of a sunny weekend.
The script takes its time to raise the dramatic temperature, adding brushstrokes to the portrait of a woman whose fight with the black dog of depression turns every difficult house call into a mountain peak. She's alternately buoyed by fragile hope and slapped down by despair as colleagues are either won round or refuse to back her – some for financial reasons, others because they see this colleague who has only just returned to work after time off for illness as a weak link who can easily be sacrificed.
Shot mostly by day, in stark and sometimes mocking summer sunlight, Two Days, One Night refuses to divide the ayes and nays into goodies and baddies. The simple choice between 'Sandra' and 'bonus' – as written on the final ballot paper – may be an unlikely scenario, but the Dardennes suggest that it's one that many workers are forced to make in a less direct way. But this layered film is more than one long ethical debate. Sandra's door-to-door mission also enables the directors to touch on issues of immigration, integration and a cash-strapped blue-collar existence that pans out between low-cost diners (like the one where Manu works), mini-markets and launderettes.
Even gender issues are nicely nailed: male colleagues are out of the house when she calls far more often than female ones, and marriages are tested, in one case dramatically, in a film that is political in the original sense of the word: it's about people, and the fact that no man, or family, or company, or country, is an island.
Production companies: Les Films du Fleuve, Archipel 35, Bim Distribuzione, Eyeworks, France 2 Cinema, RTBF, Belgacom
International sales: Wild Bunch, www.wildbunch.biz
Producers: Jean-Pierre and Luc Dardenne, Denis Freyd
Executive producer: Delphine Tomson
Cinematography: Alain Marcoen
Editor: Marie-Helene Dozo
Production designer: Igor Gabriel
Main cast: Marion Cotillard, Fabrizio Rongione, Pili Groyne, Simon Caudry, Catherine Salee, Christelle Cornil