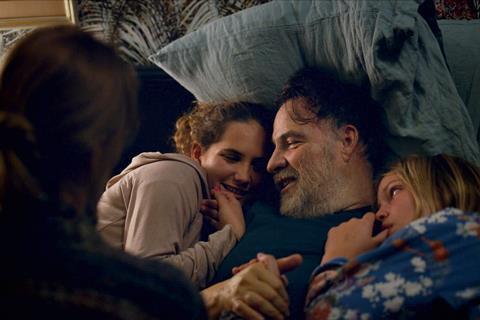 Six of the 12 features in Venice Days are directed by women for the first time in the event's 15-year history.
They include Real Love (C'est Ca L'Amour), the second feature from French filmmaker Claire Burger, who co-directed Party Girl, which won the Camera d'Or at Cannes in 2014. Real Love is a semi-autobiographical drama starring Belgian actor and director Bouli Lanners as Mario, a man left to bring up his two turbulent teenager daughters on his own after his wife walks out on the family. Indie Sales has international rights.
Elsa Amiel's debut feature Pearl, set in the world of women's bodybuilding, is also screening in competition. It stars Swiss bodybuilder Julia Fory with Peter Mullan, Belgium's Arieh Worthalter and Poland's Agata Buzek. The French-Swiss co-production is being sold by MK2.
Joy is the second narrative feature from Austrian director Sudabeh Mortezai following the award-winning Macondo in 2015. Set in Vienna, the new film is about Nigerian woman trying to make a new life for herself and her daughter. Films Boutique has sales rights.
Domingo, co-directed by Brazilian filmmakers Clara Linhart and Fellipe Barbosa, is an ensemble drama that follows different members of an upper-class family on the momentous day of President Lula's inauguration in 2003.
The Three Adventures Of Brooke is a debut film from China's Qing Yuan. It is a road trip of sorts about a young poet who goes on a trip with the ex-wife of an elder classmate.
Nicole Palo's comedy Emma Peteers will close Venice Days. It explores issues surrounding mental health with a story about a woman contemplating suicide who strikes a strange complicity with a funeral director. It is the second feature from the Belgian director following Get Born in 2008.
New films from Rithy Panh and Joachim Lafosse
Cambodian director Rithy Panh's Graves Without A Name, a documentary exploring the ongoing horrific legacy of the Khmer Rouge, will open Venice Days on August 29.
Further highlights include Joachim Lafosse's Keep Going, an adaptation of a novel by Laurent Mauvignier about a mother and son who trek across Kyrgyzstan on horseback. Virginie Efira and Kacey Mottet-Klein star.
Venice Days is also showcasing the world premiere of Screwdriver by Palestinian director Bassam Jarbawi. Shot entirely on the West Bank with a mostly Palestinian crew, the film is about a political prisoner who returns home but doubts he is the hero others want him to be.
Venice Days runs alongside the Venice Film Festival from August 29-September 8.
The full Venice Film Festival line-up will be announced tomorrow (July 25).
IN COMPETITION (all world premieres)
Graves Without A Name (Cam-Fr) - Dir: Rithy Panh, Intl sales: Playtime
Keep Going (Bel-Fr) - Dir: Joachim Lafosse, Intl sales: Le Pacte
Real Love (Fr) - Dir: Claire Burger, Intl sales: Indie Sales
Screwdriver (Pal-US-Qatar) - Dir: Bassam Jarbawi
Pearl (Fr-Switz) - Dir: Elsa Amiel, Intl sales: MK2
Joy (Aust) - Dir: Sudabeh Mortezai, Intl sales: Films Boutique
Jose (Guat-US) - Dir: Li Cheng
Domingo (Braz-Fr) - Dirs: Clara Linhart, Fellipe Barbosa, Intl sales: Films Boutique
Ricordi? (It-Fr) - Dir: Valerio Mieli, Intl sales: Le Pacte
Three Adventures Of Brooke (Ch-Malay) - Dir: Yuan Qing, Intl sales: Parallax Films
Ville Neuve (Can) - Dir: Felix Dufour-Laperriere - Intl sales: Urban Distribution International
OUT OF COMPETITION
Emma Peeters (Bel-Can) - Dir: Nicole Palo