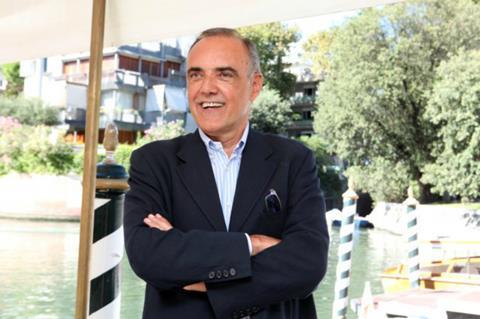 Speaking to Screen after unveiling the line-up of the 76th Venice Film Festival (August 28 - September 7), director Alberto Barbera addressed the ongoing lack of female representation in his main selection, the presence of Roman Polanski's new film and UNIC's request to not show any Netflix titles in Competition.
In response to the question of why there were only two features directed by women in the Competition, Barbera said the percentage of female-directed films throughout all of the selection (excluding classics) is up 20% over 2018, rising from 20% to 24% year-on-year. The rise is in the short films and VR sections.
"These are the territories in which new production strategies and new means of expression give women more possibilities," Barbera suggested. "45% of all shorts we received and 68% of the titles in VR were directed by a woman. It means that something is moving, but for this percentage to change also in feature films it takes time. There won't be any sudden jump, it will take years."
When it was pointed out the Berlinale had 41% of films directed by a woman in competition and this rises to 45% for Sundance, Barbera replied: "I could do that too but I refuse to select a film just because it is directed by a woman if I think it is not as beautiful as one directed by a man."
Barbera's position on quotas (he is against them) has not changed over the years. "If I'm to consider inclusion when selecting 60 titles from 1,800 entries, I should also select a certain number of films by black directors, a certain number by gay directors or other people discriminated for various reasons," he said "This won't make for an exhibition of art but for a civil rights festival."
Barbera believes the focus on gender parity in the main section causes much more of a stir outside Italy than within. "I think it's a matter of culture. Anglo-Saxons believe in quotas," he said. "The majority of festivals but also of companies inside the industry adhere to this principle, hiring a precise quota of African American, women, gay, Jews, transgender… Otherwise you're called a racist. But this means overturning the fact that you're not discriminating by basing your judgement on merit."
"I don't have to adjust to what some countries think I should do," he continued. "I don't want to let some countries impose criteria on my selection. If I let this happen then my job is over, my freedom is over. Luckily I live in a cultural context in which this paradoxical error doesn't exist. I really hope we never get to the point in which we systematically apply quotas."
Roman Polanski
The lack of women directors was not the only controversy of the selection. Barbera has chosen to programme J'Accuse, the new film by Roman Polanski. The director, who has dual French and Polish nationality, pleaded guilty to the charge of engaging in unlawful sexual intercourse with a minor (aged 13 years old) in the US in 1977 but fled to Europe to avoid serving his prison time. He was evicted from the MPAA in 2018 following an outcry in the wake of the rise of the #MeToo movement that calls for an end to the systematic tolerance of sexual assault and harassment. Although all of Polankski's films have been shown in major festivals in the last 17 years, Venice is the first time since #MeToo became an international cultural force. Zurich-based Polanski will not be able to attend the festival as he would be at risk of extradition to the US to face arrest and jail by Italian authorities.
Although not wiling to address the legal aspects of Polanski's case, Barbera said he was ready to confront the controversy head on: "We've got to make a distinction between the man and the artist, otherwise we're doomed," he said. "I'm not a judge and what I know is that Roman Polanski is one of the last great auteurs in Europe, therefore in the world. He shot masterpieces that marked the history of cinema and I didn't even remotely think of not showing his last, wonderful, film because one judge in the county of Los Angeles is persecuting him. Fifty years have passed since the crime, 50 years during which he was forgiven by the victim, established a friendly relationship with her and now she is the one asking for this persecution to stop!"
Netflix
The moment the press conference ended the International Union of Cinemas (UNIC) released a statement asking the director not to show films in competition at the festival that are not destined for a theatrical release. Two Netflix titles, Steven Soderbergh's The Laundromat and Noah Baumbach's Marriage Story are playing in competition, and David Michod's The King and Amazon's Seberg, directed by Benedict Andrews, are playing out of competition.
Barbera sees this as a quarrel between exhibitors and distributors and, as such, one they must resolve themselves. "The Biennale plays no role in the internal struggles of the market," he said. "These are films produced by an MPAA member, why should I discriminate Noah Baumbach or Steven Soderbergh just because exhibitors can't show their films?"
Hollywood landscape
Away from the controversies, Barbera addressed the relative lack of US titles at the festival this year. "There is a strong feeling of uncertainty when talking to American executives," he revealed. "Fox is going to disappear, Warner has just changed its management, Paramount is distributing other companies' titles, even Amazon recently changed its managers and is not yet that clear who's going to stay and who's not."
The director claimed to have secured every title he wanted - apart from Kelly Reichardt's First Cow. He said it will premiere at Telluride before playing Toronto. "The film is really beautiful, but A24 hasn't yet found an international distributor and decided to show it only in America."
The festival has two slots to fill but it seems one won't be taken by Sylvester Stallone's Rambo: Last Blood. "There were talks about it but now that hypothesis is dead," said Barbera.
Contract extension
Alberto Barbera's four-year contract (the second of two) was due to expire in 2020 making 2019 his last festival. But he revealed it had been extended for one more year to avoid the search for a new festival director in the same year as the appointment of new nominees to the board of the Biennale which organises the festival.