The interesting themes from this year's Venice Competition selection.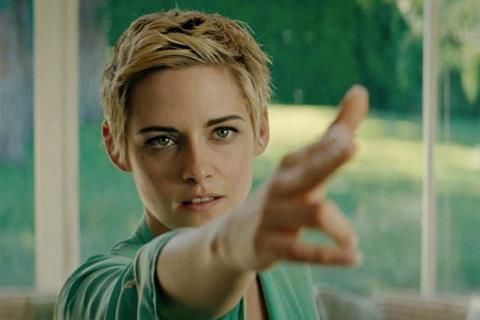 US streamers return
It is another good year for Netflix on the Lido, which has three titles in the selection, more than any other US studio: Steven Soderbergh's The Laundromat and Noah Baumbach's Marriage Story (both in Competition) and David Michod's The King (out of Competition). Last year, Netflix launched the awards campaign for ROMA off the back of its buzzy Lido premiere, with the film going on to win multiple awards including three Oscars, and the Bafta for best picture.
Amazon Studios has US rights to Benedict Andrews' Seberg (formerly Against All Enemies) screening Out of Competition. The film stars Kristen Stewart as iconic actress Jean Seberg. It is produced by Automatik and sold internationally by Paris-based Memento Films International.
The Netflix titles have already provoked the ire of exhibitors. Last year, Italian cinemas bodies ANEC and ANEM jointly protested the inclusion of streaming titles, due to their lack of availability for theatrical distribution, and this year's line-up announcement has already been met with a similar, incredibly quick, response from European organisation UNIC. This one is set to run and run.
Female filmmakers
Shannon Murphy's Babyteeth and Haifaa Al-Mansour's The Perfect Candidate (see more below) are the only two films directed by women in the 21-strong competition.
As noted by Screen's chief critic, the festival has a poor record in this regard. In the last three years, only four female directors out of 63 have competed at Venice, just 6.3%, with festival chief Alberto Barbera heavily criticised last year when just one film directed by a woman, Jennifer Kent's The Nightingale, was picked for Competition. In comparison, Cannes managed four this year in Competition and 19 across the festival; Toronto's partial line-up this year seems much stronger so far; Sundance scored 46% across the festival; Berlin, 40%; and London 38% in 2018.
Notable omissions
Amazon Studios was expected to debut Tom Harper's The Aeronauts on the Lido, but the title has been absent from both this week's Venice and Toronto announcements. The international release plans for The Aeronauts were upended by the recent announcement the film had been moved back in the calendar from October 25 to December 6, reducing the window between its theatrical release and its global debut on the Amazon streaming platform to just two weeks. The change has left international distributors unsure over how their plans can fit into the US roll out and may have also impacted its festival launch. It could still end up at Toronto (which has plenty more to announce) and/or Telluride.
Netflix has two titles in competition and a third, Fernando Meirelles' The Two Popes, was also seen as a strong contender. It has a Venice-friendly, Italian-set subject matter (and Meirelles was on the Lido with The Constant Gardener in 2005), but instead looks set for a world premiere at Telluride before screening in Toronto.
Rupert Goold's Judy Garland biopic Judy, with Renée Zellweger, will also now do Telluride-Toronto and skip the Lido, as will James Mangold's Ford V Ferrari.
It bears repeating that with the paucity of female directors in the competition line-up, another glaring no-show is Kelly Reichardt with her latest feature First Cow. However there have recently been suggestions the film won't be ready until Sundance 2020. There's also no spot for Greta Gerwig's Little Women, which likewise is understood not to be ready in time.
Alice Winocour's Proxima, with Eva Green and Matt Dillon, Chloe Zhao's Nomadland, which stars Frances McDormand, and Dee Rees' The Last Thing He Wanted, with Ben Affleck and Anne Hathaway, are also not on the final Lido playlist.
All of the above has the caveat Venice could yet make further programme additions although the Competition itself looks full with 21 titles.
Polanski in competition
The most controversial inclusion at this year's festival is undoubtedly Roman Polanski's J'Accuse, based on the novel by Robert Harris and previously titled An Officer And A Spy. Polanski's legal troubles – he's been a fugitive from the US since 1978 after pleading guilty to the statutory rape of a 13-year-old child - hasn't stopped him appearing at major European festivals over the past four decades. His previous film Based On A True Story played out of competition in Cannes in 2017, for example, and his 2012 effort Carnage also premiered at Venice.
However, there has been renewed focus on Polanski's past in recent times with the rise of the #MeToo movement, which has resulted in the Polish director being expelled from the Academy of Motion Picture Arts and Sciences in 2018, and forced to pull out of France's Cesars in the same year after a public outcry. Venice chief Barbera can expect plenty of questions about Polanski in the weeks ahead.
A bad year for the Brits
It is (another) disappointing year for the UK film industry, with no UK titles selected for competition. That's a decline from last year, when both Mike Leigh's Peterloo and Yorgos Lanthimos' The Favourite made the cut.
Besides Rupert Goold's Judy, titles that had been tipped include Justin Kurzel's UK-Australia crime drama The True History Of The Kelly Gang and François Girard's The Song Of Names which are both making their world premieres in Toronto, as well as Harper's previously-mentioned The Aeronauts, which could be skipping Venice and Toronto, although Toronto still has lots of films to announce.
It is also slim pickings in the sidebar selections. Rare Beasts, the directing debut of actress Billie Piper with Lily James and David Thewlis, will play in the Critics' Week programme. Venice Horizons will feature Peter Mackie Burns' second feature Rialto, with Tom Vaughan-Lawlor and Tom Glynn-Carney, and South African feature Moffie, which is produced by UK outfit Portobello Productions.
Elsewhere, there are several titles with UK involvement playing out of competition: Giuseppe Capotondi's The Burnt Orange Heresy, which is being sold by HanWay Films, closes this year's festival; Roger Waters concert doc Us + Them, produced by Rogers' own Rue 21; and Alex Gibney's under-the-radar documentary Citizen K, which is understood to be produced by UK outfit Passion Pictures.
Chinese censorship
The Venice selectors will be hoping Chinese director Lou Ye's competition title Saturday Fiction, a 1940s-set multilingual drama starring Gong Li, actually makes it to the Lido. Lou is a controversial figure in his homeland and was temporarily banned from filmmaking in China. His last film, The Shadow Play, underwent a lengthy review process by the authorities before it played in Berlin last year.
Several Chinese titles have been pulled from major festivals in the past year or so including Zhang Yimou's One Second, Derek Tsang's Better Days (both Berlin), animated thriller Have A Nice Day (Annecy), and patriotic blockbuster The Eight Hundred (Shanghai). All are potential victims of increasingly strict censorship in China and a new two-stage process.
Meet Shannon Murphy…
The inclusion of Australian director Shannon Murphy's debut feature Babyteeth is one of the surprises of this year's Competition selection. There has been little buzz around the bittersweet comedy, which shot in Sydney in February this year. Ben Mendelsohn and The Babadook's Essie Davis lead the cast as parents of a seriously ill teenager who are horrified when their daughter falls in love with a drug dealer. The daughter is played by 2019 breakout Eliza Scanlen, whose credits include Sharp Objects, and Gerwig's upcoming Little Women, in which she plays Beth.
Raised in Hong Kong, Singapore and Africa as well as Australia, Murphy is a 2013 graduate of the Australian Film Television and Radio School. She has previously directed five shorts, including 2014's Kharisma, which screened at festivals including Cannes, Toronto and Palm Springs. Her TV work includes episodes of Australian series Sisters, Rake and On The Ropes, while she has also directed regularly for stage, including for the esteemed Sydney Theatre Company under then artistic director Cate Blanchett.
Alex White produced Babyteeth, Jan Chapman served as executive producer, and Rita Kalnejais adapted the screenplay from her play of the same name. It is also the first feature for production company Whitefalk Films. eOne is distributing the film in Australia. Celluloid Dreams is handling international sales and co-reps the US with CAA Media Finance Group.
…and welcome back Haifaa Al Mansour
With The Perfect Candidate, pioneering Saudi filmmaker Haifaa Al Mansour returns to the Lido for the first time since her debut feature Wadjda played in Horizons in 2012. It went on to play widely around the world and was nominated for a Bafta for best foreign-language film.
Wadjda was both the first feature to be shot entirely in Saudi Arabia and the first to be directed by a Saudi woman. The Perfect Candidate was the first to be backed by the nascent Saudi Film Council ahead of its shooting in Riyadh at the end of 2018.
The comic drama centres on a young female doctor who navigates a conservative, male-dominated society in order to run in municipal elections. It is produced by the director's own Al Mansour Productions alongside Gerhard Meixner and Roman Paul's Berlin-based Razor Film Produktion. The Match Factory has international rights, with UTA Independent Film Group handling North American sales.