Lav Diaz's The Woman Who Left from the Philippines won the Golden Lion at the 73rd Venice Film festival on Saturday while Emma Stone claimed the Coppa Volpi best actress prize for La La Land and Oscar Martínez took actor honours for El Ciudadano Ilustre.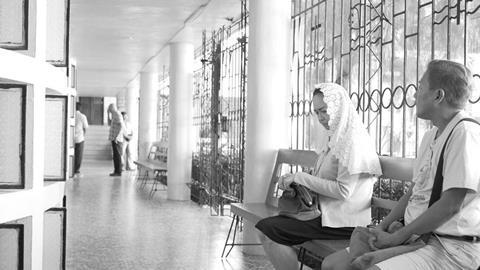 The Silver Lion – grand jury prize went to Tom Ford's Nocturnal Animals and the Silver Lion award for best director was a tie between Andrei Konchalovsky for Paradise and Amat Escalante for The Untamed.
Noah Oppenheim prevailed in the screenplay category for Jackie, while Ana Lily Amirpour earned a special jury prize for The Bad Batch.
VENICE WINNERS IN FULL
Golden Lion for best film
The Woman Who Left (Ang Babaeng Humayo; Philippines) by Lav Diaz
Silver Lion – grand jury prize
Nocturnal Animals (USA) by Tom Ford
Silver Lion award for best director (tie)
Andrei Konchalovsky, Paradise (CIS)
Amat Escalante, The Untamed (La Región Salvaje, Mexico-Denmark-France-Germany- Norway-Switzerland)
Coppa Volpi for Best Actress
Emma Stone, La La Land (USA)
Coppa Volpi for Best Actor
Oscar Martínez, The Distinguished Citizen (El Ciudadano Ilustre; Argentina-Spain)
Screenplay
Noah Oppenheim, Jackie (UK)
Special Jury Prize
Ana Lily Amirpour, The Bad Batch (USA)
Marcello Mastroianni Award for Best Young Actress
Paula Beer, Frantz (France-Germany)
Lion Of The Future 'Luigi De Laurentiis' Venice Award for a debut film
The Last Of Us (Akher Wahed Fina; Tunisia-Qatar-U.A.E.-Lebanon) by Ala Eddine Slim
ORIZZONTI AWARDS
Best film
Liberami (Italy-France)
Best Director
Fien Troch, Home (Belgium)
Special Orizzonti Jury Prize
Big Big World (Koca Dünya; Turkey) by Reha Erdem
Best Actress
Ruth Díazin, Tarde Para La Ira (Spain)
Best Actor
Nuno Lopes, São Jorge (Portugal-France)
Best Screenplay
Wang Bing, Bitter Money (Ku Qian; France-Hong Kong)
Best Short Film
La Voz Perdida (Paraguay-Venezuela-Cuba) by Marcelo Martinessi
Venice short film nomination for the European Film Awards 2016
Amalimbo (Sweden-Estonia) by Juan Pablo Libossart
VENICE CLASSICS AWARDS
Best Documentary On Cinema
Le Concours (France) by Claire Simon
Best Restored Film
Break Up – L'uomo Dei Cinque Palloni (Italy-France, 1963 and 1967) by Marco Ferreri
Golden Lion For Lifetime Achievement 2016
Jean-Paul Belmondo
Jerzy Skolimowski
Jaeger-Lecoultre Glory To The Filmmaker Award 2016
Amir Naderi
Persol Tribute To Visionary Talent Award 2016
Liev Schreiber
L'oréal Paris Per Il Cinema Award
Matilde Gioli