Director Pablo Larrain says Jacqueline Kennedy was a "queen without a throne" following well-received Venice debut.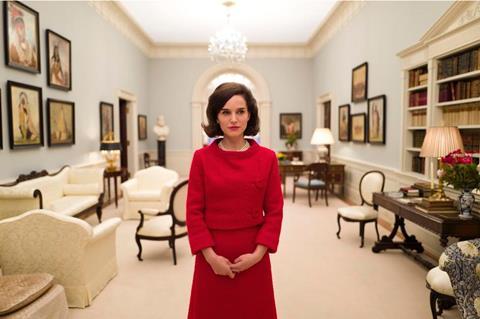 Oscar-winning actress Natalie Portman has said taking on the role of Jacqueline Kennedy in Pablo Larrain's buzzed-about biopic Jackie was "the most dangerous" of her career.
The likely awards contender, which received concerted applause following its press screening this morning in Venice, will get its red carpet world premiere tonight on the Lido before transferring to Toronto.
The anticipated feature is an intimate portrait of First Lady Jacqueline Kennedy in the immediate aftermath of John F. Kennedy's assassination in 1963.
Early reviews are high on the film and even higher on Portman's performance as a fragile and tragic First Lady.
In response to a press conference question of whether the role was the most challenging in her career, Portman said:
"It's definitely up there… It definitely felt the most dangerous because everyone knows what she looked like, how she walked, how she talked… I had never played someone like that. Everyone has their idea of her."
Portman added of her iconic character: "She's a symbol, she's a woman, she's a wife, she's a betrayed wife, she's a person trying to find her way in the world… There are so many things she is dealing with."
Acclaimed Chilean director Pablo Larrain, making his English-language debut, told the conference:
"I believe that Jackie was incredibly mysterious. She was incredibly unknown. It was a beautiful challenge. I don't think the movie will deliver all the answers."
Larrain said that he didn't view the film as a biopic:
"It's a risk when you try to make the subject look and talk just like the subject. When the movie starts it's like a photo, you imitate something. We tried to create an illusion. Pain, beauty, desire… I don't think this is a biopic. This is an approach from producers, writers, actors."
The filmmaker was asked by one journalist why he had "reinforced the myth of Camelot" (the name sometimes ironically given to the Kennedy presidency):
"They were able to gather an illusion of royalty," he said of the Kennedys. "She was a queen without a throne."
As detailed in Screen's interview with the director, the in-demand Larrain told the audience that he was approached to make Jackie by Black Swan director Darren Aronofsky, who produced the movie.
"It was an invitation I got from Darren Aronofsky. I'm not American and [so] not as attached to the history as my own country's but I thought there was an incredible opportunity."