Aronofsky, Clooney and del Toro are heading to the Lido; Alberto Barbera reveals the ones that got away.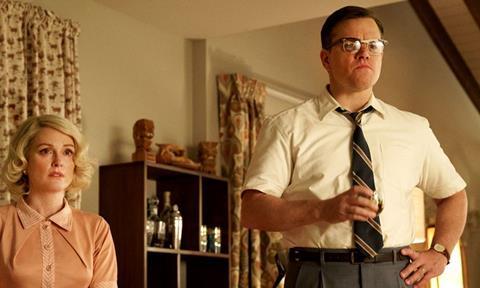 Ahead of the world's oldest festival, the buzz is palpable once again.
However, the flavour to this year's Venice line-up is noticeably different from recent editions with an emphasis on internationalism, discoveries and innovation over large canvas studio fare.
If last year's Venice lineup was a veritable treasure trove of big name US and international filmmakers, this year's lineup has a slightly more tempered feel to it, which nonetheless remains full of intrigue.
In the last four years Venice has kickstarted major Oscar runs for four US movies [Gravity, Birdman, Spotlight and La La Land], however last year, for the first time in three years, it missed out on hosting the best picture winner [Moonlight, which went to Telluride].
Buzzed-about early awards contenders in this year's 21-strong competition include Alexander Payne's social satire Downsizing, starring Matt Damon and Kristen Wiig, Guillermo del Toro's other-worldly fairy tale set against the backdrop of Cold War era America The Shape of Water, George Clooney's crime-caper Suburbicon and Darren Aronofsky's drama-horror mother!, starring Jennifer Lawrence, Javier Bardem. Michelle Pfeiffer and Kristin Wiig.
Festival head Alberto Barbera said he was "97% happy" with the lineup and that they only missed out on "two or three" films they wanted, including Richard Linklater's New York opener Last Flag Flying and Christian Bale western Hostiles, which is expected to debut at Telluride.
He admitted that for this year's lineup (and Cannes, for that matter) he was not afforded as deep a pool of new US independent and studio films as recent years, but he said that this was a result of timing, strategy and the growing pull of international financiers over studios, rather than a dip in quality.
Like Cannes, Venice is lacking in obvious razzmatazz: there are no 3D epics (Everest, Gravity) and no big canvas, crowd-pleasing genre movies (Arrival, The Magnificent Seven).
The feel-good La La Land was a huge hole to fill, but the festival will screen another musical in the shape of Italian crime story Camorra Ammore e Malavita by the Manetti Brothers.
Unexpected thrills could come in the special screening of Michael Jackson's Thriller 3D (an extended and remastered version of the original video) which will play alongside Jerry Kramer's documentary The Making Of Thriller.
International outlook
Among anticipated international films in competition are Andrew Haigh's UK title Lean On Pete (above), Samuel Maoz's Foxtrot - only the filmmaker's second feature after Golden Lion winner Lebanon in 2009 - Cannes regular Hirokazu Koreeda's The Third Murder, Ai Weiwei's refugee documentary Human Flow and Blue Is The Warmest Colour director Abdellatif Kechiche's Mektoub, My Love: Canto Uno, which Barbera revealed might ultimately become three films (Venice will only show the first episode).
Four Italian directors will have films in competition, among them Paolo Virzi, whose English-language drama Leisure Seeker stars Helen Mirren and Donald Sutherland.
All competition films are likely to be world premieres.
Among highlights in a strong out of competition lineup are Ritesh Batra's Our Souls At Night, starring Robert Redford and Jane Fonda, S. Craig Zahler's Brawl in Cell Block 99, Racer And The Jailbird by Michael Roskam, Zama by Lucrecia Martel, Exorcist documentary The Devil And Father Amorth by William Friedkin and Errol Morris' Wormwood. Stephen Frears' Victoria And Abdul also has awards potential.
The ever-intriguing Horizons lineup includes potential gems such as Anne Fontaine's Marvin, starring Isabelle Huppert, while the festival's Cinema In The Garden strand will feature Netflix original series Suburra and buzzed-about Woodshock.
The online platforms are unlikely to dominate headlines to the extent they did at Cannes. Netflix will still have a decent presence, however, with Batra's out of competition entry, Suburra and Morris's hybrid miniseries Wormwood. Amazon Studios reportedly picked up Ai Weiwei's Human Flow.
The festival saw 3,492 works in total, including 1,772 feature films (163 of which were Italian). It saw 109 VR works, which it whittled down to a competition of 22. 71 films were announced in the Official Selection.
Diversity
The festival does not have a glowing record when it comes to diversity. As was the case last year, only one of its 20 films in competition is from a female director (Vivian Qu's Jia Nian Hua). Thankfully, Annette Bening will lead the competition jury, ending an 11-year succession of male jury chiefs.
Venice has been more keen to embrace new technology, however. This year will mark the first year the festival offers a VR competition, with a jury led by John Landis.
Among anticipated movies yet to declare for a festival (and perhaps never to do so) are Denis Villeneuve's hot ticket sci-fi Blade Runner 2049, which might be held back to avoid spoilers; tennis biopic Borg/McEnroe; Brie Larson drama The Glass Castle; Garth Davis' Mary Magdalene; UK duo On Chesil Beach and Goodbye, Christopher Robin; Scott Rudin-produced Annihilation; Liam Neeson thriller Felt: The Man Who Brought Down the White House; and Steven Spielberg's already dated The Papers.