Festival director Alberto Barbera tells Geoffrey Macnab about the 72nd line-up, the Toronto détente and forging ties with the streaming giants.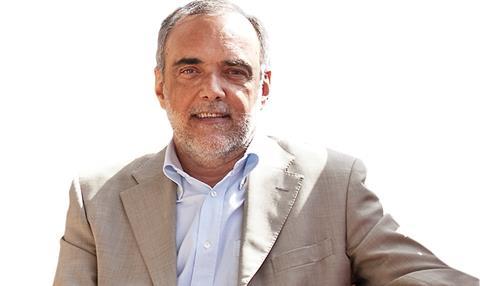 The positive news on the eve of this year's Venice Film Festival is that the Lido's most famous and iconic hotel will soon re-open. The Grand Hotel des Bains used to be the heart of the festival. It was here that distributors cut their deals, press held interviews and film-makers made their home. In recent years the majestic old building, where Thomas Mann wrote Death In Venice, has been lying derelict as plans to convert it into luxury condos collapsed. Now, it is being restored.
"It doesn't make any sense to claim a film is a world premiere in one place or another. I don't want to play that kind of game any more."
Festival director Alberto Barbera is delighted at the prospect of having the hotel back. "[The owners] declared the refurbishment of the hotel should be done in two years," he enthuses. "That's wonderful news for the festival, for the Lido, for everyone."
Venice is on a strong run of opening films. Birdman, which launched the festival in 2014 and Gravity, the 2013 opener, both went on to win multiple Oscars. Barbera is optimistic about the chances for Baltasar Kormakur's Everest. "I think Everest is an excellent film with a great cast," he says. "Its success is based on the fact it is not only spectacular but very realistic in its storytelling. You believe you are at 8,000 metres, on the top of the world."
International powerhouse
There have long been murmurings that Venice's influence has waned as Toronto's has grown. Look at this year's Venice selection, though, and you see a line-up of which any major festival would be proud. The selection includes features by revered auteurs such as former Golden Lion winner Alexandr Sokurov (Francofonia), Atom Egoyan (Remember), Marco Bellocchio (Blood Of My Blood), as well as genre movies (Daniel Alfredson's Go With Me) and documentaries (including Zhao Liang's Behemoth).
Meanwhile, US studios continue to use Venice for their junkets. Johnny Depp and his co-stars are expected on the Lido for the out-of-competition world premiere of Warner Bros' potential awards contender Black Mass. Barbera is happy for Venice to host such junkets but insists the festival's role is also "to discover new talent and trends in contemporary cinema; new countries without tradition in film production". He points out that more than half of the film-makers in the main sections have never been in Venice before, and that many will be unknown to critics and distributors.
Détente with Toronto
Barbera worries about the state of Italian production, which has been losing market share at home, but is heartened that Venice has some strong local titles, among them Bellocchio's films and Luca Guadagnino's A Bigger Splash. Relations between Venice and Toronto International Film Festival are also more cordial now than they have been in a long time.
"It is true that it is less competitive than compared to two years ago, or last year," Barbera says. "The attitude is slightly different." Toronto, Barbera notes, was "very aggressive, especially against Telluride", having taken exception to the way Telluride Film Festival staged sneak previews. In reaction, Toronto demanded world premieres and some producers resented their attitude. "So they [Toronto] decided to change again," Barbera says. "This year, we met in Berlin and in Cannes. They declared they wanted to be less aggressive toward us.
"We don't mention whether a film is a world premiere in Venice or not," he adds, observing that the competition for premieres may once have made sense but was now becoming "silly".
"There are less and less good films for festivals," he remarks. "If you go through the lists of the films that are in Venice and will be in Toronto and Telluride, you will see a number of films going on tour. It doesn't make any sense to claim a film is a world premiere in one place or another. I don't want to play that kind of game any more."
In the era of Netflix and multi-platform releasing, Barbera continues, it "doesn't make sense to use the same tools that you used only a few years ago. We have to completely change our attitude toward this new world."
Venice has increasingly close ties with Netflix and Amazon, and Barbera sees the VoD giants as potential allies. There are two Netflix-backed films in the Venice selection, Ukrainian doc Winter On Fire and Cary Fukunaga's competition entry Beasts Of No Nation. "[Netflix] were extremely eager to come to Venice, to show me what they have and to build a relationship for the future. The same with Amazon. They didn't have anything for this year, but they will play a major role in the future of American cinema."
This year's film market will again stage the Venice European Gap-Financing Market for 15 projects as well as the Final Cut programme to showcase works in progress. There will also be various high-level industry panels, and Barbera is expecting an increase in the number of industry delegates in Venice.
The Lido's sometimes creaky infrastructure isn't likely to be overhauled quite yet. Money is tight and Venice has been without a mayor until recently. In the long run, though, Barbera hopes to grow the market. "I still consider the market as something essential to the development of the Mostra," he declares.