Warner Bros and China Media Capital (CMC) are forming a joint venture, Hong Kong-based Flagship Entertainment Group, to develop Chinese-language films for the international market.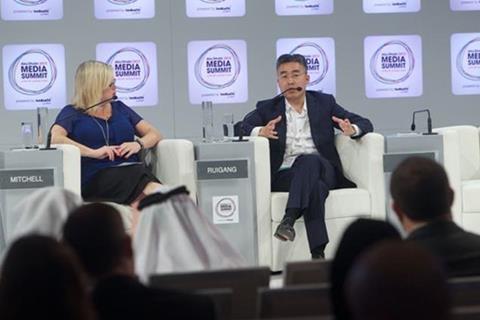 Launched ahead of Chinese President Xi Jinping's official visit to the US this week, the joint venture will be 51% owned by a consortium headed by CMC and 49% by Warner Bros. Hong Kong broadcaster TVB will have a 10% stake as part of the CMC consortium.
Films produced by the group will be distributed worldwide via Warner Bros' global networks. The first titles may be released as early as 2016.
The venture will be headquartered in Hong Kong with offices in Beijing and Los Angeles. Raine Group was a financial adviser to Warner Bros on the deal.
"The country's incredibly rich history and culture provide a huge trove of great stories, and we want to help tell those stories for new generations of filmgoers, in China and around the world," said Warner Bros chairman and CEO Kevin Tsujihara in a statement.
CMC founder and chairman Li Ruigang said: "This partnership with Hollywood's most iconic studio will bring Warner Bros' deep experience in creative storytelling and unparalleled expertise in producing global titles to China's film industry."
CMC is a media and entertainment investment fund, which has invested in companies and joint ventures such as Oriental DreamWorks, Star China and IMAX China. It has also launched a smart TV start-up, Whaley Technology, with backing from both Alibaba and Tencent. Li Ruigang was formerly the CEO of Shanghai Media Group.
Warner Bros previously had a production partnership with China Film Group and Hengdian Studios, which produced titles such as John Curran's The Painted Veil, Johnnie To's Turn Left, Turn Right and Ning Hao's Crazy Stone.