Rio made it a hat-trick of number one performances atop the international box office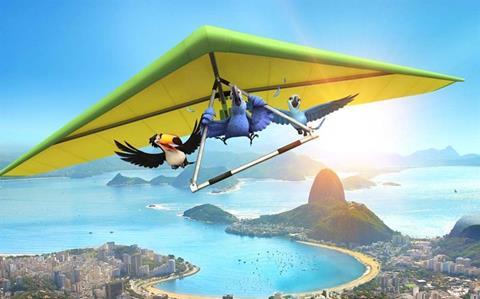 Fox's animation-comedy Rio continued to dominate on the international scene grossing $45m from a mighty 12,901 screens at a screen average of $3,487.
Carlos Saldanha's latest currently stands at $208.2m and is still going strong in 67 territories.
Universal's Fast and the Furious Five debuted in second, speeding to an excellent $23m from only four territories. The latest in the franchise took a brilliant $24,405 from 959 screens, and opens widely in the coming weeks.
The international opening bodes well for Justin Lin's latest given that the previous instalment opened in 28 more territories for only $7m more in 2009.
Germany, Russia and Spain will be among the major territories to get the film's full throttle this weekend.
US dominance at the head of the international chart was disrupted by third placed Chinese fantasy reboot A Chinese Ghost Story, which took $11.2m for Huaxia at a peerless screen average of $31,514 from 355 screens across China.
Wilson Yip, director of the hit IP Man franchise, takes the reins in the story of a tax collector who falls in love with a female ghost. Yu Shao-qun, Louis Koo and Liu Yifei star.
Warner Bros' Red Riding Hood jumped from 12th to fifth, grossing $9.7m, while The Weinstein Co's sixth-placed horror Scream 4 dropped four places in its second week.
The Japanese box office continued to bounce back with Toho's Gantz: Perfect Answer. The action-drama made $6.7m from 375 screens at an excellent average of $17,799. The second live action adaptation of the hit manga and anime series by Hiroya Oku sees Shinsuke Sato return as director.
Universal's Thor opened in Australia on $5.8m last weekend (the action-adventure was still only second behind the tough as nails Fast and the Furious Five), a strong result that saw it to tenth on the international chart.
Kenneth Branagh's feature scored a whopping $26,071 screen average from only 220 screens, and is unleashed on nearly every major territory this weekend.
Fox's starry Hindi-language thriller Dum Maaro Dum opened on $5.5m in 11th while Venkataswara's Telugu-language action Mr Perfect took $3.8m from seven territorties.
There were also decent showings this week from La Fille du Puisatier ($3.2m) and La Croisiere ($1.7m) in France and Aguila Roja ($2.5m) in Spain.