Dir: Abel Ferrara. US. 2014. 125mins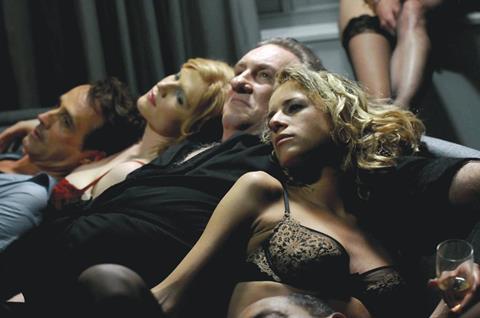 Abel Ferrara's Welcome To New York is an immodestly-veiled take on the Dominique Strauss-Kahn (DSK) scandal, shot on the hoof over 18 days and released on VOD-only in several major European territories including France. That the film is luridly enjoyable is perhaps to be expected: it starts out in a hail of hookers, banging and blow-jobs.
Welcome To New York is vividly lurid and frequently grotesque, obsessed for at least the first half-hour with establishing Mr Devereaux's grunting, bestial sexual needs.
But Ferrara has done more than the feed the curiosity-seekers: he has drawn an incredibly committed performance from Gerard Depardieu as Mr Devereaux, a man ravaged by his own carnal desires. With Jacqueline Bisset delivering strong support as Simone, his ambitious billionaire wife, Welcome To New York becomes a more nuanced, involving observation on personal dissolution with some electrifying moments from the two leads.
Having made the VOD decision for selected European territories , Welcome To New York is still available theatrically for other international markets, including the US. Buoyed by Depardieu – and, to a certain extent, Ferrara – returning to powerful form, it should at the very least find festival berths and an art-house following, if not a shot at a theatrical run. Given its artistic integrity and Depardieu's performance, it seems an odd choice to exclude Welcome to New York from the Cannes selection, where it was screened outside official line-up.
DSK was the chairman of the International Monetary Fund and a man with aspirations towards the French presidency before an alleged sexual assault in a New York hotel bathroom brought his house of cards tumbling down in a sexual molestation charges. "This film was inspired by a court case," says Welcome to New York's title card coyly. "Nonetheless, the characters portrayed in the film…remain entirely fictional".
Thus Gerard Depardieu plays Devereaux, a powerful French man who "works in a bank" and is a sex addict of epic proportions long before he assaults a chamber maid in a New York hotel bathroom. His billionaire wife Simone (Jacqueline Bisset) must now decide whether to rescue him, again.
In true – and, indeed, top – Abel Ferrara form, Welcome To New York is vividly lurid and frequently grotesque, obsessed for at least the first half-hour with establishing Mr Devereaux's grunting, bestial sexual needs. Depardieu's commitment to the part is initially difficult to watch – it's very raw and open and there's a feeling of real sexual tension. Ferrara lays it on thick, as well, with the hooker office parties, a hotel food fight, and an extended lesbian-call-girl sequence that borders on porn.
Also, Ferrara has made the decision, with co-writer Chris Zois, to position Devereaux only in a sexual setting. Not one sequence or even conversation references business affairs, politics, or even the everyday. This ploy takes a whole to pay off, but once Devereaux has his toys stripped away, he's completely naked.. The screenplay feels fresh in Depardieu's hands, possibly improvised, especially in the scenes with Bisset, moving between English and French fluidly. To say he bares himself doesn't really cover the performance Depardieu hands in – naked physically and emotionally, and not in good shape on either front.
Using smooth hand-held shots in artificial arenas – a hotel room, jail, and the Devereaux's sterile apartment – cinematographer Ken Kelsch creates a world apart. The idea of glimpsing into this world may lead to curiosity seekers, titillated by the scandal, but Welcome to New York has a solid emotional core.
Production companies Belladonna Productions, Wild Bunch
International sales: Wild Bunch, www.wildbunch.biz
Producer: Adam Folk
Executive producers: Anthony Gudas, Michael Corso
Screenplay: Chris Zois and Abel Ferrara
Cinematographer: Ken Kelsch
Editor: Anthony Redman
Main cast: Gerard Depardieu, Jacqueline Bisset, Marie Moute, Pamela Afesi