Dir. Drew Barrymore. US. 2009. 111 mins.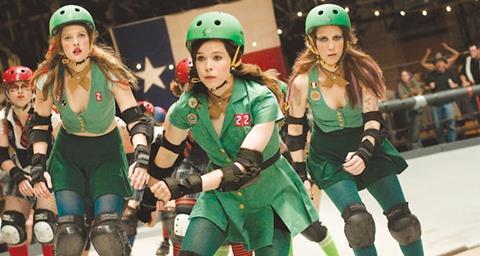 For her directorial debut, Drew Barrymore seems less concerned with crafting a riveting cinematic experience as she is in creating a good time. On that criterion, she has succeeded: Whip It greatly benefits from Barrymore's breezy approach and her large female cast's camaraderie – so much so that one can mostly overlook the fact that this story about a misfit teen finding her independence by joining a women's roller-derby team is really just a standard coming-of-age sports film drunk on girl-power.
Barrymore clearly wants the film to be a salute to female empowerment
Whip It opens domestically October 2, facing some competition for female audiences from Fame, which debuts a week earlier. Though the sport that Whip It chronicles may not be widely known, a cast that includes Ellen Page and Barrymore (in a supporting role) could help propel this likeable romp into a word-of-mouth sleeper.
Bored and aimless in her Texas small town, 17-year-old Bliss (Page) finds her purpose when she hears about a female roller-derby league in a nearby city. Soon she joins a team called the Hurl Scouts and becomes involved with a cute aspiring rock musician named Oliver (Landon Pigg), all of which she has to keep hidden from her old-fashioned, disapproving mother (Marcia Gay Harden).
As a first-time director, Barrymore has made a film that reflects her onscreen persona: energetic, approachable, girly but with a tomboy-ish sexiness.
Adapted by roller-derby athlete Shauna Cross from her own novel, Whip It is at its most appealing when Bliss is bonding with her fellow Hurl Scouts, palling around with her best friend Pash (Alia Shawkat) or having a difficult conversation with her mother.
There's nothing especially momentous going on in these exchanges, but Barrymore has given her actresses room to build a real rapport with each other, illustrating how rare it is to see a movie that observes female friendships and mother-and-daughter relationships in this specific way.
But if Barrymore should be commended for Whip It's genial atmosphere, her debut is not without shortcomings.
Although set in the unique milieu of the violent and tawdry world of competitive female roller derby, the movie sleepwalks through the terribly drab conventions of the average underdog sports drama, complete with training montages and a finale built around a championship match.
Additionally, Barrymore clearly wants the film to be a salute to female empowerment, but the stakes don't seem particularly high when Bliss decides to reject her loving-if-overbearing mother's conservative values.
Still, Whip It skates past its problems thanks to several pleasing performances. Playing a less affected version of her character from Juno, Page makes Bliss vulnerable and very sympathetic. As one of Bliss's teammates, Kristen Wiig generates laughs with a nicely underplayed look or line delivery.
Juliette Lewis portrays the leader of the Hurl Scouts' rival team, reminding audiences that her decision to largely abandon acting has been a loss, while Harden provides layers to a potentially one-note uptight mother character.
Interestingly though, one of Whip It's weakest performances comes from the director herself, suggesting that perhaps she was too busy overseeing decisions behind the camera to worry so much about her job in front of it.
To sign up for Screen's weekly Reviews Newsletter with all the week's new releases, internationalopenings and full festival reviews delivered free to your mailbox every Friday, please click HERE
Production companies
Mandate Pictures
Vincent Pictures
Flower Films
Rye Road
Domestic distribution
Fox Searchlight Pictures
International Sales
Mandate International
(1) 310 360 1441
Producers
Barry Mendel
Drew Barrymore
Screenplay
Shauna Cross, based on her novel Whip It
Cinematography
Robert Yeoman
Production designer
Kevin Kavanaugh
Editor
Dylan Tichenor
Music
The Section Quartet
Main cast:
Ellen Page
Marcia Gay Harden
Kristen Wiig
Drew Barrymore
Juliette Lewis
Jimmy Fallon
Alia Shawkat
Eve
Zoe Bell
Ari Graynor
Andrew Wilson
Carlo Alban
Landon Pigg
Rachel Piplica
Kristen Adolfi
Daniel Stern