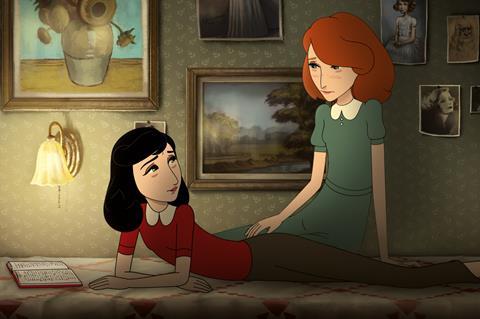 Paris-based sales powerhouse Wild Bunch International (WBI) and leading French animation distributor Gebeka Films are joining forces to create joint animation world sales label Gebeka International.
"The long-term goal is to handle sales on five to six big independent animated features with festival and awards potential a year," explained WBI co-head Vincent Maraval.
He will oversee the new venture with Gebeka Films president Réginald de Guillebon.
Lyon-based Gebeka Films specialises in releasing high-end French and European animated features in France. Past releases include Rémi Chayé's Calamity, Claude Barras's Oscar-nominated My Life As A Courgette and Michel Ocelot's Kirikou And The Wild Beasts.
The company was created by Jean-Michel Gévaudan, Marc Bonny and Jacques Kraemer in 1997. It was acquired in 2018 by de Guillebon, whose holding company Hildergarde also owns animation production houses Folimage (Phantom Boy) and Les Armateurs, the most recent credits of which include Swallows Of Kabul.
WBI has a long history of selling feature-length animation, kicking off with Studio Ghibli co-founder Hayao Miyazaki's 2002 Oscar-winning hit Spirited Away and also including Mark Osbourne's Little Prince, Michael Dudok de Wit's The Red Turtle.
Its current slate features Patrick Imbert's mountain adventure The Summit Of The Gods and Ari Folman's Where Is Anne Frank?, which world premieres Out of Competition at Cannes this year.
After Spirited Away, the company handled sales on all subsequent Studio Ghibli features, most recently selling Earwig And The Witch, the third solo feature of Miyazaki's son Gorô Miyazaki, and now looks after its entire feature catalogue.
"We've always sold animated features but we've seen a real evolution in the market in recent years. The independent animation scene is expanding while buyers of animated features are increasingly specialised in the sector," commented Maraval.
"A different market and industry circuit is also growing around events like Annecy's MIFA [International Market for Animation Film] or Cartoon Movie. We've felt for a long time that it would make sense to launch an independent company focused uniquely on animation," he added.
Acquisitions will be handled by Maraval and de Guillebon and respective WBI and Gebeka Films staffers Livia Van der Staay and Marion Delord. A dedicated sales agent is on the verge of being recruited. They will report to WBI head of sales Eva Diederix. CAA Media Finance, which has long represented the US rights to WBI films, will also support the titles on the Gebeka International slate.
Gebeka International will also combine and handle sales on the catalogues of both Gebeka Films and WBI, apart from the Studio Ghibli catalogue, Under the deal, neither company is obliged to sell animated features they are involved in via the Gebeka International label.
A first new sales acquisition is expected to be announced in the coming days.