Dir/scr: Akiva Goldsman. 2014. 118mins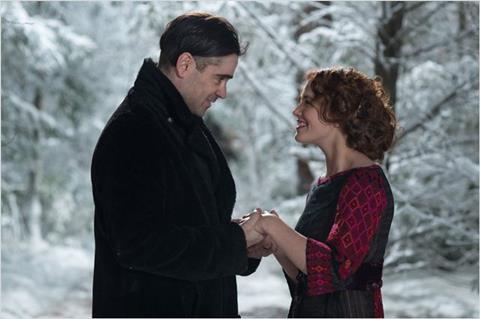 A rich and immersive tale of romance, angels, demons and a flying white horse, with enough room for a brief cameo from Lucifer, the ambitiously mounted Winter's Tale is a fantasy romance that wears its fuzzy good intentions as a badge of honour but gets weighed down by the sheer sweep of its epic tale and its decision to resort to special effects when acting (and a trimmed down script) might well have carried the story.
There are a few truly tear-jerking moments but Goldsman never manages to infuse his tale with the rich sense of magic and romance that the film badly needs.
The film – released in the UK as A New York Winter's Tale, perhaps to dodge any lingering thought it may be linked to Shakespeare – is a tough sell in a cynical marketplace. It will require an audience to take its story of decade-spanning magical romance and a belief in miracles on face value and try and hold back on sniggering at its po-faced fantasy intentions and sense of moody melodrama. Fans of Mark Helprin's original epic source book may well be intrigued (as well as Will Smith completists), but apart from piggybacking Valentine's Day romantic goodwill (it opens in the US on February 14, and the UK a week later) its main life may well be on home entertainment.
The film marks the directorial debut of acclaimed screenwriter Akiva Goldsman (who also scripted Russell Crowe's A Beautiful Mind and Cinderella Man), who also scripted and produces, and it is clearly a labour of love for him. And while he has gathered a formidable cast and crew who help give the film heart and soul at certain moments, in the end the project is hampered by its unsubtle blend of magic and moodiness, and of rather unconvincing angels and demons.
Winter's Tale insists its audience get into its fantastical groove right from the start with the voiceover stating "magic is everywhere around us…you just have to look". It is a tough ask as the film dwells on stars and angels before zooming in on a dishevelled Colin Farrell wandering around modern-day Grand Central station before moving swiftly on to an extended flashback (that takes up half of the film) that heads back to New York of 1916.
Professional thief Peter Lake (Farrell) is being chased by demonic gang boss Pearly Soames (a nicely barbaric Crowe) and his men when he comes across a magnificent white horse which helps him escape by jumping an impossibly high gate. As Soames comments:" He's got the goddamn horse." Yes, it is a special horse…but more later.
Soames is desperate to kill Peter before he can fulfil his destiny….and it appears to be clear what that destiny just is when he meets beautiful red-haired consumptive Beverly Penn (Jessica Brown Findlay, from television's Downton Abbey), who is won over by his roguish charm when he turns up to rob her family's Central Park home. Soames, however, is hot on Peter's heels and it takes the intervention of that handy flying horse to whisk them away to a snowy estate outside the city where he declares true love for the dying Beverly.
Before long the film switches to New York of 2014 where Peter wanders around with no memory, repeatedly drawing pictures of a red-haired woman on the pavement and strolling around Central Park. Here he meets a gloomy mother (Jennifer Connelly) and her terminally ill young daughter (Ripley Sobo) and before long his journey to find out about his past is entwined with the girl's battle with cancer. Cue the reappearance of Soames and - again - that aforementioned handy flying horse.
Luckily the actors all take it appropriately seriously. Colin Farrell, sporting an odd floppy haircut, is at his charming and twinkly-eyed best; Jessica Brown Findlay is mesmerising and effortlessly natural as Beverly; Mckayla Twiggs is terrific as Beverly's little sister Willa (and played charmingly as an older woman by Eva Marie Saint), and Russell Crowe has a great time as the scarred and snarling be-suited villain.
Will Smith crops up in two unbilled scenes as Soames' boss Lucifer (seen reading A Brief History Of Time in his subterranean bolthole), though in truth adds little to proceedings apart from his natural charisma. But it nice to see Smith and Crowe snarl and growl together. Some of the special effects are too heavy-handed to fit the magical mood (Soames' face assuming a true demon's visage on some occasions), while the flying horse is unconvincing and silly, rather than moving and inspiring.
There are a few truly tear-jerking moments – particularly in the contemporary section of the film - but Goldsman never manages to infuse his tale with the rich sense of magic and romance that the film badly needs, resulting in a rather unwieldy fantasy that is engaging in small moments but just never fits together as it should do.
Production companies Ratpac-Dune Entertainment, Weed Road/Marc Platt
Distribution Warner Bros
Producers: Akiva Goldsman, Marc Platt, Michael Tadross, Tony Allard
Executive producers, James Packer, Steven Mnuchin, Kerry Foster, Bruce Berman
Co-producer, William M. Connor
Cinematography: Caleb Deschanel
Editors: Wayne Wahrman, Tim Squyres
Production designer: Naomi Shohan
Music: Hans Zimmer, Rupert Gregson-Williams
Main cast: Colin Farrell, Jessica Brown Findlay, Jennifer Connelly, William Hurt, Eva Marie Saint, Graham Greene, Russell Crowe, Will Smith