Dir: Kieran Darcy-Smith. Australia. 2011. 93mins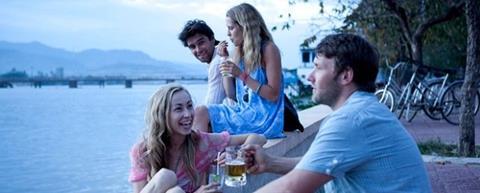 Guilt and sorrow hang heavy over the characters' heads in Wish You Were Here – too heavily, unfortunately. A character drama about two Australian couples who go on vacation to Cambodia – with one of them ending up missing – the feature debut of director/co-writer Kieran Darcy-Smith doesn't lack for furrowed-brow seriousness, but ultimately the depths being explored aren't nearly as incisive or startling as its makers think.
The film doesn't have much new to say about male pride, temptation or guilt.
One of the opening night films at Sundance and competing in the festival's World Cinema Dramatic Competition, Wish You Were Here will hope to attract audiences familiar with rising star Joel Edgerton, who appeared in the Australian thriller hit Animal Kingdom, which won Sundance's World Cinema Jury Prize two years ago. But the comparisons between the two films end there, with Wish You Were Here more of a relationship drama and mystery. Strong reviews will be needed for a film that's incredibly sombre and peopled with characters who are sometimes hard to embrace.
Married couple Dave and Alice (Edgerton and co-writer Felicity Price) decide to go on a week's vacation to Cambodia with Alice's sister Steph (Teresa Palmer) and her handsome new boyfriend Jeremy (Antony Starr). But the trip ends in anguish after Jeremy disappears during a night of wild partying. The other three return to Sydney, trying to recall what happened that night and coping with the fallout of Jeremy's disappearance.
Wish You Were Here skips between the present in Australia and the past in Cambodia, offering us clues into what became of Jeremy. What emerges rather quickly is that one or more people in the group know more than they're telling, which produces a frustrating escalation of surprises that aren't, in fact, particularly surprising. (From the film's first few minutes – which contain a shot of a bleary-eyed Edgerton wandering alone in Cambodia – Wish You Were Here tips its hand to the secrets that will be forthcoming.)
The plot's twists and turns are mostly a way for Darcy-Smith to ratchet up the tension between Dave and Alice, showing the cracks in their seemingly happy family life. But despite Edgerton and Price's best efforts, this couple isn't particularly memorable, which makes Darcy-Smith's attempts to elevate their troubles to the state of grand tragedy terribly overblown.
Predictably, Wish You Were Here's flashbacks eventually spell out Jeremy's whereabouts, but because the film doesn't have much new to say about male pride, temptation or guilt, the final revelation feels more artificially manufactured than intricately wrought from everything we've seen up to that point. Rather than building the drama from the very human foibles of these four characters, Darcy-Smith goes for cheap shocks – including the umpteenth use of a traumatic, jarring car accident – in a vain attempt to keep the audience engaged with his meagre morality play.
Production companies: Screen Australia, Screen NSW, Hopscotch Films, Aquarius Films, Blue-Tongue Films
International sales: LevelK, www.levelk.dk
Producer: Angie Fielder
Screenplay: Kieran Darcy-Smith and Felicity Price
Cinematography: Jules O'Loughlin
Production designer: Alex Holmes
Editor: Jason Ballantine
Music: Tim Rogers
Website: www.wishyouwereherethefilm.com
Main cast: Joel Edgerton, Teresa Palmer, Felicity Price, Antony Starr