A middle-aged eco-terrorist dreams of becoming a mother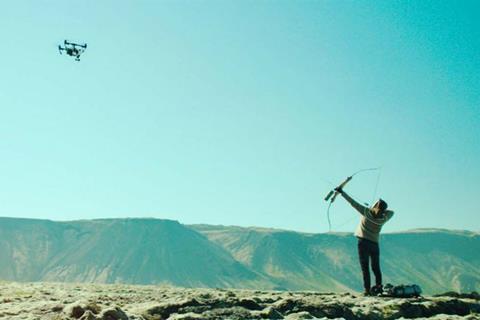 Dir: Benedikt Erlingsson. Iceland-France-Ukraine. 2018. 100mins
Halla is nudging 50. She leads a choir, keeps healthy with Tai Chi, and lives alone in a cosy apartment decorated with posters of Nelson Mandela and Gandhi. She is also, according to the Icelandic press, an eco-terrorist, bent on wrecking the country's economy and infrastructure. But nobody, outside of Halla's most trusted confidantes, would link the two identities: the mild mannered music teacher and the shadowy anti-capitalist saboteur. It's already a tasty premise, but then Halla is forced to question everything she believes is worth fighting for when she learns that her long-cherished dream of adopting a child is tantalisingly close to fruition.
Halldóra Geirharðsdóttir persuasively tackles a physically demanding role
Carried by a magnetic performance from Halldóra Geirharðsdóttir in a dual role (she plays both Halla and her identical twin sister Asa), Benedikt Erlingsson's enjoyable follow up to Of Horses And Men is elevated by wryly idiosyncratic flourishes in its execution. Less overtly comic than its predecessor, Woman At War will likely stage a concerted assault on the festival circuit. And given the relative paucity of films which feature complex middle-aged female characters — particularly female characters who blow up electricity pylons — it could find a warm reception theatrically, skewing towards, but not exclusively, a female audience.
With her glacial blue eyes, boyish haircut and a crossbow slung over her shoulder, Halla exudes a single-minded sense of purpose. Shot from slightly below as she gazes up at the electricity cables above, she looks like Joan of Arc in a woolly jumper. Geirharðsdóttir persuasively tackles a physically demanding role – Halla spends a lot of time bounding across volcanic crags and evading the surveillance helicopters which hunt her. But she is equally effective in conveying the softer side of this formidably determined character, the part which melts when she is shown a photograph of the orphaned Ukrainian four-year-old that she could adopt.
Fittingly, given Halla's profession, music plays a central role. But it is not just the score that asserts itself; in a bold and pleasingly quirky move, Erlingsson places the musicians on screen during the action. A Ukrainian vocal trio and a three-piece band consisting of accordion, drums and sousaphone interact with Halla, although she is unaware of their presence. It's a risky device, which could lift the viewer out of the action, but here it works as a playful wink to the audience, particularly when the musicians take their inspiration from the rhythms of the action.
The secrecy inherent in Halla's activist identity places restrictions on the screenplay. There are no big heart to heart scenes in which she thrashes out her conflicted loyalties: earth mother or real mother. But this is no great loss, in fact too much exposition would be counter to the Icelandic economy which characterises the most engaging scenes, between Halla and the farmer who may or may not be her cousin.
The only superfluous section in this satisfyingly sparse piece of storytelling is a coda which unfolds in Ukraine, and takes place after what seems to be the film's natural end point.
Production companies: Slot Machine, Gulldrengurinn
International sales: Beta Cinema beta@betacinema.com
Producers: Marianne Slot, Benedikt Erlingsson, Carine Leblanc
Screenplay: Benedikt Erlingsson, Ólafur Egill Egilsson
Production design: Snorri Hilmarsson
Editing: Davíð Alexsander Corno
Cinematography: Bergsteinn Björgúlfsson
Music: Davíð Þór Jónsson
Main Cast: Halldóra Geirharðsdóttir, Jóhann Sigurðarson, Jörundur Ragnarsson, Juan Camillo, Roman Estrada, Charlotte Bøving, Björn Thors, Hilmir Snær Guðnason, Jón Jóhannsson, Þorsteinn Guðmundsson, Helga Braga Jónsdóttir