Dir. Josh Goldin. US, 2009, 89 minutes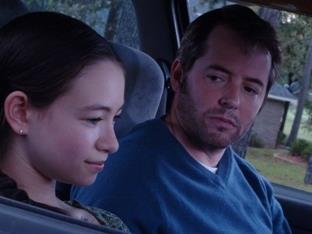 "I guess I'm back," announces Matthew Broderick at the denouement of Josh Goldin's caustic heartwarmer Wonderful World, before hoisting a polka-dot guitar to serenade a crowd of schoolchildren. While Broderick himself hasn't exactly been away, his performance as a cynic who rediscovers his sense of wonder is so much more richly inhabited than anything he's done on film in recent years, it has the aura of a comeback triumph about it.
For his feature directing debut, Out on a Limb and Darkman co-writer Goldin elevates a formula transformation-of-the-heart fable, combining sharp character-based humour with a knack for teasing audience expectations and then gently subverting them. Although Goldin tosses in one more fantasy element than the enterprise can support, the results are engaging enough to ensure this micro-budgeted charmer a moderate commercial payoff.
Broderick adopts his best sourpuss posture to play Ben Singer, a veteran legal proofreader who can't say enough rotten things about life's injustices. He has his reasons: his ex-wife gives Ben constant grief over his parenting of their dour 11-year-old daughter Sandra (Ferland); his sweet-hearted Senegalese housemate Ibu (Williams) is beset by diabetes; and he has long abandoned his folk guitarist dreams and status as a children's-music celebrity after being shafted by a major recording label.
Ben's grumpy outlook is further challenged when Ibu goes into a diabetic coma and is hospitalised. Ibu's sister Khadi (a radiant Sanaa Lathan) blows in from Dakar, taking her brother's room for the duration of his recovery. Khadi is almost too good to be true: a one-woman cheering squad for all things Senegalese, she chips away at her host's frosty reserve with a seductive potpourri of down-home sayings, cuisine, dance and magic rituals. Fortunately, Goldin endows Khadi with an Achilles heel or two: she's a Nike shoe-aholic and may or may not have an ulterior motive for her generosity of spirit.
The script's multiple detours include a courtroom fight over a car-towing incident which offers Ben a chance to rail against America's bottom-line culture; regrettably, his grandstanding monologue lacks the bite of the many other terse zingers Goldin has invented for his angry protagonist.
The film's chief misfire is a dream character called The Man (Hall), an executive-suited embodiment of everything Ben rails against. The device, with one foot in the absurdist comedies of 1960s-era off-Broadway and another in Capra-esque comedies, doesn't work. He's intended as a devil's advocate, but comes off as Ben's inner therapist (and a not very good one at that).
Daniel Shulman's assured work as DoP is an asset. Senegalese sounds are balanced with Dan Zanes' pleasing acoustic ditties for Ben, although one wishes the composers could have conjured up something a bit more stirring for that big, polka-dot guitar finale.
Production Companies
Ambush Entertainment
Back Lot Pictures
Cold Iron Pictures
International sales
5K International
Producers
Glenn Williamson
Miranda Bailey
Matthew Leutwyler
Screenplay
Josh Goldin
Cinematography
Daniel Shulman
Main cast
Matthew Broderick
Sanaa Lathan
Michael Kenneth Williams
Jodelle Ferland
Phillip Baker Hall