Dir: Bryan Singer. US. 2014. 130mins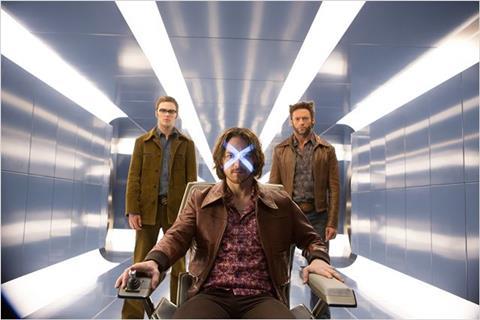 Returning to the X-Men franchise for the first time since 2003, director Bryan Singer shows little sign of rust, delivering one of the series' very best instalments. X-Men: Days Of Future Past has a grandeur and elegance to go along with its expected action spectacle, but it's also sufficiently funny and emotional, capably interweaving big themes about identity and destiny into the mix as well. Considering that this is the seventh X-Men film, including two standalone Wolverine adventures, Days Of Future Past can't help but suffer a little from mutant fatigue. But on the whole, this latest sequel manages to bring together the original trilogy's stars (most importantly Hugh Jackman) with the new films' leads (particularly Michael Fassbender) for a story that's appropriately dark, epic and intelligent.
Wolverine is sarcastic, sexy, determined and haunted by his past failings, and Jackman shows all of that with a naturalness that's absorbed into his character's every one-liner and fight scene.
Days Of Future Past will be competing with the much-anticipated Godzilla. The previous instalment, 2011's origin story X-Men: First Class, grossed a little over $353m worldwide, one of the weaker showings in this franchise. But when you factor in that Jackman's Wolverine is a bigger character in this sequel — and that familiar faces such as Patrick Stewart and Ian McKellen return from the original films — it seems reasonable to bet that Days Of Future Past will outperform First Class. Good reviews and word-of-mouth will be a help, with distributor Fox hoping that audiences won't be tired of comic-book heroics after the recent Captain America: The Winter Soldier and The Amazing Spider-Man 2.
Set in both the past and the future, Days Of Future Past kicks off about 10 years from now in a bleak dystopia in which humanity and mutants have almost been eradicated by the Sentinels, a race of robots that hunt down and enslave most of the planet. Among the survivors, Magneto (McKellen) and Professor X (Stewart), mutant rivals who are now allies, recruit Wolverine (Jackman) to go back to 1973. That's the year in which the rebellious Mystique (Jennifer Lawrence) kills Dr. Trask (Peter Dinklage), a brilliant scientist whose creation of the Sentinels in order to track mutants only draws more support after his murder. If Wolverine, alongside the younger Magneto (Fassbender) and Professor X (James McAvoy), can prevent Mystique from assassinating Trask, maybe Earth's dark future can be rewritten.
Working from a screenplay by Simon Kinberg and a story co-written by First Class director Matthew Vaughn, Days Of Future Past has certain logic issues inherent in time-travel narratives, which often make simplistic assumptions that stopping one event in the past will automatically prevent a larger catastrophe in the future. (Maybe even if Mystique didn't kill Trask, the Sentinels could still eventually take over the world.) But if one's willing to accept this sequel's premise, Days Of Future Past creates plenty of suspense and intrigue as the younger Magneto and Professor X must learn to work together while grappling with the events that drove them apart at the end of First Class.
Indeed, theirs is a wary allegiance, with both men suspicious of the other person's motives, and Fassbender and McAvoy, adept dramatic actors, are easily able to give their characters' reluctant truce a lingering unease. (In particular, Fassbender's steely menace is a constant pleasure, suggesting that Magneto's villainy is always just around the corner, even if to him it's completely justified.)
X doesn't just have to contend with the treacherous, vindictive Magneto who's insistent that humans need to be punished for their hatred of mutants, though: He also must grieve over the loss of Mystique's friendship and wean himself off the potent serum that mutes his debilitating ability to read others' minds. As opposed to the regal, wise older Professor X of the Patrick Stewart films, McAvoy's X is a weak-minded defeatist who has to find the courage and personal fortitude to become a leader. McAvoy conveys X's inner struggles poignantly, although he isn't as confident with the film's lighter moments, especially during action sequences.
This slight tonal misstep is not uncommon for a film that juggles two time periods, not to mention a large collection of major characters. (Nicholas Hoult's Beast and Evan Peters' Quicksilver are integral to the plot as well, and Halle Berry and Ellen Page also show up to reprise their roles.) Like many tentpoles, especially superhero movies, Days Of Future Past doesn't just have a lot going on — it also must work within the parameters of earlier instalments, revisiting or expanding upon previous character dynamics so that it's faithful to the overall franchise timeline. (According to the end credits, footage from all six earlier X-Men movies is included in Days Of Future Past.)
And yet, Singer (who directed 2000's X-Men and 2003's X2) does a marvellous job giving Days Of Future Past a swiftness and grace that transforms what could be a lumbering, bloated sequel into a coherent and satisfying tale. Singer's earlier X-Men movies connected the mutants' alienation to the plight of racial minorities and homosexuals, sometimes unsubtly but always passionately making the case that these superheroes were underdogs worth rooting for. That thematic groundwork already established, Days Of Future Past moves on to examine how so-called mutants can participate in their own brighter future, and some of the film's most powerful moments come from the times in which our heroes' infighting and self-destructive tendencies risk their existence. With careful focus, Singer observes how Mystique, Magneto and Professor X are all pursuing different (and sometimes conflicting) agendas to make their world safer, and the actors' empathetic, nuanced performances bring out the tension and pathos in their characters' choices.
But this praise of Days Of Future Past's intellectual and emotional rewards shouldn't overshadow the movie's kinetic rush. Working with John Myhre's exquisitely Spartan/futuristic production design and composer/editor John Ottman's tension-building expertise, Singer has produced his most muscular and inspired action film. After leaving the X-Men franchise, Singer has gone on to direct the reverent, consciously old-fashioned Superman Returns, the Tom Cruise period action movie Valkyrie and the mildly engaging live-action fantasy film Jack The Giant Slayer. But he's never felt as comfortable as he does with his latest offering. His cheeky, irreverent sense of humour is well-served in Days Of Future Past, which enjoys tweaking the self-importance of superhero movies without diminishing their urgency or seriousness. (This is best shown during an excellent, hilarious sequence in which a character's super-speed is utilised not just to wow the audience but to remind us of the wonderful pleasures such powers would be to possess. In an era when comic-book movies believe they must be sombre to justify their massive budgets and cultural clout, Days Of Future Past has a playfulness that's infectious.)
The film builds to a finale in which the life-or-death stakes are played out over two eras, and Singer conjures up scenes that outdo everything that came before, delivering in terms of spectacle but also successfully addressing the lingering issues between the characters. Even though the film predictably leaves the action unresolved so there's room for a follow-up film — X-Men: Apocalypse is set for a May 2016 release — the cast and the crew more than give viewers their money's worth so that Days Of Future Past feels less of a franchise placeholder than a legitimate entertainment in its own right.
But just as important as Singer is to this movie's vision, special mention must go to Jackman. Like Singer, Jackman has been part of the X-Men universe for almost 15 years, and Wolverine will probably be remembered as his signature role. For an actor who's an accomplished musical-theatre performer as well, such a claim might seem silly or insulting. But what has made Jackman's superhero so iconic is the intensity and suppleness of his portrayal: He's a nearly indestructible man who can't control his heart.
The standalone Wolverine films have allowed Jackman to have centre stage all to himself, but they've lacked the dramatic highs and lows that he's enjoyed in a film like Days Of Future Past. As the antihero sent back in time to help save the world, Wolverine is sarcastic, sexy, determined and haunted by his past failings, and Jackman shows all of that with a naturalness that's absorbed into his character's every one-liner and fight scene. It's very easy to accuse veteran Hollywood players like Jackman and Singer of cashing in by doing yet another X-Men movie. But when the results are as pleasing as Days Of Future Past can be at its best, one is reminded that consummate pros can take familiar packages and make them thrilling.
Production companies: Marvel Entertainment, TSG Entertainment, Bad Hat Harry, Donners' Company, Simon Kinberg Productions
Distribution: Fox, www.foxmovies.com
Producers: Lauren Shuler Donner, Bryan Singer, Simon Kinberg, Hutch Parker
Executive producers: Stan Lee, Todd Hallowell, Josh McLaglen
Screenplay: Simon Kinberg, based on a story by Jane Goldman, Simon Kinberg and Matthew Vaughn
Cinematography: Newton Thomas Sigel
Editor: John Ottman
Production designer: John Myhre
Music: John Ottman
Website: www.x-menmovies.com
Main Cast: Hugh Jackman, James McAvoy, Michael Fassbender, Jennifer Lawrence, Halle Berry, Nicholas Hoult, Anna Paquin, Ellen Page, Peter Dinklage, Shawn Ashmore, Omar Sy, Ian McKellen, Patrick Stewart