Dir. Miguel Arteta. US. 2009. 90 mins.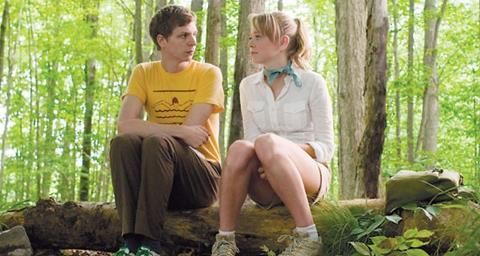 Youth In Revolt represents a new entry in the recent spate of edgy coming-of-age comedies like Superbad and Adventureland, and although this latest addition has its share of humorous moments, it never quite shakes the suspicion that it's following a formula rather than its instincts. Michael Cera, practically the poster-child for this strain of hip comedies, plays yet another awkward teen looking to win the girl, but like the film itself, he's spinning his wheels a bit.
Cera's quiet, ironic style can come across as smug when the material's not sharp
Opening domestically October 30, Youth In Revolt will provide moviegoers with a comedic alternative to the horror films and award-seeking pictures that will be dominating the multiplexes. Fans of Cera's previous work will be intrigued by this Dimension property, but one wonders if his overexposure in the last few years will result in some audience fatigue.
Hyper-literate, ineffectual virgin Nick (Cera) meets the pretty, precocious Sheeni (Portia Doubleday) while on vacation, instantly falling in love with her. She has feelings for him, too, but she wants him to be more assertive if he's to capture her heart. To accomplish this task, Nick adopts a secret alter ego named Francois (played by Cera, with a thin moustache), a cold-blooded Frenchman who gives Nick lessons in arrogance.
While it could just be a victim of extraordinary coincidence, Youth In Revolt (which is based on the novel by C.D. Payne) finds itself echoing other recent indie teen comedies.
Like Adventureland, the film features a brainy outcast wooing a beautiful girl who shares his refined artistic taste. Calling to mind Juno, it leans heavily on a soundtrack of quirky indie-rock, and its animation interludes have the same preciousness as a similar technique used in Paper Heart. And of course, Cera's involvement with some of those titles only adds to this movie's nagging sense of déjà vu.
Director Miguel Arteta has made several independent features (such as Chuck & Buck), but Youth In Revolt finds him transitioning into broad, R-rated deadpan comedy. He confidently stages some funny sequences, but he's at the mercy of a story (adapted by Charlie Bartlett screenwriter Gustin Nash) that's burdened by familiar conventions of the genre, whether it be the sex-and-drugs bawdiness, the frank dialogue or the young person's viewpoint of an adult world full of phonies.
The film's one narrative wrinkle is Nick's insolent doppelganger Francois, which should provide Cera with an excellent opportunity to spoof his nebbishy persona by playing its exact opposite. But the conceit bears little comedic fruit, failing to exploit the notion that we all have ugly sides of our personality that we're afraid to reveal.
Cera gives a humorous performance (actually two), but its impact will be inversely proportional to how many of his previous films you've seen. At this stage of his early career, he may be becoming a victim of his own success. Between Superbad, Juno, Nick & Norah's Infinite Playlist, Year One and Paper Heart, Cera has been a prolific actor over the last two years, establishing a reliable comic persona in the process.
But his quiet, ironic style can come across as smug when the material's not sharp, and with Youth In Revolt he appears to be coasting. This development isn't revolting, but it is worrisome.
To sign up for Screen's weekly Reviews Newsletter with all the week's new releases, internationalopenings and full festival reviews delivered free to your mailbox every Friday, please click HERE
Production companies
Dimension Films
Shangri-La Entertainment
Permut Presentations
Domestic distribution
Dimension Films
International Sales
The Weinstein Company International
(1) 212 941 3805
Producer
David Permut
Screenplay
Gustin Nash
(based on the novel Youth In Revolt: The Journals Of Nick Twisp by C.D. Payne)
Director of photography
Chuy Chavez
Production designer
Tony Fanning
Editors
Pamela Martin
Andy Keir
Music
John Swihart
Main cast:
Michael Cera
Portia Doubleday
Jean Smart
Mary Kay Place
Justin Long
Fred Willard
Ray Liotta
Steve Buscemi