Dir: Craig Zobel. US. 2014. 97mins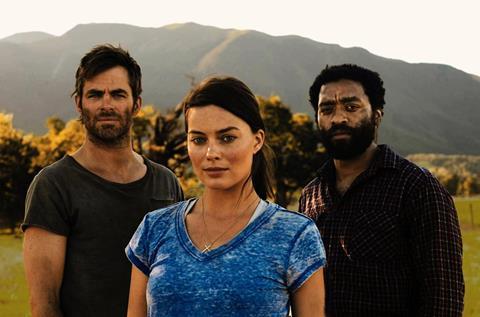 Two's company, three's a crowd — even at the end of the world. As a follow-up to his confrontational Compliance, director Craig Zobel again examines how hell is other people with Z For Zachariah, telling the story of three mismatched souls living together in a post-apocalyptic landscape where the greatest fears aren't rampaging zombies but, rather, simple human behaviour. Featuring minimalist, expressive turns from its only three actors — Chiwetel Ejiofor, Margot Robbie and Chris Pine — this quiet but evocative drama has a slow-burn effect, leaving a tart aftertaste that's hard to wash away.
Z For Zachariah's beauty is its simplicity, Zobel telling the story with a minimum of fuss and resisting easy explanations for his characters' actions.
Appearing in Sundance's US Dramatic Competition, Z For Zachariah will lean heavily on its star power, although the post-apocalyptic setting could also be an asset. (Fans of the Robert C. O'Brien novel, from which the film is based, may also be intrigued.) Because it's defiantly small-scale, Z probably doesn't have a lot of hope of becoming a crossover sensation, although the art-house crowds will certainly line up.
Working from a script by Nissar Modi, Zobel plunges us into his unhappy future from the first frame. Without specifying the location, time period, or cause of humanity's near-eradication — we do get a sense that nuclear radiation had something to do with it — Z For Zachariah introduces us to Ann (Robbie), a religious woman living alone in her house. Out on a reconnaissance mission, she comes across John (Ejiofor), a scientist who's equally alone. Bringing him back to her home, they strike up a friendship that eventually develops into romantic feelings. But their tentative courtship is soon interrupted by the arrival of another stranger, Caleb (Chris Pine), whose charming manner seems to belie a darker side that makes John suspicious. Or maybe John just isn't happy that Ann is starting to take a shine to this new man.
Anyone going into Z For Zachariah expecting Mad Max or I Am Legend will be sorely disappointed: Rather than action sequences of full-scale scenes of destroyed cities, Zobel gives us a world of lush, empty, silent countryside. (The film was shot in New Zealand, and indeed the characters' surroundings are heavenly — just so long as they avoid the gorgeous creek that's radioactive.)
And although his latest film works on a slightly broader canvas than his earlier efforts, Great World Of Sound and Compliance, the filmmaker again shows a fascination for the small, flawed bits of behaviour that define human beings. Ann's religious devotion seems to have left her somewhat naïve about the world. John's reliance on alcohol reveals a fundamental weakness, which we'll find out more about as the film moves along. And Caleb's All-American handsomeness masks a disturbing shallowness. Is he after Ann? Or does he want something more?
Z For Zachariah's beauty is its simplicity, Zobel telling the story with a minimum of fuss and resisting easy explanations for his characters' actions. When Ann begins to fall for John, it's unclear whether they have a real connection or if it's because they're the only people they've seen in so long. Likewise, the growing bond between Caleb and Ann is teasingly mysterious.
Is it because they're both religious, unlike John? Or is it because, as John suspects, they're both white while he is black? (And, for that matter, is Caleb actually religious, or merely saying that to woo Ann?) Much like Compliance asked the viewer to question how a malicious prank caller could sucker the film's fast-food employees — and why they would dutifully obey foolish orders from their superiors — Z For Zachariah serves up a scenario without commentary, leaving us to fill in the blanks with our experiences and attitudes.
All three actors shine, particularly Robbie, who shows far more grit and depth than she did in her fizzy, ditzy breakthrough performance in The Wolf Of Wall Street. Ejiofor gives the most introspective, tortured turn, portraying John as a good man who can't transcend his own petty jealousies. As for Pine, Caleb may be his most menacing character. We're used to him as the swaggering, harmless Captain Kirk in the Star Trek reboot — or, quite memorably, as the painfully vain Prince Charming of the recent Into The Woods. Z For Zachariah gives him another gear to try, turning Caleb into a charmer we never can trust. He doesn't do anything outwardly hostile, but there's a flicker in his eyes that keeps us on edge.
This uncomfortable romantic triangle drives the slim story and, unfortunately, Zobel doesn't execute every delicate plot twist with authority. Trying to strip away the grandeur of the post-apocalyptic drama to get to the heart of our shared failings, Zobel can't help but stumble over a few genre clichés. But the resolution does a good job of leaving us without many answers. We walk away from the experience wondering if humanity can ever outrun the foibles that make us human in the first place, even when our very survival hangs in the balance.
Production companies: Lionsgate, Grindstone Entertainment Group, Silver Reel, Lucky Hat Entertainment, Lotus Entertainment, Night Fox Entertainment, Zik Zak Filmworks, Sighvatsson Films, Material
US distribution: Roadside Attractions, www.roadsideattractions.com
Producers: Sigurjon Sighvatsson, Thor Sighvatsson, Skuli Malmquist, Tobey Maguire, Matthew Plouffe, Sophia Lin
Executive producers: Gary Ross, Steve Bannatyne, Claudia Bluemhuber, Craig Zobel, Paul Grimsson, Florian Dargel, Robert Williams, Timothy Christian, Ryan Johnson, Barry Brooker, Stan Wertlieb, Jim Seibel, Bill Johnson, Ara Keshishian
Screenplay: Nissar Modi, based on the book by Robert C. O'Brien
Cinematography: Tim Orr
Editor: Jane Rizzo
Production designer: Matt Munn
Music: Heather McIntosh
Main cast: Chiwetel Ejiofor, Margot Robbie, Chris Pine