Dir: Klaartje Quirijns. Netherlands-Belgium-Ireland. 2012. 80mins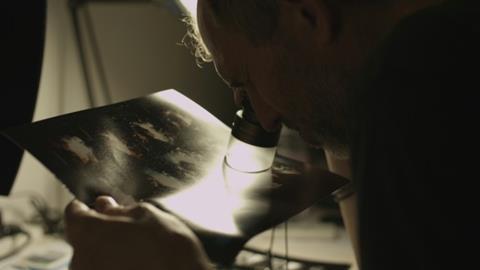 An intriguing portrait of a photographer and filmmaker who is deeply immersed in the culture and iconography of stardom yet is himself an intensely private, emotionally reticent man, Klaartje Quirijns' latest feature-length documentary is the result of four years of up-close access to Anton Corbijn.
Oddly, it's Corbjin's work in cinema that's the film's weakest link.
Consisting of interviews with Corbin, his family and some of the musicians and artists he has immortalised, spliced in with the man's iconic photos of U2, Iggy Pop, Ian Curtis and other musicians and celebrities, plus footage from Corbijn's early pop videos and two feature films, this is a more satisfying, well-crafted and revealing work than previous Corbijn documentary Shadow Play.
But it's still very much a product for a niche audience, just a couple of steps up, in terms of its commercial potential, from a DVD extra. Sensitively directed but perhaps a little short on theatrical gravitas, Anton Corbijn Inside Out is certain to attract further festival play, but outside of a few specialist cinemas, will likely be seen by most viewers on small screens of various types.
Corbijn is the son of a pastor in the Dutch Reformed Church, and he looks the part. Tall, intense and slightly stooped, his passive-aggressive shyness wedded to enormous creative confidence and capacity for hard work, he emerges as a man who has rebelled against his establishment father by embracing rock 'n' roll – and yet ended up as a bit of a priestly figure himself, charting the world of bands, gigs and bad behaviour without ever really becoming a part of it ("I don't like parties", he confides at a certain point).
Some of his subjects – Metallica, Bono, Arcade Fire and others – comment on Corbijn, relieved perhaps that for once an interviewer is not asking them to talk about themselves (on a Dublin photoshoot, Bono even improvises a mock-serious commentary about Corbijn's stubborn use of that near-extinct technological artifact, the Polaroid).
There's a sense throughout that we're circling an intensely solitary man without quite getting to the essence of him – but this in a way is part of the documentary's method and fascination. Though he's clearly not participating in Quirijns' project against his will, Corbijn seems embarrassed to be talking about himself, and unused to being directed rather then directing, and these two sources of friction generate some interesting static.
We see him opening exhibitions of his work, discussing Control, revisiting boyhood haunts on the island of Zuid Holland, scouting out Italian locations for The American, working on fashion shoots and the artwork for a Lou Reed-Metallica collaboration, viewing the world from endless hotel rooms and airports. The film presents him as a restless soul, in perpetual motion (it's no coincidence that the one extended interview sequence is shot on a train).
Sidelights are provided not only by celebrities but by Corbijn's family – especially a younger sister, who reveals that beneath the reserved shell of a brother she clearly adores there's a caring and affectionate soul. Oddly, it's Corbjin's work in cinema that's the film's weakest link: he has plenty to say about photography, but little about direction, and we can't help feeling that it's the still image that stirs him the most.
Production companies: LEV Pictures, CTM Films, Eyes Wide Films, Fastnet Films, Savage Film, VPRO
International sales: HanWay Films, www.hanwayfilms.com
Producers: Sander Verdonk, Gertjan Langeland
Cinematography: Martijn van Broekhuizen, Diderik Evers
Editor: Boris Gerrets
Music: Gavin Friday