Dir/scr: Longman Leung & Sunny Luk. Hong Kong, China. 2012. 102mins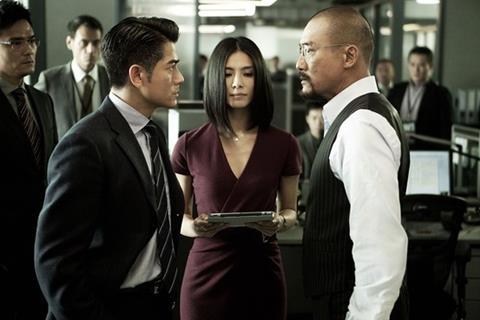 Opening this year's Busan Film Festival, Cold War is a refreshing Hong Kong crime thriller that provides enough enjoyment that should help secure a wider-audience, but suffers from an overly convoluted plot.
The film includes a number of well-executed set-pieces, but lacks a fine polish in places.
The film's appeal is further expanded owing to the film's local stars: Tony Leung Ka-fai (2005's Election) and Aaron Kwok (Divergence, 2005), which should help drive sales across the Asian region and possibly further afield, but neither is able to deliver the necessary performances to make them stand out.
The film follows two Deputy Chiefs, Lau and Lee who are both seeking the top position on the Hong Kong police force. After five police officers are taken hostage, it's left to Lau and Lee to solve the case, but they both have different approaches, which ultimately leads to failure. What ensures is a realization that they have become pawns in a more treacherous game.
After building a strong reputation for their contributions on a number of films, debut directors Longman Leung (credits include Vengeance, 2009) and Sunny Luk (who worked as an assistant director on 2006 film Isabella 2006) are keen to exploit their visual talents, which is evident throughout the duration. The film includes a number of well-executed set-pieces, but lacks a fine polish in places due to some rather poor CGI. Nevertheless, its strong and vibrant aesthetic does make up for some of the film's flaws.
Produced by internationally renowned Bill Kong (Crouching Tiger, Hidden Dragon (2000), it has real potential to perform well in Asian markets, but its sloppy storytelling may hinder its success in some other territories.
Production Companies: Edko Films Limited, Stars Shine Blue Sea Productions Limited
World Sales: Edko Films Limited, info@edkofilm.com.hk
Producers: Bill Kong, Dai Song, Ryuhei Chiba, Hugh Simon.
Editor: Chi-Leung Kwong
Music: Peter Kam
Main Cast: : Tony Leung Ka-fai, Andy Lau, Aaron Kwok, Eddie Peng, Aarif Rahman, Charlie Young & Ka Tung Lam