Dirs: Iain Forsyth, Jane Pollard. UK. 2013. 95mins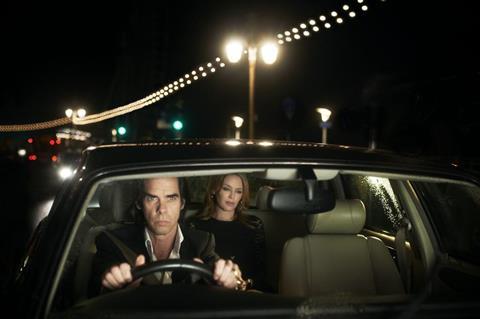 Nick Cave says he isn't interested in things that he understands. Yet this distillation of the man himself – reflective and sensitive, and inventive – tells you much about an artist's understanding of his art.
In 20,000 Days On Earth, Cave has added cinema to his expanding arsenal of modes of expression.
20,000 Days On Earth suggests a diary of the rock tour from hell, a subject that Cave knows very well. Instead, most of the hybrid doc/drama is intimate, with enough performance and fireworks to remind you of the subject who happens to be speaking softly about his parents and his childhood.
Richly textured, the portrait is also a valuable calling card for Iain Forsyth and Jane Pollard, both artists and feature first-timers who previously worked with Cave on music videos.
The filmmakers' conceit is that they're presenting 24 hours in the life of their subject, a kid from rural Australia turned rock phenomenon whose skeletal frame and shoe-polish black hair make him look like vampiric.
Cave is game for this approach, sounding oracular and refreshingly honest (for a much interviewed celeb) as he turns the boilerplate subject of songwriting into a discourse on what makes us human. Memory, he says, is what we are, confessing that his greatest fear is losing his capacity to probe his past and draw from it.
Cave is not religious, but he did believe in God when he was a junkie, or so he claims, attending services and then leaving to meet dealers and score. Like the best raconteurs, he can tell a yarn without being a blowhard. Performance, he explains, is the closest thing to religious experience, in which time stands still as he shares truths about himself. In concert clips, we don't see any disagreement from the audience.
For evidence about the transcendent and transformative nature of performance, Cave provides an anecdote that anyone who sees the film will remember. Nina Simone, sharing the bill with him on one show, is afraid, irritable and imperious. She demands cocaine and sausages, and insists that she be called "Dr. Simone." The drugs and food calm her, but the performance onstage makes her godlike, Cave recalls.
It's hard to tell whether Cave and company are engaging in documentary or docu-mythology, but each story that Cave tells (or preaches) does carry a lesson.
The filmmakers (and Cave) keep the man's testimony from having too heavy a hand and heart by putting their subject in a conversation with a psychoanalyst (writer Darian Leader) and also placing him in a car for encounters with other performers like Kylie Minogue and Blixa Bargeld (The Bad Seeds). There's enough of a Steve Coogan – Rob Brydon style repartee from The Trip here to lighten what might otherwise be a heart-emptying tone.
For a rock portrait (a genre that this doc seeks to transcend), Forsythe, Pollard and cinematographer Erik Wilson deployed a welcome variety of textures – studio scenes, live shows, Cave writing at a (heaven forbid) typewriter, long sequences with collaborator Warren Ellis, even a scene of Cave watching Scarface with two blue-eyed sons who look like archetypal British public school lads.
In 20,000 Days On Earth, Cave has added cinema to his expanding arsenal of modes of expression. It's hard to believe that his team will be stopping here. In one of his many moral appeals, Cave advises the slackers out there not to waste a moment of the day. He's probably already writing a sequel.
Production companies: Pulse Films, Film4, BFI, Corniche Pictures, in association with PHI Films, Goldin Films, JW Films
International sales: HanWay Films, www.hanwayfilms.com
Producers: James Wilson, Dan Bowen
Executive producers: Thomas Benski, Lucas Ochoa, Anna Higgs, Tabitha Jackson, Hani Farsi, Phoebe Greenberg, Penny Mancuso, Paul Goldin, Paul Grindey
Screenplay: Iain Forsyth, Jane Pollard, Nick Cave
Cinematography: Erik Wilson
Editor: Jonathan Amos
Production designer: Simon Rogers
Music: Nick Cave, Warren Ellis
With: Nick Cave, Kylie Minogue, Blixa Bargeld