Dir: Valeria Bruni Tedeschi. France. 2013. 104mins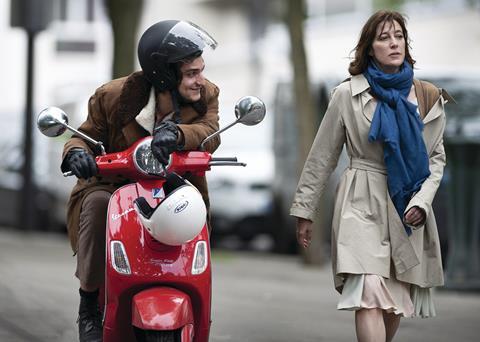 The frothy comedy-drama A Castle In Italy (Un Château En Italie) introduces us to a main character whose flustered pursuit of happiness is meant to be adorably screwball but more often than not just proves exasperating. Director-star Valeria Bruni Tedeschi has crafted a novelistic portrait of a family over the course of an eventful year, but its central figure, a former actress played by Bruni Tedeschi herself, is indicative of the film's problems as a whole: She's likeable in small doses, but she's not quite as amusing as she thinks she is.
Because it moves back and forth between moments of slapstick, melodrama and gentle introspection, A Castle In Italy has more in common with the page-turning restlessness of a summer beach read.
A Castle In Italy is set for an October release in France. Catering to adult audiences at the art houses, the movie radiates a sunny, pleasant atmosphere that could help make it a date-night selection for upscale couples.
The titular castle belongs to the French family of Louise (Bruni Tedeschi), which also includes her elderly mother (Marisa Borini) and her philandering brother Ludovic (Filippo Timi), who shares an uncomfortably close bond with his sister. With the family's wealth fading, there are discussions about unloading the beautiful castle or at least renting it for tours now that Louise's father has died.
Amidst this tumult, Louise attracts the fancy of Nathan (Louis Garrel), a much younger man and aspiring actor who has long adored her from watching her on the screen, although she retired from the business some time ago. At first wary of getting involved, she decides to plunge headlong into a relationship, figuring that a risky love affair is better than remaining lonely.
Bruni Tedeschi's third film as a director has larger aspirations than simply being a fluffy romantic-comedy. Clearly inspired by The Cherry Orchard, she also wants to craft a story about a family in flux, with both Louise and Ludovic facing major crises to go along with the questions of what to do about their family finances.
But because it moves back and forth between moments of slapstick, melodrama and gentle introspection, A Castle In Italy has more in common with the page-turning restlessness of a summer beach read, with Bruni Tedeschi piling on the incidents that keep the family members coping with one situation after another. Still, Louise's travails are the focus, specifically her indecision about having a baby before she's too old, even if Nathan isn't ready to be a dad.
The movie's funniest notion is that when Nathan first meets Louise, he really has no idea how neurotic she can be, having fallen in love with an idealised version of her from the movies. Unfortunately, Louise's screw-ups tend to come from self-inflicted wounds caused by her impetuousness. A Castle In Italy insists upon viewing her as a lovable disaster, coddling her behaviour rather than forcing her to wise up and pull her life together. As a result, it's hard to sympathise when her mistakes lead to heartbreak.
Perhaps not surprisingly, Bruni Tedeschi's close attention to her own character means that the supporting cast doesn't get much of the spotlight, although Timi does come across strongly as her overly affectionate brother who eventually must face a grave personal scare. (And in one of the nice subtler moments in a film that usually prefers to be emphatic in its emotions, there really is no explanation for Louise and Ludovic's almost-inappropriate rapport, suggesting the small little oddities present in all families.)
Garrel's performance is disappointingly relegated to making puppy-dog eyes at Louise. He's got the right look for a sensitive, seductive young lover, but A Castle In Italy mostly uses him as a device to goad Louise toward her next revelation about herself. As for Bruni Tedeschi, she remains a bewitching presence, her beguiling eyes and easy grace undeniable. But the film's occasional veering into physical comedy does her no favours, and she hasn't given her character enough time with Nathan to really demonstrate a deep connection between them. This is a crucial liability considering that their destinies may soon be linked by one of Louise's flighty decisions.
Production companies: SBS Productions, Arte France Cinema, Delta Cinema, La Banque Postale Image 5, Manon 2, Soficinema 8 Developpement, Canal+, Cine+, Arte France, Du Centre National du Cinema et de l'Image Animee, Commission du Film Torino Piemonte
International sales: Films Distribution, www.filmsdistribution.com
Producer: Saïd Ben Said
Screenplay: Valeria Bruni-Tedeschi, Agnès de Sacy, Noémie Lvovsky
Cinematography: Jeanne Lapoirie
Production designer: Emmanuelle Duplay
Editors: Laure Gardette, Francesca Calvelli
Main cast: Valeria Bruni Tedeschi, Louis Garrel, Filippo Timi, Marisa Borini, Xavier Beauvois, Céline Sallette, André Wilms