Dir: Max Mayer. US. 2009. 95 mins.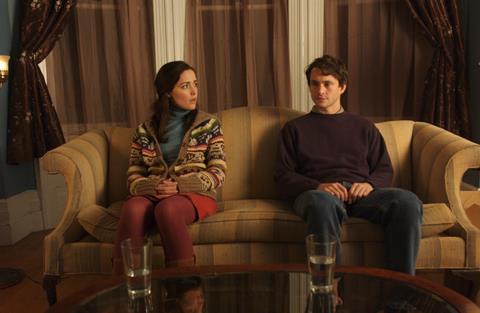 A nearly impossible love affair between a young woman and her neighbour who suffers from Asperger's Syndrome forms the heart of Adam, a romantic drama with sincere emotions but a rather standard execution. Writer-director Max Mayer's intimate indie possesses a potentially interesting angle on familiar material but loses its nerve along the way.
Adam 's chief selling point - a central character with Asperger's, a little-known condition which severely impairs social functions - could attract audiences that flocked to other similar films such as A Beautiful Mind, Forrest Gump or RainMan. However, this drama is much more modestly plotted, and without major names in the cast, Adam may have better luck in ancillary markets despite a high-profile pick-up by Fox Searchlight immediately after its Sundance screening.
After the death of his father (and sole connection to the outside world), Adam (Hugh Dancy) feels isolated until he meets his pretty new neighbour, primary school teacher and writer Beth (Rose Byrne). She's interested in him, but there's a problem - his Asperger's (a form of autism) keeps Adam from comfortably interacting with people or picking up on ordinary social cues. Undaunted, they decide to pursue a relationship.
Writer-director Max Mayer steers away from the normal cliches here - in which the sufferer at first seems odd, but eventually is made to seem perfectly normal and in fact teaches those around him what it means to be human. Instead Beth, by her own admission, is a spoiled, emotionally stunted only child, and therefore very much like the closed-off Adam, making them an ironically well-matched couple.
Sadly, the intriguing challenges this relationship presents are mostly handled in predictable ways. Beth is initially understanding of Adam's condition, but soon complications ensue and Beth gets angry, conveniently forgetting that he has a crippling disorder he cannot control. The ups and downs of their relationship offer few surprises, and the film runs into further trouble when Mayer inserts a late plot development involving Beth's father (Peter Gallagher) and questions of financial impropriety.
Dancy does solid work as Adam, but he faces a sizable obstacle in that his character's condition is not dissimilar from the Tom Hanks or Dustin Hoffman in Forrest Gump and Rain Man, although he is less showy in his approach. As his love interest, Byrne is playing a woman who's not entirely likeable - beyond her spoiled demeanour, she can also be impatient and insensitive. This is not an easy character to portray, and Byrne does her best to make Beth flawed but ultimately good-hearted.
Production companies
Olympus Pictures
Serenade Films
Deer Path Productions
VOX3 Films
Worldwide distribution
Fox Searchlight
Producers
Leslie Urdang
Miranda de Pencier
Dean Vanech
Screenplay
Max Mayer
Cinematography
Seamus Tierney
Production designer
Tamar Gadish
Editor
Grant Myers
Music
Christopher Lennertz
Main cast:
Hugh Dancy
Rose Byrne
Frankie Faison
Mark Linn-Baker
Amy Irving
Peter Gallagher