Dir: Alison Klayman. US-China. 2011. 91mins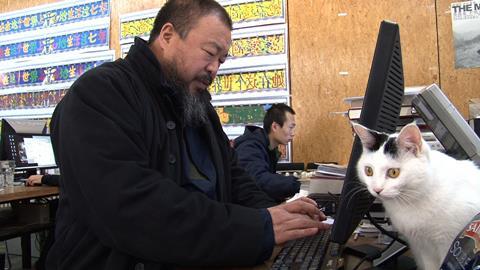 Ai Weiwei: Never Sorry follows the prominent satirical artist's battle with Chinese authorities who are determined to keep him quiet. The documentary will be as much of an embarrassment to the Beijing government as it is a tribute to its subject.
The doc lines up clearly on Ai's side, but the artist emerges as more than the hero and martyr of the week.
The bio-doc comes at a crucial moment for the media-savvy artist, whose constant exposure everywhere from museums to twitter functions as an insurance policy in a regime where officials would prefer him gone. The film premiered in the US Documentary competition at 2012 Sundance Film Festival where it was winner of the US Documentary Special Jury Prize for Spirit of Defiance.
With an exhibition now at the Victoria and Albert Museum in London and a recent gallery show in New York of four million ceramic sunflower seeds (a hymn to lost individuality), Ai Weiwei, aged 54, has made himself into one of the world's best-known living artists. That fame could put the film into theaters in major cities, and the focus on new media could help draw a young crowd. The doc's television market will be worldwide, regardless of what happens next between Ai and Chinese police.
Shot over three years by the American Alison Klayman, the debut feature doc situates Wei in the Chinese scene as a clever rebel whose signature gesture was the raised middle finger, saying "fuck" to everything from art history to the Chinese regime, and rallying an army of Chinese youth to do the same – a worrisome prospect for leaders in Beijing.
The warm paunchy prankster is a ready-made star; an affable anti-Warhol with a zinger Confucian-style line for every right that he says the Chinese government is denying its citizens. Provocation has become his medium of choice
Ai's strategy to achieve autonomy and attention differed from that of other artists. He returned from the US to China, while wary peers (interviewed in the film) sought freedom abroad. Wei also pursued tactics of direct and visible confrontation with police, which Klayman observes. The in-your-face encounters are performances that are anything but risk-free. Ai is beaten and requires brain surgery in 2009. His studio is demolished in early 2011 and he is jailed for 81 days.
Klayman overcomes the talking-heads and artist's studio clichés of such films, thanks to an infinitely expanding archive of coverage by media outside China, and to Ai's own shameless documentation of himself – a cushion against the threat of official disappearance – all guided by twitter.
Like Andy Warhol, Ai knows that satirical art is only as effective as the exposure that it can get. Klayman shows that, unlike the blithe Warhol, who cashed in on flattering the rich and famous, the earthy bearded Ai is aware that the stakes are dangerously real for any activist who exposes government negligence, as in the aftermath of the 2008 earthquake that killed more than 5000 children. Ai created an installation of 9000 backpacks in their memory.
Those risks also set Ai Weiwei apart from another study of performance art at Sundance, Marina Abramovic, The Artist Is Present, a worshipful look at Abramovic's retrospective at the Museum of Modern Art in New York last year, in which she presided regally over sessions of silence in couture gowns.
Wei's provocations on the streets or the web also deliver belly laughs that no one got from Warhol or Abramovic. Confronting an agent who tailed him in the past, he pulls off the man's sunglasses, mocking a cop for all to see. Videographers on Ai's crew put it on the net in an instant, as teams of government agents make their own videos.
The doc lines up clearly on Ai's side, but the artist emerges as more than the hero and martyr of the week. Son of a prominent Communist poet, Ai does enjoy relative privilege – although we sense how fragile that cloak is. During the shooting, we also make the sudden acquaintance of a baby son who was born to a pretty young woman with whom the long-married Ai had an affair. The martyr can be a cad, as well as a ham, although father and son make for some contemplative moments in a film that usually surges eclectically sourced images at web-speed.
True to Ai's unresolved clashes with Chinese authorities, the doc marches to a non-ending. Until the inevitable sequels and updates, Ai Weiwei: Never Sorry will be the closest to anything definitive on the man with an instinct for extending his own fifteen minutes.
Production Companies: Never Sorry LLC, United Expression Media, MUSE Film and Television
International sales: Cinetic Media, www.cineticmedia.com
Producers: Alison Klayman, Adam Schlesinger
Executive producers: Karl Katz, Julie Goldman, Andrew Cohen
Cinematography: Alison Klayman
Editor: Jennifer Fineran
Music: Ilan Isakov