Mystical revenge thriller premiered in competition at the Abu Dhabi Film Festival.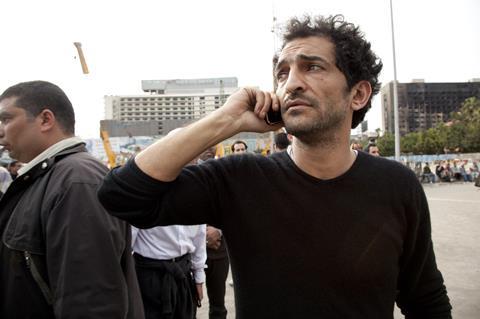 Egyptian actor Amr Waked, recently seen on international screens in Luc Besson's Lucy, is working with Ibrahim El-Batout for a second time on El Ott.
The pair previously collaborated on Winter of Discontent, capturing the events leading up to the Egyptian revolution of 2010.
In El Ott, which premiered in the Abu Dhabi Film Festival on Monday evening, Waked plays a local Cairo kingpin on a mission to wipe out a rival with a child abduction and organ harvesting operation.
Shot against the backdrop of contemporary Egypt, El-Batout paints a dark, chaotic picture of the country, bathed in an atmosphere of deep unease.
The film's central theme of illegal organ trafficking and killing takes inspiration from ancient Egyptian mythology as well as contemporary events, says Waked.
What's your role?
I play El Ott. We learn early on in the film that his daughter was kidnapped but they never found her. He's a local kingpin in his area but he has a code - he's not driven by greed. The film opens on his mission to bring down a gang that kidnaps children to harvest their body parts. He has to kill these people but at the same time he has a spiritual dilemma about killing. He doesn't want to become like them and this is what really scares him throughout the film. His brother embraces the evil, knowingly and willingly and not just that he gets a kick out of it while El Ott is scared of it. He resists it. He's aware that it's a pit and once you fall in you become like them. This is the character arc of El Ott.
Is child snatching for body parts really an issue in Egypt?
We were shooting Winter of Discontent when I first read about the bodies of street children being found in a garbage dump without their eyes and kidneys. It was really horrible and it was the first time that I could visualise a crime of that horribleness. There are some three million street children in Egypt today. The problem seems to have increased since the revolution. I guess they feel more empowered. It's a social problem. People have too many kids, don't look after them properly and they take to the streets. Beyond that issue, it's also increasingly common for the poor to sell their kidneys in order to finance expenses like weddings, education or even debts – we came across this for a documentary we did some years ago set in one of Cairo's biggest slum areas.
There a mystical theme running throughout the film too, can you talk about that?
Ibrahim had this concept revolving around the sanctity of the body and the notion of the 'peculiar glory of blood'. It's a complex concept but you need to know that in our culture there is this spiritual sanctity of body parts. They're seen as divine. The film also alludes to the ancient myth of Osiris and his murder by his brother Set, who chopped his body into 14 parts, which is regarded as the beginning of evil in Egyptian mythology. For me it's a very philosophical film. It's not about the action or the story.
The film has an incredibly authentic feel about it. When and where was it shot?
It was shot all over Egypt in real locations with real crowds. We went with the people on the street. No camouflage, no sets, no make-up. It was very difficult, especially in terms of crowd control because Cairo is a very populous city and a lot of time was wasted in controlling the crowds. We also shot in Alexandria, around the pyramids and the Osiris Temple in Abydos. We started film in early summer of 2013 but after June 30 there was fighting on the street and we got scared for our crew so we took a two and a half month break until the situation calmed down.
You're also the producer of the film through your Cairo-based production company Zad Communication you run with Salah Al-Hafany. How do did you finance the film?
This is our first film with a French co-producer on board. Paris-based Knightworks, which did the post-production helped us out as a co-producer. We also received the support of Venice's Final Cut initiative and Abu Dhabi's Sanad also supported us. Their grant was both generous and timely. I don't think the film would have come to light without their help.