BAFTA multi award-winning producer of Trainspotting and Ex Machina gave a masterclass to NFTS students.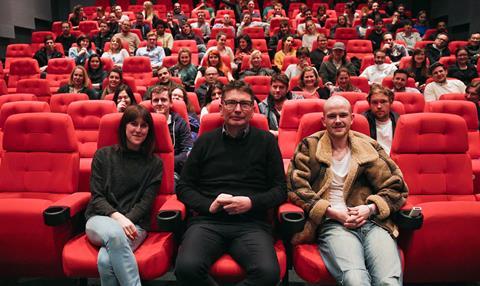 Andrew Macdonald, the Scottish film producer who is best known for his collaborations with screenwriter, John Hodge, director, Danny Boyle and screenwriter/director Alex Garland, opened his masterclass at the NFTS by telling students that he actually studied at the National Film and Television School for a brief period during which he worked on the pre-production of his debut film, the 90's classic, Shallow Grave
Both Stephen Soderbergh and Spike Lee made films straight out of film school and this inspired Andrew to make Shallow Grave, which went on to win a BAFTA in 1995 for best British film.
Nik Powell, NFTS director chaired the session and he showed the students a clip of Shallow Grave, a film, which Andrew said would not have been made if it wasn't for Channel 4 who provided the funding. The partnership with Danny Boyle who made his directorial debut with Shallow Grave, came about as Danny 'got' the film's black humour. According to Andrew, the film wouldn't have been a success without Danny who brought 'incredible expertise, class and energy' to the project despite having never directed a feature film before!
Trainspotting
The discussion then moved onto the critically acclaimed Trainspotting, shot by NFTS tutor Brian Tufano, which is based on a novel by Irvine Welsh. The film's screenplay was nominated for an academy award and ranked 10th in a list compiled by the British Film Institute (BFI) of the top 100 British films of all time. Andrew was determined to work with as many of the same people as possible from his time making Shallow Grave; he advised the students that while directors often get the credit, they regularly work with the same great team and these collaborations are often key to a film's success. Andrew describes the Trainspotting production as having 'an unstoppable energy' and that it 'still feels really fresh'. The film was made in seven weeks and then edited in just seven weeks.
28 Days Later
Andrew worked with Alex Garland on the screenplay for post-apocalyptic thriller, 28 Days Later, a film which is currently being brought to life by Secret Cinema. 28 Days Later took a lot longer to edit than Trainspotting according to Andrew although 'they got a lot done for the money and time'. The film was shot on Canon XL domestic video cameras with everyone on the team including Andrew shooting some scenes. They used novel ways to stop the traffic as they needed to clear parts of London for some of the memorable scenes of actor Cillian murphy's character roaming the deserted streets.
Ex Machina
Special effects were the next topic of conversation with Andrew describing Ex Machina winning an Oscar for achievement in visual effects as a 'Leicester moment' as it was against the odds! Ex Machina is a great example of how visual effects can be used for storytelling rather than for explosions and Andrew advised the students that when making a film they should involve the digital effects technician in the creative process and at every stage of the production as they are integral to everything you do.
Andrew rounded off the session and Q&A with some great advice for the students making their first films, recommending that they stick to what they know and 'make films about their own generation' as he had done with Trainspotting and 'keep the location to where you are from and where you know everyone' as it can be a great help. For example, Andrew secured the props for Shallow Grave from his dad's house!
Any budding filmmakers who are interested in following in Andrew's footsteps can choose from a wide range of film making courses at the NFTS. For anyone interested in visual effects, why not coming along to the open day on the 18th of May for our MA in digital effects? Applications for this course are open until the 7th of July.