Screen International brings you interviews with the directors of six of this year's foreign language Oscar submissions.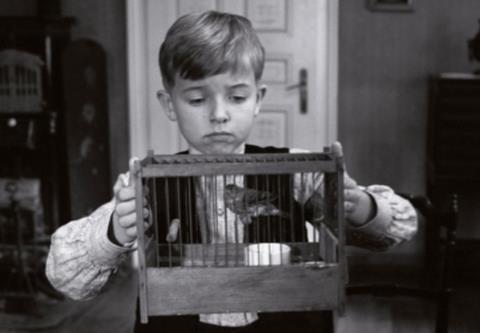 Michael Haneke came to The White Ribbon after he had made his English language remake of Funny Games in the US, which, he says, was not his favourite working experience. "For a control freak like me, the US was a very difficult country to work in," he says. "I didn't feel in control with the language and… we were under-financed and needed more money."
So he was not prepared to compromise on his German epic, a script he had written as a threepart TV series 20 years ago and which "ended up in a drawer". The $17.9m (€12m) production was to be shot in black and white with no major stars. "Yes, it was expensive, but the success of [2004 hit] Hidden (Caché) helped get it financed," he says.
For the first time, Haneke asked for assistance with his screenplay, enlisting Jean-Claude Carriere to help him cut 20 minutes from the script. "After two afternoons' work, we had it down to two and a half [hours]. It's the first time I have ever cut anything. I normally always write to the right length."
Haneke spins myriad mysteries in The White Ribbon but eschews conventional answers. "You can't offer answers and solutions," he says. "You should assume people are more intelligent than that. People always ask me about the videotapes in Hidden but that is the least important element in the film."

But he does concede that the film shows a time in Germany in which the seeds of fascism were being sown. "I'm not offering an explanation for fascism but showing the conditions from which it can arise," he says.
The Palme d'Or win at Cannes was, he says, useful because it makes the financing conditions easier for his next film, but he also expresses pleasure in the award which had been denied to him when Hidden, The Piano Teacher and Code Unknown played in Competition. "It is always nerve-wracking," he says, "because you have to wait until the last day to find out."
The Austrian director is now representing Germany in the foreign-language Oscar category, a race for which he was excluded with Hidden since it was deemed neither French enough nor Austrian enough by the Academy. So to which country does he feel he belongs? He smiles before answering. "I belong to the country of Haneke," he says.

By Mike Goodridge
Jacques Audiard
DIRECTOR/CO-WRITER, A PROPHET (FRANCE)
Wearing a pork-pie hat on a rainy London morning, Jacques Audiard explains that for him, "a film only exists if it has a rapport with what I see in the street". Looking for a project to follow his critically acclaimed The Beat That My Heart Skipped, Audiard says hewas at an impasse. Later, on the phone from Paris, he explains: "When that happens, I think about casting."
Audiard had in fact already linked up with scriptwriter Abdel Raouf Dafri, who was working on a story that would become A Prophet, when he found his inspiration.

Visiting Dafri on the set of another film, Audiard sat in the backseat of a car and found himself next to Tahar Rahim, who would go on to star in the film. "When I saw him, it was love at first sight. The only problem with that is that you don't want to believe the first person you see is the person you've been looking for. I don't know how I would have done this film if he didn't exist. Sometimes I wake up in a cold sweat thinking about it."
But A Prophet, which had a lengthy gestation period — Audiard and Nicolas Peufaillit wrote the screenplay from an original work by Dafri along with Thomas Bidegain — did come together and has gone on to even greater acclaim than his last film. A Prophet took the Grand Jury prize at Cannes this year and is France's Oscar entry this year. Audiard does not love the label though. "It's a bit heavy to say I'm representing France," he laughs.
Still, awards do mean something to him. "They move me, but when I get a prize like in Cannes I think about the people I've seen get these prizes before me. I thought about Wim Wenders and Martin Scorsese in Cannes this year and I thought, 'They were up here too,' and, 'No, you must have made a mistake.'"
Regarding the international roll out of A Prophet, Audiard allows that it is important to know his films travel. "I fell off my chair the other day when someone told me foreign films only make up 2% or 3% of films released in the UK, so it's quite a big deal to be part of those 2% or 3%. There's nothing more moving for me than to do something about a specific issue that gives something back to someone in Asia or America… We make films to communicate, after all."

By Nancy Tartaglione

Scandar Copti and Yaron Shani
WRITER-DIRECTORS, AJAMI (ISRAEL)
"Scandar Copti and I worked seven years on this project and up to our first screening, in Cannes' 2009 Directors'Fortnight, we had some of the best and most experienced professionals telling us why this film couldn't possibly work," says Yaron Shani, one of the two debutant writerdirectors of Ajami.

However, the clash between Jews, Christians and Muslims in a Jaffa slum, which could serve as a microcosm for Israel as a whole, received a special mention from Cannes' Camera d'Or jury, going on to pick up awards in Jerusalem, Valencia, London, Montpellier, Ghentand AFI Fest in Los Angeles and, most recently, Thessaloniki.

"After Cannes, there were no doubts any more," concedes Shani. "Israeli reports from Cannes were still relatively subdued, but once the film was shown and awarded in Jerusalem, even the most severe film critics went into unexpected superlatives."

It was not just the critics who were impressed: Ajami won all the major prizes from the Israeli Film Academy, beating Venice winner Lebanon. Having taken the film to a number of international festivals, Shani was surprised to discover the political subtext of the picture, which "may have opened doors for us", was secondary to its success.

"Everywhere I went, audiences and the press were far more seeing a good movie." Naturally, most interviewers asked about an Arab (Copti is an Arab-Israeli, born in the Ajami neighbourhood of Jaffa) and an Israeli (Shani is an Israeli Jew) working together, but wondered even more at the remarkable results they obtained from a cast of non-actors.

When Israel's two leading distributors originally passed on the film, Shani, with Ajami's producer Mosh Danon and talent agent Ilan Zeller, set up a distribution company called Yuval to release it in Israel. In its first six weeks, the film has reached 120,000 admissions — a major hit in Israeli terms. "Originally there was no great enthusiasm among local distributors and by the time the picture swept over audiences in Jerusalem and better offers came up, we had our own operation going," he explains.
The US release is planned for January through Kino International.
Shani has not yet discussed the future with Copti, but while he believes each should develop an identity of his own, he admits the chance to work together again would "be wonderful, given the special relationship we have".

By Edna Fainaru
Bong Joon-ho
WRITER-DIRECTOR, MOTHER (SOUTH KOREA)
South Korea's Oscar entry is Bong Joon-ho's thriller about a desperate mother out to prove her son's innocence when he is accused of murder.
A director with a sharp and humorous point of view, known for playing with genre conventions while satirising social ones, Bong's previous works include Memories Of Murder, based on a series of unsolved killings that terrorised 1980s Korea; and The Host, a thriller which sees a dysfunctional family battle a river monster. Both were record breaking hits on their Korean release and won critical acclaim at home and abroad, playing international festivals such as San Sebastian and Cannes.
With Mother, Bong says he was again trying to break open stereotypes. "I'd always wanted to work with Kim Hye-ja, and I made this film specifically for her. The actress is herself a 'mother' icon in Korea, so I decided to confront that head on.
Whether it's by breaking down themes or stories, I like doing things other people don't. The 'mother' theme or the subject matter is usually portrayed as warm, but I went the opposite direction to show what extremes motherhood could go to. I wanted to portray a mother speeding recklessly with her brakes undone."
Mother made its world premiere in Un Certain Regard at Cannes before screening at further international festivals including Toronto and New York. "Cannes was the first time I showed the film publicly so I was nervous about the reviews, but all the major publications received the film well. It was also gratifying to go to places where they didn't know Kim Hye-ja or Korean Wave star Won Bin [in the role of the son], and have people laud their performances."
Locally, although the film's 3 million admissions were not close to his previous record-breakers, Mother drew the best reviews of his four films."
But the online reactions were mixed, remembers Bong. "Young male viewers anticipating something else from my previous films said it was too heavy — one called it 'a film I wouldn't want to see with my mother'. Others said it was a masterpiece surpassing Memories and The Host. I think for a film of its size, Mother had a good round."
Much ado has been made of Mother's Oscar submission, but the director remains level-headed: "It's just one out of 60-something submissions. People have told me not to be without hope since the extreme mother theme is one that works in so many cultures — with the Jewish mother, the Italian mother and so on.
It seems to be doing alright in Japan, and I'm looking forward to its release in the UK, US, France and Germany."

By Jean Noh
Espen Sandberg and Joachim Roenning
DIRECTORS, MAX MANUS (NORWAY)
With the $10m Second World War epic Max Manus now the highest-grossing Norwegian film for 30 years and its subsequent entry as the country's foreign-language Oscar candidate, its directors Espen Sandberg and Joachim Roenning have come a long way from making short films and music videos on Roenning's father's video camera.

After attending the Stockholm Film School and completing their yearlong national service — where they made "propaganda" films — they continued to work together (under the name Roenberg) on commercials, music videos and short films before making their debut feature — Bandidas starring Penelope Cruz — in 2006. The script for Max Manus came to them through leading Norwegian producer John M Jacobsen. Actress Liv Ullmann brought it to Jacobsen's attention after the writer Thomas Nordseth-Tiller (who tragically died of cancer earlier this year aged just 28) took part in a pitching contest at the Kosmorama Trondheim International Film Festival in 2006.
The real Max Manus is a legend in Norway for his work as a saboteur during the Second World War, including missions to blow up German ships at Oslo docks. He evaded capture and received training in England before returning to Norway to work undercover. He died in 2006.
Funding for the film came from a variety of state film funds, including $3.1m from Norwegian Film as well as contributions from Germany and Denmark, and distributor Trust Nordisk, which handled the film's local release.

Aksel Henning, perhaps Norway's biggest movie star, was cast in the lead and he is understood to have turned down several parts in order to play the role. As Manushimself placed great emphasis on friendship and loyalty, it was important to ensure the wider cast of friends and co-saboteurs was exactly right, which proved a bigger challenge for the directors. The 49-day shoot took place predominantly in Oslo with a week in Scotland and just four days on a sound stage. However, it was the postproduction work, where CGI scenes of ships being blown up were added that concerned the directors. "At that point, we hadn't seen really good photo-real effects in Norwegian films," explains Sandberg.

"We worked with just about all of the post-production houses in Oslo and they did a top-class job." Max Manus was released in Norway on December 19 last year to major local success — a quarter of the population saw it at the cinema — and it has since screened at a number of festivals, including Toronto. "A pivotal moment for us," says Roenning, "was showing it to Tikken [Max's widow] and Gunnar [Sonsteby, the only key character in the film still alive]. It was the most nervewracking part of the whole process. They said it took them right back."

By Caroline Parry
Giuseppe Tornatore
WRITER-DIRECTOR, BAARIA (ITALY)
Tornatore is no stranger to the foreign language Oscar category. He won in 1989 for Cinema Paradiso and was nominated again in 1996 for The Star Maker, but a nomination for his latest film, Baaria, would perhaps mean the most to him since it is his most personal film to date.
The Sicilian saga is a tribute to Tornatore's hom town, Bagheria, in Palermo province where he lived until he was 28. But Baaria is not a true story, Tornatore explains. "Some of the characters are inspired by real people and others have been created from multiple real people. And then some are completely invented. The lead character of Peppino is in some aspects inspired by my father but is mostly fictional. If there is any autobiographical element to the film, it is in Peppino's son who wants to become a photographer." The saga follows Peppino from his childhood as a street kid in the 1930s to old age and also tells the story of the town that grows around him.

"The one thing I didn't want to do was make a historical film," he says. "I didn't think it was necessary. My vision was to tell the story of a small town and take it through an enormous amount of time to show that time is fleeting. I wanted to play with time to tell the story of a century in a short span and signify that time doesn't exist, that it's possible for a father and a son to cross each other in the same time."

So Tornatore avoided using any historical facts about Sicily. "It was just the echo of time that interested me," he says. The film does, however, address the dream of communism that grew up in Italy after the Second World War. "It served as a point of passion after World War Two," says Tornatore.

"Peppino is a communist but at the end of his life he realises his political dream never really came to fruition. The only goals in his life that worked were in his private life." Tornatore shot the epic film for 17 weeks in Tunisia (and a further eight weeks in Sicily), slowly constructing the town of Bagheria (pronounced 'Baaria' in local slang) as it grows throughout the century. "I was able to realise everything in Tunisia," he says. "What we couldn't shoot in Sicily we were able to construct from scratch. It's like if you take Fifth Avenue from today, you couldn't shoot a movie there that takes place in the 1920s. In this movie, I reconstructed my Fifth Avenue in the 1920s."

By Mike Goodridge