Disney-Lucasfilm's imminent release has earned a place on the American Film Institute's top ten best movies of 2015.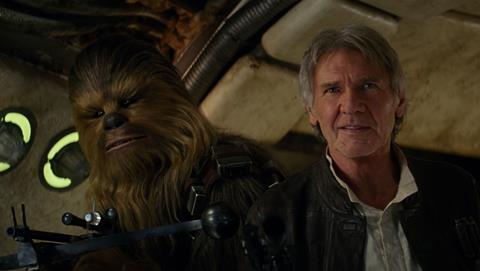 The other nine entries in alphabetical order announced by the AFI on Wednesday are: The Big Short, Bridge Of Spies, Carol, Inside Out, Mad Max: Fury Road, The Martian, Room, Spotlight and Straight Outta Compton.
In other AFI Awards 2015 selections, Mad Men earned an AFI Special Award and becomes the most honoured television show in AFI Awards history.
The ten AFI TV Programs Of The Year in alphabetical order are: The Americans, Better Call Saul, Black-Ish, Empire, Fargo, Game Of Thrones, Homeland, Master Of None, Mr. Robot and Unreal.
"Since AFI's founding in the White House Rose Garden 50 years ago, its mandate has been to celebrate our nation's storytellers," said AFI president and CEO Bob Gazzale. "This is the goal of AFI Awards — to bring together our community as colleagues, not competitors, and to shine a proper light on their collective efforts to entertain and enlighten the world."
The awards will be presented at a Los Angeles lunch ceremony on January 8, 2016.