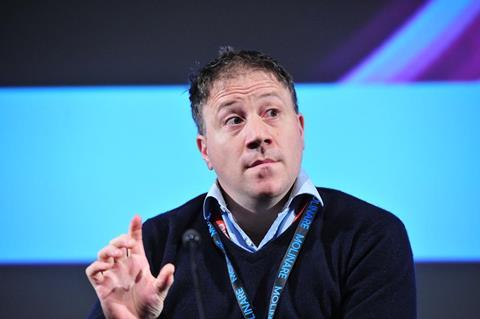 BBC Films veteran Joe Oppenheimer is stepping down after 19 years at the UK broadcaster.
Oppenheimer, an executive producer on Palme d'Or winner I, Daniel Blake, UK box office hit Alan Partridge and upcoming directorial debuts for Idris Elba and Chiwetel Ejiofor, most recently served as senior commissioning executive at the organisation.
BBC staff were told this afternoon about his departure.
Oppenheimer, who served as former BBC Films boss Christine Langan's number two was widely considered a front-runner for the top job at the broadcaster earlier this year but the role went to former Film4 executive Rose Garnett.
Oppenheimer told Screen he felt "proud" and "privileged" to have worked at the organisation.
"I have been incredibly lucky to have been at the BBC working with so many talented people. My main priority this year has been helping the transition and handing the reins over to Rose," said the executive who served as temporary director of the division after Langan's departure.
Oppenheimer admitted that he would have liked the chance to steer the division - which has an annual budget of around £11.5m - but that he is now excited about future opportunities: "There's no doubt that getting the chance to look after the whole slate is a privilege. When several strong candidates apply for that job only one person can get it. I'm very excited now about what I can do next.
"Rose and I get on extremely well. She has a very different set of contacts, attitudes and skills and it has been fun learning about those. This is an exciting chapter for BBC Films: Rose has big, bold plans.
"There are some fun decisions to be made when it comes to my own future. There are chances to produce things or to join a growing entity or a smaller entity. It's very likely to be in the UK but I'm not ruling anything out. There are good conversations going on."
Highlights, challenges
Oppenheimer, who joined BBC Films as a development executive, said working with Ida filmmaker Pawel Pawlikowski in his early career was a particular highlight alongside working on Ken Loach's I, Daniel Blake and commercial hits Alan Partridge and the Nativity franchise as well as more recent projects Yardie and Ejiofor's debut. He also singled out Holocaust drama Denial as a memorable experience: "Denial didn't quite hit as we wished but I loved working on it. It was an important story that didn't cost tens of millions pounds."
He said that the sector's record on diversity was a shadow over the business but that steps were being taken to address this.
"Something else that I'm proud to say started a few years ago is broadening the range of voices we have on the slate at BBC Films. We have recently worked not only with established names such as Idris Elba and Chiwetel Ejiofor but also voices such as Clint Dyer. The message from the industry is that we need to do better in this area and we are starting this journey now. It is only half begun but it is begun.
"The entire industry has a shadow over it and it needs to address this. At the BBC we have been taking part in an unconscious bias course. We quickly pat ourselves on the back for conscious wokeness but it is the unconscious behaviour that we need to be more aware of and which pervades the entire industry."
Garnett, director of BBC Films commented: "I've always admired Joe - first as a friendly rival, now as a colleague. His taste, intelligence, care and experience are second to none and he's made an indelible mark on the British film industry. The breadth and width of his credits speak for themselves. He's also been a brilliant and generous mentor and colleague to many in and outside the BBC. I can't wait to see what he does next and hope it means we get to work together again soon."
Charlotte Moore, director BBC content, added: "Joe has made an outstanding contribution to BBC Films over the last 19 years at the BBC, and on the independent British film industry as a whole. He is a great talent, who has executive produced a wide range of critically acclaimed award-winning films including I, Daniel Blake, Testament Of Youth and Alan Partridge: Alpha Papa. I know everyone who has worked with Joe has huge admiration for his contribution over the years – he has been a great colleague and support to his team. We shall miss him and wish him every success for the next exciting chapter in his career."
BBC Films team, slate
The BBC Films team currently comprises Rowan Woods, development executive, Eva Yates, commissioning executive, Geraldine Atlee, head of legal and business affairs, Helen Giles, legal and business affairs manager, Livy Sandler, legal and business affairs manager and Michael Wood, senior business manager.
Recent releases include Andy Serkis' directorial debut Breathe, Stephen Frears' Victoria & Abdul, documentary Grace Jones: Bloodlight And Bami and Lady Macbeth, which was recently nominated for 15 British Independent Film Awards.
Currently in post-production are Chiwetel Ejiofor's untitled directorial debut based on the novel The Boy Who Harnessed The Wind, Peter Strickland's ghost story In Fabric, Out of Blue directed by Carol Morley and starring Patricia Clarkson, The White Crow directed by Ralph Fiennes, Denmark starring Rafe Spall, Joanna Hogg's The Souvenir, Stan & Ollie starring Steve Coogan and John C. Reilly, The Aftermath with Keira Knightley and Alexander Skarsgård, VS. starring Screen Star of Tomorrow Connor Swindells and Iciar Bollain's Yuli written by Paul Laverty. Gypsy Boy with Benedict Cumberbatch is set to shoot in 2018.