Leslee Udwin, producer of East Is East and West Is West and director/producer of the controversial, powerful documentary India's Daughter, laid out what became a key theme of an amazing day of engagement, connections and huge talent, writes Derek Richards.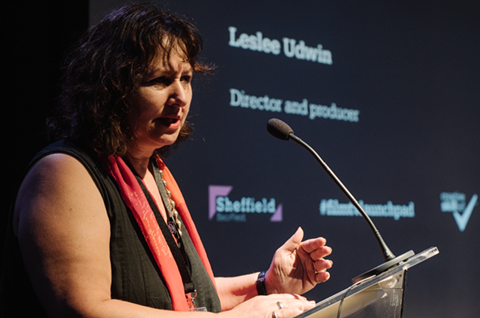 Creative Skillset's first Film & TV Launchpad on July 23 organised with Sheffield Doc/Fest brought together a stellar cast of leaders from film and television who shared their wisdom with selected film and tv graduates Creative Skillset ticked degree courses.
The Tick is a Quality mark that identifies the most industry engaged courses and work ready graduates. It's also an active relationship that adds value to a powerful partnership between Higher Education and industry.
Tick graduates were invited to show their work at the event which focussed on how to enter, get your work made, seen and crucially paid for, in the age that Creative Skillsets research suggests is still one of unpaid internships and closed networks of access and influence - outsiders indeed.
We brought over 40 film professionals together with the best of the best film and TV 'Tick' graduates from all across the UK. From financing to pitching, craft skills to lofty creative ambition and wrapped up with a cinema screening at Rich Mix's sumptuous Cinema 2 of some unbelievably strong shorts, the event condensed what felt like an entire industry festival into one day.
We started with 40 submissions, ultimately whittled down to a final 7 by a jury of industry luminaries including director Pratibha Parma, Philip Ilson (Director, London Short Film festival), Matimba Kabalika (NET.WORK Talent Coordinator, BFI Film Fund) and Doc/Fest's Claire Aguillar.
We wanted to offer the highest standards of support we could muster by partnering with Sheffield DocFest to produce the kind of event that seasoned professionals would ordinarily pay hundreds of pounds for.
Awards went to Rebecca Graham for her slick, professional presentation during the Live Pitch competition. Pietro Novello, graduating from Arts University Bournemouth, won a Sheffield Doc/Fest full pass and cash best film prize for his character driven documentary La Deriva de Continenti covering the tragedy of Mediterranean migrants from the point of view of Sicilian volunteer aid workers.
Lewis Cyrus-Thompson of the University of Westminster picked up a copy of Avid Media Composer for editing of the witty and clever short fiction piece Grandma's Big Schlep that demonstrated ability beyond his experience. Krystof Kubik from the Edinburgh College of Arts (part of the Scottish Screen Academy), collected a copy of Avid Pro Tools for what the jury called his "symphonic" sound design of the wild life doc Dipper from the water of Leith. Both awards were presented by Avid's Simon Caton.
The graduates shared with us how much they appreciated the event and how much better equipped they felt for what they feared was, and probably is, going to be hard yet rewarding life's journey.
Creative Skillset's Tick Talent Showcase is now a landmark date in the Animation and VFX recruitment calendar. Alongside events like the BFI'S Future Film Festival and indeed Sheffield Doc/Fest it's our ambition to achieve the same status for our Film & TV Launchpad.
As a colleague said to me following the screening; "F*ck me, It's frightening the quality of the graduates' work. If this is where they are post- graduation just where can we expect this level of talent to rise to?"
Perhaps the ultimate accolade for the event was that DoP Tom Swindell, inspired by the energy and talent in the room, decided to crew his next shoot before the evening was out, happy to be mobbed by our attendees.
I'd call that a result.
Derek Richards
Quality Relationship Manager, Creative Skillset
Details on ticked courses on the Launchpad event here