After a relatively low-key 2014, will this year's European Film Market spark some life back into the independent sector? Jeremy Kay looks at the prospects for deal-making in Berlin.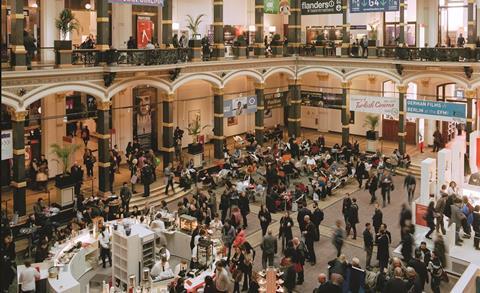 After a grand slam of mostly subdued market activity in Berlin, Cannes, Toronto and at AFM in 2014, the hope heading into Berlin's European Film Market (EFM) is that 2015 will kick-start a sector where challenge and opportunity abound.
Berlin is a chance to set the tone for the year ahead. One question on everybody's lips will be whether any new incursions might come from Netflix and its digital brethren.
'For the past five years we have always seen Berlin as a really good curtain-raiser'

Alex Walton, Bloom
The streaming pioneer has stirred up the industry in recent months with a number of unprecedented deals and caused consternation among AFM buyers over its reported involvement in Quentin Tarantino's The Hateful Eight. Tarantino's long-time partner The Weinstein Company (TWC) will distribute the Western in the US and put international rights up for sale in Santa Monica. Deals were slow to materialise as buyers balked at the asking price and furrowed their brows over the possible role of Netflix as international SVoD (subscription video-on-demand) rights holder.
At time of writing it was believed final talks were ongoing in every territory. TWC maintains there was never a deal with Netflix.

Looking for locomotives
Regardless of what may or may not have been agreed, the sector can take encouragement from the fact the notoriously choosy Tarantino elected not to take the studio route for international as he did with Sony on Django Unchained and instead wanted to handpick independent buyers.
If sales executives and their producer clients can settle on viable budgets — and reasonable prices — then Hollywood will come knocking whenever US rights are available. The example of Universal Pictures bodes well for the independent space as a supplier of US fare. The studio had its most profitable year in 2014 with a slate that was devoid of sequels and costly tentpoles.
None of its 15 releases had a production budget of more than $70m, according to a recent report by Forbes. The sum is at the upper end of budgetary no-man's land for the studios, yet falls within a risk profile that big indies are prepared to take.
If projects in this range work, the upside could be extremely worthwhile. Sales executives know this, yet they remain aware Berlin is not traditionally a launchpad for expensive, ambitious projects.
"For the past five years we have always seen Berlin as a really good curtain-raiser," says Bloom co-founder Alex Walton. "For European companies it's the beginning of the active year to some degree."
As he did at his former employer, Exclusive Media, Walton will introduce one or two projects during EFM. His offering will be more modest than what he hopes to bring to Cannes because, he notes, it is difficult to attach talent to scripts over the holiday season between AFM and EFM, and Berlin buyers tend not to demand volume.
Hooking the buyer when there is a surfeit of product — most of it not very good, say acquisitions executives — is the name of the game and high-quality variety rules the day.
Walton has demonstrated an appetite for range, launching the company with Gus Van Sant's sell-out Matthew McConaughey drama SeaOf Trees in Cannes last year. It would make a prestige world premiere on the Croisette in May.
The Bloom projects in production are Michael Apted's action thriller Unlocked with Noomi Rapace and Orlando Bloom, and Shane Black's crime thriller The Nice Guys, the hot AFM title to which Warner Bros has North American rights.
The big indies crave locomotives. Lionsgate International restored its lofty track record after an unprecedented barren patch at last year's EFM with A Monster Calls andSicario in Cannes and JC Chandor's Deepwater Horizon at AFM.
'As a new company with a strong financial backer, it's crucial to give the buyers confidence in the level of films we can produce and deliver'

Julie Sultan, AMBI Distribution
In Santa Monica The Weinstein Company did a roaring trade on See-Saw Films, Aquarius Films and Sunstar Entertainment's Lion, the adventure story it acquired in Cannes.
FilmNation did great business at Cannes on Story Of Your Life starring Amy Adams, while IM Global has been developing its corporate profile, striking deals with Mexico's Alex Garcia and Fuqua Films, expanding relationships in China and launching TV and music divisions.
Creating or consolidating internal production hubs is the order of the day. IM Global has done it for years. FilmNation is doing it and so is eOne, a move that led in part to the recent departure of sales chief Harold van Lier.

Staying nimble
More modest ventures are stepping up, too. Toronto-based Double Dutch International (DDI), flush with a new round of investment from European and North American backers, enjoyed unprecedented success at AFM with its $16m animation Elliot: The Littlest Reindeer.
"Hopefully with the showcase of what we had at AFM, people will look at the Double Dutch brand and see it's a reliable entity for content," says DDI president Jason Moring. "We have got great scripts and we have some directors attached to some and we're looking at casting. If you have all three, you are more open to consideration."
AMBI Distribution, the Beverly Hills-based sales subsidiary of Rome's AMBI Pictures led by rum heiress Monika Bacardi and producer Andrea Iervolino, has similar expansion plans.
"We were really encouraged with the reception our company had at AFM and found the market was very receptive to our titles," says Julie Sultan, who arrived at AMBI about a year ago as president of worldwide sales and acquisitions. "As a new company with a strong financial backer, it's crucial to give the buyers confidence in the level of films we can produce and deliver."
The goal is to board broadly appealing English-language projects that ideally take advantage of European soft money, do post-production at AMBI's Toronto effects hub and sell via the Los Angeles office.
Buyers will not settle for second best. More than ever, sellers know they must stay nimble and cost-conscious.