Michael Grandage's Genius, starring Colin Firth, Jude Law and Nicole Kidman; Jeff Nichols' Midnight Special; new Alex Gibney doc to world premiere at festival.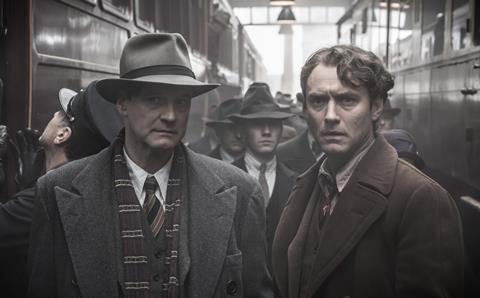 The first nine films for the 66th Berlin International Film Festival (Feb 11-21) Competition and Berlinale Special programme have been revealed.
The Competition titles - all world premieres - include Genius, the debut feature of celebrated British theatre director Michael Grandage, which stars Colin Firth, Jude Law, Nicole Kidman, Laura Linney, Guy Pearce and Dominic West.
Adapted by playwright and screenwriter John Logan (Skyfall) from A. Scott Berg's book, Genius tells the true story of the complex relationship between literary giant Thomas Wolfe (Law) and Scribner's iconic editor Max Perkins (Firth).
Also in Competition is Midnight Special, the anticipated new feature from Jeff Nichols, director of Mud and Take Shelter. The film centres on a father and son who go on the run after the dad learns his child possesses special powers. The cast includes Michael Shannon, Joel Edgerton, Kirsten Dunst, Adam Driver, Jaedan Lieberher and Sam Shepard.
Alex Gibney, director of controversial documentaries Going Clear: Scientology And The Prison of Belief and The Armstrong Lie, will world premiere his exploration of cyber-crime and Internet surveillance, Zero Days, in Competition at Berlin.
Also in Competition, Brendan Gleeson, Emma Thompson and Daniel Brühl star in Alone in Berlin (Jeder stirbt für sich allein), directed by French actor Vincent Perez.
The English-language adaptation of Hans Fallada's classic 1947 novel is based on the true story of a working class couple who conducted a series of anonymous protests against the Nazi regime during the Second World War.
The final Competition title to be announced is Canadian drama Boris Without Béatrice, from Denis Côté, who won the Alfred Bauer Award at the 2013 Berlinale with Vic + Flo Saw A Bear.
Three further documentaries have been announced as part of the Berlinale Special strand, including Michael Moore's Where To Invade Next, which debuted at Toronto in September.
The other two titles include The Music of Strangers: Yo-Yo Ma and the Silk Road Ensemble, from Morgan Neville, director of Oscar-winner Twenty Feet From Stardom; and The Seasons in Quincy: Four Portraits of John Berger, directed by Colin MacCabe, Christopher Roth, Bartek Dziadosz and actress Tilda Swinton.
As previously announced, Joel and Ethan Coen's Hail, Caesar! will open the festival, where it will play out of competition.
Meryl Streep will preside over this year's jury, which has yet to be named.
Competition
(all world premieres)
Boris Without Béatrice (Canada)
Denis Côté
Cast: James Hyndman, Simone-Elise Girard, Denis Lavant, Isolda Dychauk, Dounia Sichov
Genius (UK-US)
Michael Grandage
Cast: Colin Firth, Jude Law, Nicole Kidman, Laura Linney, Guy Pearce, Dominic West
Alone in Berlin (Ger-Fra-UK)
Vincent Perez
Cast: Brendan Gleeson, Emma Thompson, Daniel Brühl, Mikael Persbrandt
Midnight Special (US)
Jeff Nichols
Cast: Michael Shannon, Joel Edgerton, Kirsten Dunst, Adam Driver, Jaedan Lieberher, Sam Shepard
Zero Days - doc (US)
Alex Gibney
Berlinale Special
The Music of Strangers: Yo-Yo Ma and the Silk Road Ensemble - doc (US)
Morgan Neville
European premiere
The Seasons in Quincy: Four Portraits of John Berger - doc (UK)
Dirs: Colin MacCabe, Christopher Roth, Bartek Dziadosz, Tilda Swinton
World Premiere
Where To Invade Next - doc (US)
Michael Moore
European premiere