New films from Lee Tamahori and Anne Zohra Berrached also added.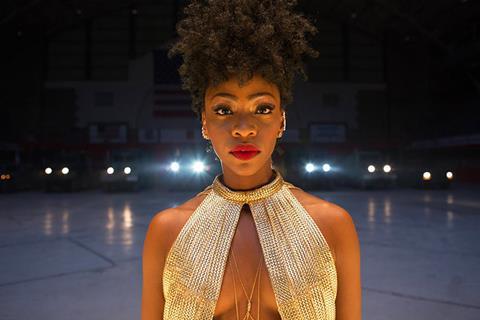 The Berlin International Film Festival (Feb 11-21) has completed the line-up of its Competiton programme, of which 18 out of 23 will vye for the Golden and Silver Bears. A total of 19 titles of the films are world premieres.
Spike Lee's Chi-Raq will receive its international premiere as part of the strand, but will play out of competition.
The film stars Nick Cannon, Teyonah Parris and Wesley Snipes, and is a modern day adaptation of the ancient Greek play Lysistrata by Aristophanes, set against the backdrop of gang violence in Chicago.
Germany's Anne Zohra Berrached, who premiered Two Mothers at the Berlinale's Perspektive Deutsches Kino in 2013, returns with 24 Weeks (24 Wochen). The film centres on the dilemma faced by a woman who is already six months pregnant when she learns that her unborn child will have Down's syndrome as well as a serious heart defect.
Chinese filmmaker Yang Chao, whose Passages was screened in Un Certain Regard at Cannes 2004 where it won the Caméra d'Or special mention, returns with Crosscurrent (Chang Jiang Tu), which will world premiere at Berlin.
German born, French filmmaker Dominik Moll (Lemming, With A Friend Like Harry…) will present the world premiere of News From Planet Mars (Des nouvelles de la planète Mars) out of competition.
The first feature in five years from the two-time Palme d'Or nominated director stars Francois Damiens as Philippe Mars, a recently divorced man struggling to cope with a larger-than-life family, demanding boss and occasionally psychotic colleague who decides to move in, sending his life into a further tailspin.
Hedi (Inhebbek Hedi) marks the feature debut of Tunisia's Mohamed Ben Attia and is the story of an aimless young man called Hedi. His mother arranges his marriage, his boss sends him on a work trip, and his older brother lectures him on how to behave. But when Hedi meets a woman called Rim while away on business, he falls in love as the wedding preparations continue apace back home.
With The Patriarch (Mahana), Lee Tamahori (The Devil's Double, Die Another Day) returns to make his first film in his native New Zealand since the award-winning Once Were Warriors (1994), and reunites him with the producer of that film, Robin Scholes.
Set on New Zealand's rural East Coast in the 1960s, the film revolves around two rival Maori sheep-shearing clans, the Mahanas and the Poatas. It will get its world premiere at Berlin, out of competition.
Also getting its world premiere out of competition is Saint Amour, from directorial duo Benoît Delépine and Gustave Kervern, who reunite with Gérard Depardieu and Benoit Poelvoorde for a light-hearted tale about a farmer and his son who bond and find love on a wine tour.
Iran's Rafi Pitts, previously nominated for Golden Bears with It's Winter (2006) and The Hunter (2010), returns with the world premiere of Soy Nero, the story of a deported Mexican who illegally returns to the US in search of his identity.
Joel and Ethan Coen's Hail, Caesar! will open the festival, where it will play out of competition.
Meryl Streep will preside over this year's jury, which has yet to be named and the award ceremony will take place at the Berlinale Palast on Feb 20.
The following films will complete the Competition programme:
24 Weeks (24 Wochen)
Anne Zohra Berrached (Ger) WP
Crosscurrent (Chang Jiang Tu)
Yang Chao (Chi) WP
Chi-Raq
Spike Lee (US) IP out of competition
News From Planet Mars (Des nouvelles de la planète Mars)
Dominik Moll (Fra-Bel) WP out of competition
Hedi (Inhebbek Hedi)
Mohamed Ben Attia (Tun-Bel-Fra) WP
The Patriarch (Mahana)
Lee Tamahori (NZ) WP out of competition
Saint Amour
Benoît Delépine, Gustave Kervern (Fra-Bel) WP out of competition
Soy Nero
Rafi Pitts (Ger-Fra-Mex) WP
As announced previously, the programme also includes:
Alone in Berlin
Vincent Perez (Ger-Fra-UK) WP
Boris without Béatrice (Boris sans Béatrice)
Denis Côté (Can) WP
Letters from War (Cartas da guerra)
Ivo M. Ferreira (Por) WP
A Dragon Arrives! (Ejhdeha Vared Mishavad!)
Mani Haghighi (Iran) IP
Fire at Sea (Fuocoammare)
Gianfranco Rosi (Ita-Fra) WP documentary
Genius
Michael Grandage (UK-US) WP
A Lullaby to the Sorrowful Mystery (Hele Sa Hiwagang Hapis)
Lav Diaz (Phil-Sing) WP
The Commune (Kollektivet)
Thomas Vinterberg (Den-Swe-Neth) IP
Things to Come (L'avenir)
Mia Hansen-Løve (Fra-Ger) WP
Midnight Special
Jeff Nichols (US) WP
Being 17 (Quand on a 17 ans)
André Téchiné (Fra) WP
Death in Sarajevo (Smrt u Sarajevu / Mort à Sarajevo)
Danis Tanović (Fra-B&H) WP
Zero Days
Alex Gibney (US) WP documentary
United States of Love (Zjednoczone Stany Miłosci)
Tomasz Wasilewski (Pol-Swe) WP
Out of Competition
Hail, Caesar!, Joel and Ethan Coen (US-UK) opening film