The full line-up of world premieres in Panorama Documentaries at the 66th Berlin Film Festival with details on each title including sales contacts.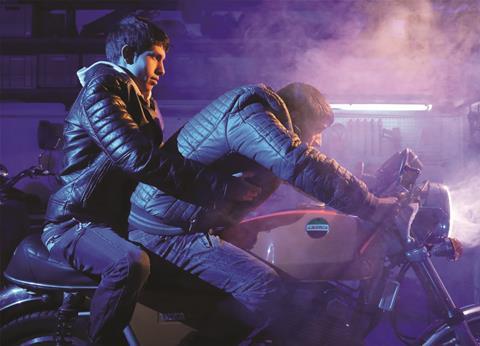 Brothers Of The Night (Aust)
Dir Patric Chiha
Chiha, whose credits include the feature drama Boys Like Us, makes his documentary debut with this colourful portrait of young Bulgarian Roma men who work as prostitutes in Vienna.
Contact Wildartfilm office@wildartfilm.com
Curumim (Braz)
Dir Marcos Prado
Leading Brazilian producer and director Prado tells the life story of Marco 'Curumim' Archer, a convicted Brazilian drug trafficker in Indonesia who was executed in 2013.
Contact Zazen Producoes zazen@zazen.com.br
Europe, She Loves (Swi-Ger)
Dir Jan Gassmann
A film about Europe on the verge of social and economic change, as seen through the daily lives of four couples in Seville, Spain; Tallinn, Estonia; Dublin, Ireland and Thessaloniki, Greece.
Contact Autlook Filmsales GmbH welcome@autlookfilms.com
The GDR Complex (Ger)
Dir Jochen Hick
Young, gay and conservative, Mario Röllig was imprisoned in 1987 for "attempting to flee the Republic". He now clashes regularly with sympathisers of the former GDR.
Contact Galeria Alaska Productions mail@galeria-alaska.de
Hotel Dallas (Rom-US)
Dirs Livia Ungur, Sherng-Lee Huang
The debut feature documentary of husband-and-wife team Ungur and Huang takes Patrick Duffy, star of the hit US TV series Dallas, on a magical mystery tour of Romania, from the Communist 1980s to the present.
Contact Heretic Outreach ioanna@heretic.gr
Mariupolis (Lith-Ger-Fr-Ukr)
Dir Mantas Kvedaravicius
A cinematic homage to the Ukrainian city of Mariupol, once populated by Greeks and now at the forefront of the conflict between Russia and Ukraine.
Contact Rouge International bienvenus@rouge-international.com
Strike A Pose (Neth)
Dirs Ester Gould, Reijer Zwaan
It is 25 years since pop star Madonna's legendary Blonde Ambition tour and her provocative documentary film Truth Or Dare. Now seven male dancers give a warts-and-all account of life on the road with the music icon.
Contact EYE International international@eyefilm.nl
Weekends (S Kor)
Dir Lee Dong-ha
Lee follows South Korea's first and only gay chorus G-Voice as they prepare a concert to celebrate their 10th anniversary.
Contact Park Ji-su cinemaphile00@gmail.com
Who's Gonna Love Me Now? (Isr-UK)
Dirs Tomer Heymann, Barak Heymann, Alexander Bodin Saphir
The eye-opening journey of a young Israeli man, rejected by his community, for whom an HIV diagnosis becomes a catalyst to make some drastic changes in his life.
Contact Autlook Filmsales salma@autlookfilms.com
Zona Norte (Ger)
Dir Monika Treut
Treut revisits Brazilian human-rights activist Yvonne Bezerra de Mello, the subject of her 2001 film Warrior Of Light. The film-maker wants to see what has come of the campaigner's then-progressive educational methods of working with street children.
Contact Hyena Films info@hyenafilms.com
Also screening in Panorama Documentaries
Don't Blink - Robert Frank (US-Fr) Dir Laura Israel
Mapplethorpe: Look At The Pictures (US-Ger) Dirs Fenton Bailey, Randy Barbato
Inside The Chinese Closet (Neth) Dir Sophia Luvara
Kiki (Swe-US) Dir Sara Jordeno
The Lovers And The Despot (UK) Dirs Rob Cannan, Ross Adam
My Land (Chi) Dir Fan Jian
Uncle Howard (UK-US) Dir Aaron Brookner