EXCLUSIVE: EFM buyers have responded enthusiastically in Berlin to Ira Sachs' coming-of-age drama Little Men, among other titles on the Mongrel slate.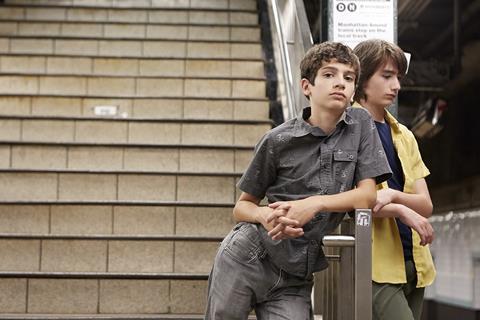 Mongrel International president Charlotte Mickie and her Toronto-based team closed two further deals on the Generation Kplus selection, which screened a number of times in Berlin following the world premiere in Sundance in January.
Mickie and buyers rep Aranka Matits of Featurette brokered a France deal on Little Men with Version Originale Condor and a sale in Benelux with September Film Distribution. The same teams released Sachs' 2014 hit Love Is Strange.
"I'm so touched by the loyalty of my distributors and very happy to be with the very talented groups in France and Benelux that supported me in the past," said Sachs. "Eric Le Bot and Pim Hermeling are both very passionate and committed distributors and I know I am in good hands."
Version Originale Condor co-head Alexis Mas added: "We're very proud to be supporting such a delicate and strong movie."
Mongrel International recently licensed Little Men in Switzerland with Bea Cuttat of Look Now! Film Distribution and in the Middle East with Gianluca Chakra of Front Row.
Previously announced sales include the UK (Altitude), Australia (Rialto Distribution), Spain (Golem Distribution), and Scandinavia (Nonstop Entertainment). Altitude, Rialto and Golem all distributed Love Is Strange.
A busy EFM saw Mickie close sales on The Daughter, starring Geoffrey Rush, to Benelux (Cherry Pickers Cinema), and Peter Greenaway's Walking To Paris to the Czech Republic (Cinemart).
Viva has gone to Germany (Arsenal Filmverleih), Poland (Tongariro Releasing), South Korea (Entermode Corp), Spain (Betta Pictures), Israel (TLVFest), and Taiwan (AV-Jet International).
Maudie starring Sally Hawkins and Ethan Hawke has closed in the Middle East (Front Row), and Israel (Shoval Film Production).