Ten strong line-up of titles unveiled; Wenders to take part in on stage conversation.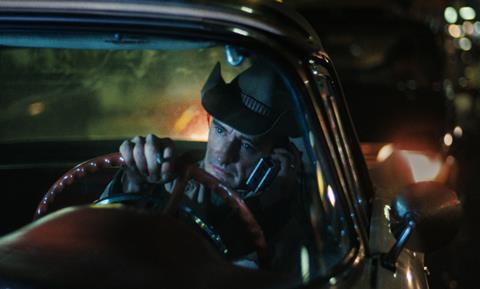 The Berlin International Film Festival (Feb 5-15) has revealed the ten titles that will make up its Homage to German filmmaker Wim Wenders.
As previously announced, Wenders will also be awarded an Honorary Golden Bear for lifetime achievement at the 65th Berlinale.
The award ceremony on Feb 12 in the Berlinale Palast will include a new digitally restored screening of The American Friend, Wenders' 1977 thriller based on a book by Patricia Highsmith, which tells the story of a fatal friendship between two men, played by Bruno Ganz and Dennis Hopper.
"The American Friend was Wim Wenders' international breakthrough film. And we were so impressed by the brilliance of the recently completed digital restoration that we decided to premiere it as part of the award ceremony for the Honorary Golden Bear," said festival director Dieter Kosslick.
Wenders' early work The Goalie's Anxiety at the Penalty Kick is considered a milestone of New German Cinema. The 1972 film will be screened in Berlin with a newly remixed soundtrack.
It is one of seven films that will be shown in digitally restored versions in the Homage section of the festival. The restoration work was commissioned by the Wim Wenders Stiftung. A Foundation, set up two years ago in Düsseldorf.
In 2014, the original negatives were scanned in 4K and digitally processed, providing the festival with new versions of Kings of the Road (1976), the director's cut of Until the End of the World (1991/1994), Alice in the Cities (1974), Paris, Texas (1984) and documentary Tokyo-Ga (1985). Wenders will be in Berlin to introduce some of the Homage films.
In addition, the Deutsche Kinemathek has teamed up with Berlinale Talents for a special event entitled "Wings of Time: A Conversation with Wim Wenders" the evening before the honorary award gala. At the HAU Hebbel am Ufer (HAU1) theatre, the director will sit down for a discussion in English with Rainer Rother, artistic director of the Deutsche Kinemathek – Museum für Film und Fernsehen.
New York's Museum of Modern Art will honour Wenders next March with a comprehensive retrospective that will include many of the films shown in this year's Homage programme.
In another nod to the Homage and the honorary award, the ZDF broadcasting group has scheduled a Wenders retrospective for 2015, with the first series of films airing in February on ZDF, as well as on 3sat and ARTE.
Films in the Homage
Die Angst des Tormanns beim Elfmeter (The Goalie's Anxiety at the Penalty Kick, West Germany / Austria 1972), 4K DCP
Alice in den Städten (Alice in the Cities, West Germany 1974), 2K DCP
Im Lauf der Zeit (Kings of the Road, West Germany 1976), 4K DCP
Der amerikanische Freund (The American Friend, West Germany / France 1977), 4K DCP
Paris, Texas (West Germany / France 1984), 2K DCP
Tokyo-Ga (West Germany / USA 1985, documentary), 2K DCP
Der Himmel über Berlin (Wings of Desire, West Germany / France 1987)
Bis ans Ende der Welt (Until the End of the World,Germany / France / Australia 1991/1994), director's cut, 4K DCP
The Million Dollar Hotel (Germany / USA 2000), 35mm
Pina (Germany/France 2011, 3-D documentary), 2K DCP