Opening film Antoine Bardou-Jacquet's Moonwalkers sold out 3000-capacity crowd in 8 seconds.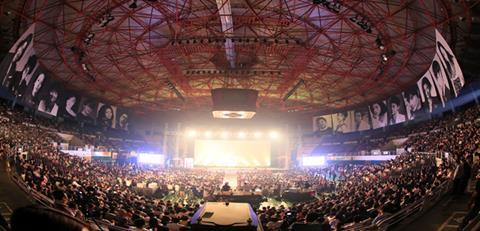 With South Korea's Mers scare fading into the past, the 19th Bucheon International Fantastic Film Festival (July 16-26) opened today as originally planned.
Director Antoine Bardou-Jacquet was on hand to present opening film Moonwalkers. Starring Ron Perlman and Rupert Grint, the moon landing conspiracy action-comedy sold out in 8 seconds and screened to an enthusiastic audience of around 3,000 people in the Bucheon Gymnasium.
Hong Kong star Simon Yam, who has a retrospective at BiFan this year, was on the red carpet and blowing kisses to a cheering audience inside. He was joined by Korean stars Ahn Sung-ki and Kang Soo-youn. Recently appointed co-director of the Busan film festival, the latter walked the carpet arm in arm with co-director Lee Yong-kwan.
Actor Shin Hyun-joon and actress Lee Da-hee hosted the opening ceremony while Lee Min-ho and Moon Chae-won were presented with this year's Producers' Choice Awards.
The Fantasia Award went to Jeong Woo and Kim Go-eun. The It Star Award went to Oh Dal Soo who gave a shout out to The Thieves colleague Yam.
Jury onboard
Also on hand were the event's Bucheon Choice feature competition jury comprising actress Lee Jung Hyun (Juvenile Offender), filmmaker Alexandre O. Philippe (The Life And Times Of Paul The Psychic Octopus), critic Richard Kuipers, director Kim Tae Kyun (Crossing) and producer Pablo Guisa Koestinger (Here Comes The Devil).
Per concerns over Mers, BiFan festival consultant and Network of Asian Fantastic Films (NAFF) managing director Jongsuk Thomas Nam told ScreenDaily: "Initially, we had to consider either downsizing or delaying the festival to later dates. Having the opening and closing ceremonies at Bucheon City Hall park and cancelling receptions. Thankfully, everything's back to the original plan and it seems it was the right decision to insist upon having the original plan [move] ahead."
At the ceremony, festival director Kim Young-bin referred to the same saying: "Dealing with an unexpected circumstance, preparing our film festival this year was like making it through a long tunnel. But we hope BiFan will become a soft catalyst for purifying the world we live in."
NAFF bouncing back after Mers
The festival's genre market Network of Asian Fantastic Films has also remained robust after the Mers scare.
"As per NAFF , three initial investors were about to back out of their sponsorships at the first week of June, with Hong Kong designating Korea as the Red Zone, as well as the Chinese promoting bans to Korea travels. However, those sponsors all came back by the third week of June and we are going ahead with our original plans," explained Nam.
"In fact, this year's reception celebrating the Chinese spotlight projects will be the largest one ever with the program also focusing on the 23rd year of Korea-China relations, with a focus on the cultural exchanges. Prominent actors/actresses from Korea and China will be there to help celebrate this occasion," he said.
"Granted, there were a handful of cancellations from Hong Kong and China, but others have applied to fill in those who won't be coming. Huayi Brothers, for example, is coming to NAFF for the first time since 2008," he said.
APN
The Asia-Pacific Producers' Network (APN) will also be celebrating its 10th anniversary at BiFan on the weekend with awards and a forum on future strategy. Actor Ahn Sung-ki, actress Kim Hye-soo, and director Yoon Je Kyun will be honored for their contribution to the Asian film industry on Sunday in Bucheon.
This year's festival is screening 235 films from 45 countries with a record 64 world premieres and 14 international premieres.