Dir: Frank Coraci. US. 2014. 117mins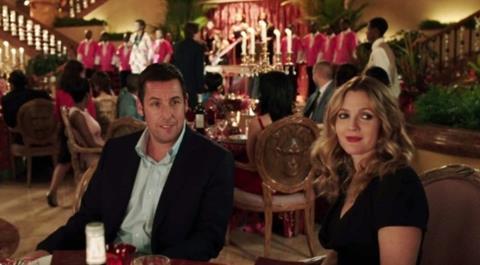 A decade after they last shared the screen, Adam Sandler and Drew Barrymore are back together for Blended, a more sentimental and less funny outing than the on-screen couple's previous hits The Wedding Singer and 50 First Dates. Though it won't have as wide an appeal as those films, this comfortably romantic family comedy could still work for a more female-skewed version of the audience that has recently turned out for Sandler's Grown Ups and its sequel.
The film ambles through some predictable and only mildly effective comedy routines.
Worldwide distributor Warner launches Blended in North America on May 23, pitching it as counter-programming to X-Men: Days of Future Past for the Memorial Day holiday weekend. The relative dearth of family films currently on release should work to Warner's advantage.The film's international rollout - which begins on May 23 in the UK - will probably produce a smaller take, given that neither star is as big a draw internationally as in the US.
The story kicks off with recently divorced Lauren (Barrymore) and widowed Jim (Sandler) enduring a disastrous blind date. Through an unlikely plot contrivance Jim and his three tomboyish daughters (the eldest played by Bella Thorne from the Disney Channel's Shake It Up) and Lauren and her two sons then find themselves on holiday together at a resort in Africa - the resort's 'Blended Family Week' event giving the film its rather odd title. Over the course of the vacation the two single parents give helpful advice to each other's kids and in the process begin a relationship of their own.
With Frank Coraci (who also made The Wedding Singer) directing, the film ambles through some predictable and only mildly effective comedy routines before relocating to Africa, where other characters, including the resort's cheesy entertainer (played by Terry Crews from The Expendables 2, backed by real life singing group Junior Mambazo), are added to the mix.
Aside from a brief safari sequence, the film doesn't make much use of its South African locations. But it does manage to tap into the sweetly romantic side of Sandler's screen persona, resulting in a third act that brings the story to a cosily emotional conclusion.

Production companies: Warner Bros Pictures, Gulfstream Pictures, Happy Madison
Worldwide distribution: Warner Bros Pictures
Producers: Mike Karz, Adam Sandler, Jack Giarraputo
Executive producers: Barry Bernardi, Josie Rosen, Tim Herlihy, Allen Covert, Steven Koren
Screenplay: Ivan Menchell & Clare Sera
Director of photography: Julio Macat
Production designer: Perry Andelin Blake
Editor: Tom Costain
Costume designer: Christine Wada
Music: Rupert Gregson-Williams
Website: blendedmovie.com
Main cast: Adam Sandler, Drew Barrymore, Wendy McLendon-Covey, Joel McHale, Kevin Nealon, Jessica Low