UK's offering at AFCI Locations show includes throne from Game of Thrones.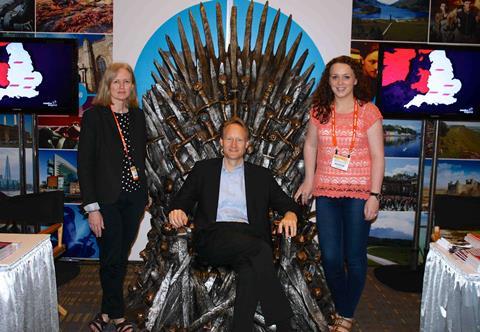 The British Film Commission and the UK screen agencies have a special draw at the AFCI Locations Show in Los Angeles (it runs through tomorrow) — the throne from Game of Thrones, which is shot in Northern Ireland.
One lucky fan who got to sit in the hot seat was Chris O'Connor, British Consul General LA (pictured above). Other show visitors are welcome to sit in the iconic Iron Throne at booths 703 and 705.
In addition to the BFC, the other agencies hosting the UK stand are Creative England, Creative Scotland, Film London, Northern Ireland Screen and Wales Screen Commission. They are promoting the UK's locations, studios, VFX houses, production companies, talent and crew, as well as the tax relief for film and TV.
The BFC will host a panel about the upgrades to tax relief today at 3pm.