Disney's latest animation received its world premiere in Tokyo, with the directors and producer in attendance.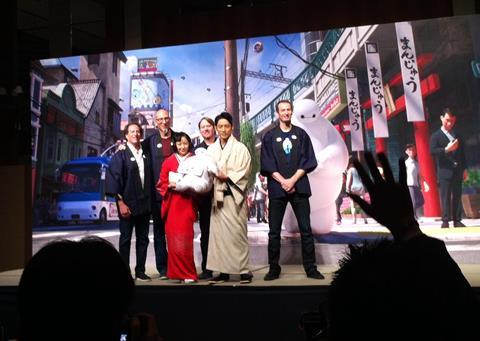 Ahead of its world premiere as the 27th Tokyo International Film Festival (TIFF) opening film, Disney animation Big Hero 6 had a local roll-out for press yesterday with co-directors Chris Williams and Don Hall, producer Roy Conli and Walt Disney Company vice president Andrew Millstein at the Shinjuku Park Hyatt.
Known as a location for Lost In Translation, the hotel served as the setting for the team to walk out of a curtained recreation of the film's scenery to a rocking soundtrack and applauding audience.
The filmmakers called the comedy adventure set in the fictional city of San Fransokyo - a hybrid of San Francisco and Tokyo - a "love letter to Japan" and said they were honored to be premiering it at the festival.
Japan-inspired animation
"We love to tell great stories but we also love to build worlds," said Williams, who says they were inspired by a trip to Tokyo three years ago.
The creators were also inspired by Miyazaki's animation worlds. "They are at the same time familiar, but fantastic," said Williams.
"We took so many photographs of everything from the buildings to the landscape, down to very small details like storefronts, vending machines, manhole covers," said Hall, who added they found everything in Japan so beautifully designed that they wanted to show that in the film.
In addition to background, they were influenced by "an ability of the Japanese aesthetic to boil things down to their essence", which was shown in such things as the robot character Baymax's simple design with two dots for eyes and no mouth.
"I was at a temple and saw a bell that looked like a face. We wanted Baymax to seem pleasing," said Hall of the comforting robotic healthcare provider. "When I saw that bell thought it would be the perfect face for Baymax."
"We have such a rich history of hand-drawing [at Disney] and Chris and I also come from a background of storyboarding," said Hall, explaining how they developed the characters and their facial expressions early on from hand-drawing.
New technology
The filmmakers explained they were going for "complex backgrounds and relatively simple character designs."
They used a new in-house rendering tool called Hyperion to develop realistic backgrounds and lighting, coordinating with art direction, especially benefitting from the technology which allowed light to bounce off things such as the huge inflatable vinyl robot Baymax.
Conli also talked about how their new crowdsourcing software Denizen also helped animate the Big Hero 6 world: "We wanted our city to become alive and populate it with individuals."
Release dates
The team was later joined onstage by local voice actress Miho Kanno and actor Koutaro Koizumi (son of the former prime minister), both in kimono. The two presented the foreigners with 'happi' – traditional Japanese jackets typically worn at festivals – with the Baymax character's face printed large on the backs and small on the lapels.
The filmmakers seemed genuinely surprised and moved.
"We'll wear this until the release of Baymax in Japan in December!" they cried.
Teruhito Kimura, executive director, Sales, Studios at the Walt Disney Company (Japan) later commented to ScreenDaily that in addition to the film's Japanese influences, TIFF's focus this year on animation provided a good reason to have Big Hero 6 premiere as the opening film. It will open in the US Nov 7.
He added that the best times for animation releases in this country are Christmas, New Year's or spring break, so the timing all worked out ahead of a Christmas release in Japan.