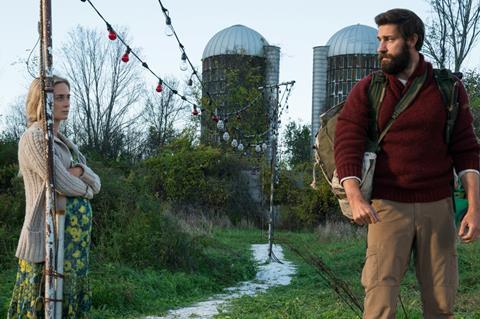 APRIL 23 UPDATE: Paramount's breakout horror smash A Quiet Place returned to the top of the North American charts, leaping over Warner Bros' Rampage by a nose to claim the weekend on a confirmed $20.9m.
John Krasinski's acclaimed film and recent SXSW opening night selection opened at number one two weeks ago, only for Rampage to push it off its perch last weekend. After three sessions, A Quiet Place has reached $131.3m.
Warner Bros' Rampage leads the global charts and is closing in on $300m. In North America in its second session it added $20.1m for $65.7m.
Amy Schumer comedy I Feel Pretty arrived in third place via STX on $16 from 3,440 sites and is licensed internationally by Voltage Pictures.
Opening well in fourth place was Fox's comedy sequel Super Troopers 2, which arrived on $15.2m in 2,028. That compares favourably to the 2002 original's $6.2m debut ($8.6m when adjusted for inflation) en route to an $18.5m final tally.
The thriller Traffik opened at number nine via Lionsgsate on $3.9m in 1,046 venues, while Bollywood title Bharat Ane Nenu opened at number 11 through Great India Films on $2.9m from 305 sites.
Overall the top 12 generated $111.9m, down 18% on last weekend and up 18.5% against the comparable session in 2017.
This week's wide release is Marvel Studios' Avengers: Infinity War through Buena Vista starring Hollywood.
Confirmed top 10 North America April 20-22, 2018
Film (Dist) / Conf wkd gross / Conf total to date
1 (2) A Quiet Place (Paramount) Paramount Pictures International $20.9m $131.3m
2 (1) Rampage (Warner Bros) Warner Bros Pictures International $20.1m $65.7m
3 (-) I Feel Pretty (STX) Voltage Pictures $16m –
4 (-) Super Troopers 2 (Fox) Fox International $15.2m –
5 (3) Truth Or Dare (Universal) Universal Pictures International $7.8m $30.3m
6 (4) Ready Player One (Warner Bros) Warner Bros International $7.4m $126.1m
7 (5) Blockers (Universal) Universal Pictures International $6.8m $48.1m
8 (6) Black Panther (Buena Vista) Walt Disney Studios Motion Pictures International $4.9m $681.4m
9 (-) Traffik (Lionsgate) Lionsgate Intetnatipnal $3.9m –
10 (7) Isle Of Dogs (Fox Searchlight) Fox International $3.5m $24.4m