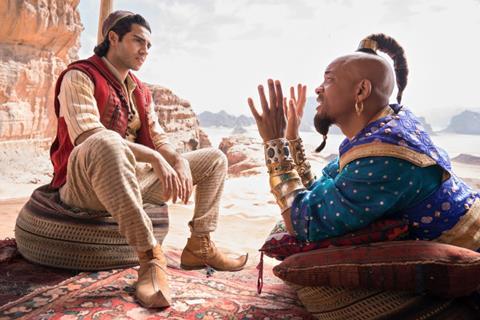 Disney's Aladdin will cross $500m worldwide on Thursday (6) after 15 days of release, marking an unexpected success for the studio as it aims for $10bn in total revenues this year.
The film starring Will Smith and Mena Massoud has overtaken the $493m final global gross of Oz: The Great And Powerful, and having crossed $200m in North America on Wednesday, has also surpassed the final North American tally of Cinderella ($201m).
As of Thursday (6) Disney executives said Aladdin stood at $496.2m worldwide, of which $293.1m comes from the international arena, and $203.1m from North America.
China is the lead territory on $43.3m to date, followed by the UK on $27.5m, Mexico on $21.5m, South Korea on $17.1m, and Italy on $13.6m. Japan is the final major market to open this weekend.
Aladdin already ranks as the third North American release of 2019 to date, which means The Walt Disney Studios currently holds all top three releases. Avengers: Endgame and Captain Marvel are the top two on $817.8m, and $426.2m, respectively.
Heading into the weekend X-Men spin-off Dark Phoenix opens everywhere day-and-date with North America except Japan, Indonesia, Egypt and Pakistan. Insiders said the last release from Fox / Marvel before the X-Men property is absorbed into Fox parent company Disney will gross around $120m internationally this weekend. Avengers: Endgame stands at $1.902bn internationally.
Warner Bros Pictures International brass reported that Godzilla II: King Of The Monsters has reached an early $162.3m, while Pokémon Detective Pikachu stands at $265.9m.