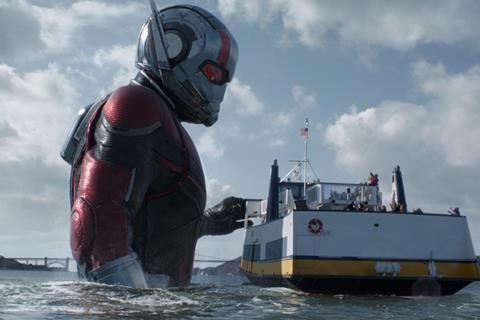 JULY 9 UPDATE: Ant-Man And The Wasp starring Paul Rudd and Evangeline Lilly flew to the top of the North American charts on a confirmed $75.8m as Incredibles 2 crossed $500m, and Annapurna Pictures scored a strong debut with Sorry To Bother You.
Marvel Studio's 20th Marvel Cinematic Universe release arrived in 4,206 theatres and scored the company's 20th consecutive number one debut, some 33% ahead of the $57.2m debut of Ant-Man, dropping to 26% when the 2015 original's launch is adjusted for inflation to $60.3m. That film went on to amass $180.2m in North America.
Michael Peña, Michael Douglas, Michelle Pfeiffer, and Laurence Fishburne round out the key cast in the sequel, and Peyton Reed returns as director.
Blumhouse's The First Purge scored the lowest three-day debut of the five-year horror series on $17.4m for number four via Universal, rising to $31.3m over five.
Incredibles 2 crossed $500m in its fourth weekend, slipping one place to number three on $28.4m for $503.8m, while Universal's Jurassic World: Fallen Kingdom fell one place to number two in its third session, adding $28.6m for $333.4m.
Drug cartel thriller Sicario: Day Of The Soldado starring Benico del Toro and Josh Brolin slipped 59.9% and two to number five in its second weekend as $7.6m boosted the tally to $35.6m.
Sorry To Bother You starring Lakeith Stanfield and Tessa Thompson at number 16 on $727,266 from 16 for a superb $45,454 average.
Roadside Attractions launched Kevin Macdonald's Whitney Houston documentary Whitney at number 12 on $1.3m from 452 sites. Three Identical Strangers climbed eight places and 299.3% as NEON expanded the theatre count from five to 51 in the second weekend, adding $684,773 for $1m.
Top 12 box office combined for $179.4m, up 4.9% on last weekend and down 10.6% on the comparable session in 2017.
This week's wide releases are Universal's action tentpole Skyscraper starring Dwayne Johnson; and Sony's animation Hotel Transylvania 3: Summer Vacation with a voice cast featuring Adam Sandler, Selena Gomez, and Andy Samberg.
Confirmed top 10 North America July 6-8, 2018
Film (Dist) / Conf wkd gross / Conf total to date
1 (-) Ant-Man And The Wasp (Buena Vista) Walt Disney Studios Motion Pictures International $75.8m –
2 (1) Jurassic World: Fallen Kingdom (Universal) Universal Pictures International $28.6m $333.4m
3 (2) Incredibles 2 (Buena Vista) Walt Disney Studios Motion Pictures International $28.4m $503.8m
4 (-) The Purge (Universal) Universal Pictures International $17.4m $31.3m
5 (3) Sicario: Day Of The Soldado (Columbia Pictures) Lionsgate International /Sony Pictures Releasing International $7.6m $35.6m
6 (4) Uncle Drew (Lionsgate-Summit) Lionsgate International $6.6m $29.9m
7 (5) Ocean's 8 (Warner Bros) Warner Bros Pictures International $5.1m $126.5m
8 (6) Tag (Warner Bros) Warner Bros Pictures International $3.1m $48.3m
9 (10) Won't You Be My Neighbor? (Focus Features) Universal Pictures International $2.6m $12.4m
10 (7) Deadpool 2 (Fox) Fox International $1.7m $314.5m